Although quite young in the world of Linux, Linux Mint has an impressive history. By reviewing it, you can see how the distro has evolved over time and how it's continually improving itself thanks to the contributions from the community. Read our linux mint history post.
A TOUCH OF MINT
Before we begin to get to grips with Linux Mint, it's worth spending a few moments looking over how this distro started off and how it's changed over its eleven year history.
2006 Born in 2006, Linux Mint is the brainchild of Clement Lefebvre, a French developer who at the time was writing reviews and tutorials for various Linux sites. After a time, he began to get a flavour for what the community wanted out of a distro and as a result, Linux Mint 1.0 "Ada" was released in August of 2006.
2007 From 2006 to 2007 Linux Mint 2.1 and 2.2 were released, building on the growing user base and continually improving. One of Mint's endearing factors was that it came shipped with a full set of multimedia codecs that greatly improved its reputation. In 2007 Linux Mint 3.0 "Cassandra" was released, the first version to display the Mint logo.
2006 Based on Kubuntu Dapper, Linux Mint 1.0 "Ada", wasn't the most stable distro of the time. However, mere months later, in November 2006, Clem had finished development of Linux Mint 2.0, codenamed "Barbara". 2.0 was based on Ubuntu 6.10 Edgy Eft, was more stable and offered the user many improvements over Canonical's Ubuntu distributions.
2010 Fast forward a few years, through versions 3.1, 4, 5 and 6 and we come to Mint 8 "Helena". Linux Mint had already attracted many former Windows users, primarily due to the launch of Windows Vista a few years earlier. Although Windows 7 was a vast improvement over its predecessor, the Windows mutineers were already finding Mint a better choice.
2011 Linux Mint 12 "Lisa" was a significant release, as it was the first version to sport the Desktop Environment MATE. MATE, pronounced ma-tay and named after the South American beverage Mate, is a fork from the popular GNOME 2 desktop that became popular due to controversy over GNOME 3's new design and operation.
2012 Hot on the heels of Mint 12 came Mint 13 "Maya", an LTS (Long Term Support) version that's still supported to April 2017. Maya was a significant release due to the launch of the Cinnamon Desktop Environment. Although MATE was now the default DE, Cinnamon was developed specifically for and by, Linux Mint.
2013 Linux Mint 15 "Olivia" arrived in 2013, based on Ubuntu 13.04 and sporting a choice of Desktop Environments. Cinnamon and MATE were the defaults, MATE designed for older systems, while Cinnamon for more powerful, modern computers. KDE and Xfce were also available, covering a wealth of user preferences.
2013 Still in 2013, toward the end of the year, Linux Mint 16 "Petra" was released, built on Ubuntu 13.10. Petra was considered by some reviewers at the time as the perfect example of a Linux distro. The blend of Desktop Environments, stability, features and extras all combined to form a solid and dependable OS.
2014 Linux Mint 17 "Quiana" was released in May 2014. An LTS version, with support to April 2019 and built on Ubuntu 14.04. Version 17 saw several releases over the next couple of years, with Mint 17.1 "Rebecca" and 17.2 "Rafaela" in 2015 and 17.3 "Rosa" in 2016. Incidentally, Ars Technica described 17.3 as "…the best Linux desktop distro yet".
2017 Towards the end of 2016 Linux Mint 18 "Sarah" was released, an LTS version with support to April 2021 and built from the Ubuntu 16.04 base. Following on from Sarah, which brings us up to date, we have Linux Mint 18.1 "Serena", another excellent version and the one we'll be working on for the rest of this book.
Different Versions of Mint
Linux Mint comes in several different versions, or flavours: Cinnamon, MATE, Xfce, KDE, and LMDE 2; there are also 32-bit and 64-bit versions of these, too. What does it all mean though and which version should you choose for your installation?
WHICH MINT?
Over the coming pages we look at each of the versions available. First here's a quick introduction and reasons for there being such a variety.
Linux Mint offers the user a choice of five versions of the distro: Cinnamon, MATE, Xfce, KDE and LMDE 2. Whilst that may sound a little confusing for the newcomer, essentially each of the versions available contains the same core Linux structure and kernel (the kernel is the core of the operating system), that handles all the instructions between the software and hardware.
Each of the versions are simply different desktop environments, the Graphical User Interface (GUI) than you use to interact with the operating system (with the exception of LMDE 2). Each of the desktop environments uses different apps for accessing or using the system, such as the file manager to browse the operating system's file structure or the way it launches other apps. Again though, the core available productivity, video and graphic suites are the same, and function in the same way.
Why bother then with a different desktop environment? Simply put, it's down to personal taste. Some users prefer MATE, as MATE is a fork of the classic GNOME 2 environment, is a little more menu-centric and performs well on older computers. Others prefer Cinnamon, because it's a more modern environment that works better on recent hardware and features some cutting edge desktop code. KDE is a little heavier on the system resources but looks magnificent and generally offers more effects and customisations. Xfce, on the other hand, is a lightweight desktop environment that works great on older hardware.
LMDE (Linux Mint Debian Edition) 2 is based on Debian instead of Ubuntu, that the other versions use. It's a cutting edge distro that's targeted at experienced Linux users who want to test and use the latest versions of the apps available. It can, therefore, be quite unstable at times and requires a lot more user administration to master. It's available with Cinnamon and MATE desktop environments.
In short, Cinnamon is the flagship desktop environment for Linux Mint. MATE is more compatible with a wider variety of hardware. KDE uses more system resources but looks fantastic. Xfce is a lightweight DE for low-resource systems. Finally, LMDE 2 is really for experts only.
Where Windows, for example, only offers one desktop environment to work in, Linux offers many. Linux Mint has therefore opted to give the user a wealth of choice, and we think that's pretty decent of them.
Linux Mint Xfce Desktop Environment
Xfce is a lightweight desktop environment that's aimed at low resource computers. Due to its lightweight nature, Xfce is a remarkably quick and responsive desktop. It has undergone many improvements over its 21 -year history and is today one of the top Des on offer for the Linux user.
CHOLESTEROL FREE DESKTOP
Xfce started life as the Common Desktop Environment (CDE) in 1996. Since then it's changed name a few times and is now simply Xfce with the nickname Cholesterol Free Desktop Environment.
Xfce really is a quick desktop and brings out the best in Linux as a fast operating system. In fact, it's taken us to this point from the top of the page to install it onto a new computer; 120 words written and we're using a brand new OS. Not bad.
There's also a wealth of desktop and environmental customisations available within Linux Mint Xfce. You can find the same excellent desktop backgrounds on offer, as well as the ability to use your own images; you can even personalise the setup further with extra options.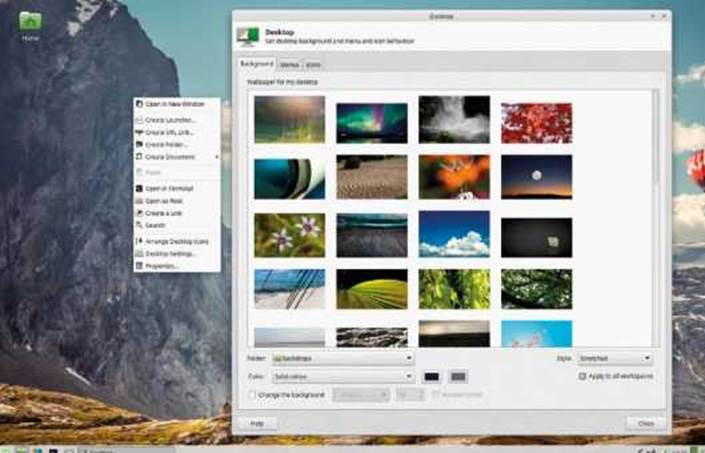 Just because it's quick and lightweight doesn't mean Linux Mint Xfce isn't a complete desktop operating system. As with the other environments on offer, you get the latest Firefox, Libreoffice, VLC, Gimp, chat apps and even a Bit torrent client.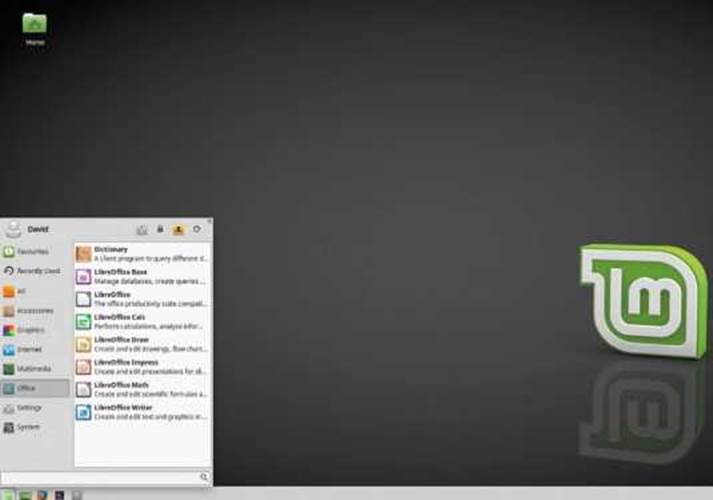 It's surprising how graphically powerful the desktop is, even though this is such a lightweight environment. The new Xfce Windows Manager (xfwm4) offers Window Switching, Window Thumbnails, Tiling, Zooming and active desktop corners to snap windows into position.