CyberLink PowerDirector 16 Ultra Review – The latest CyberLink video-editing software is crammed with powerful tools
Upgrades to video-editing software often introduce the capability to work with a new technology, and this edition of PowerDirector has added tools for editing 360-degree video. Making your own 360-degree film may seem beyond the means of the home-movie enthusiast but there are surprisingly affordable cameras available, such as the Samsung Gear 360. When you upload your footage to YouTube, anyone with a smartphone and a cheap headset can explore your videos in virtual reality.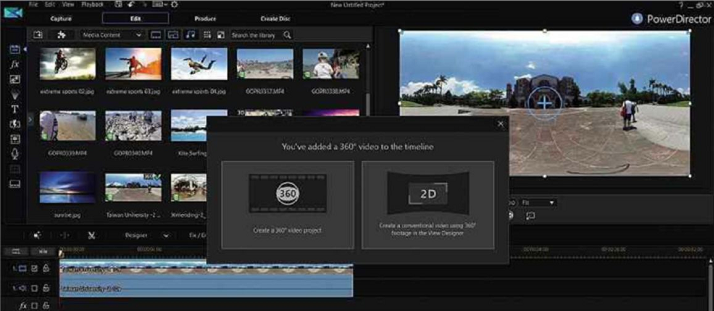 See also:
PowerDirector 16's 360-degree support includes a number of useful tools. You can set which direction the viewer starts in, and extract a 2D view to use with standard footage. It can stabilise 360-degree footage, which is impossible with regular 2D-video tools, and comes with a collection of title tools to add text to your videos, which move around as the viewer pans. They can even have motion tracking applied.
The one thing the software lacks is 'stitching' – the process by which footage from the various streams created by a 360-degree camera is brought together to make a fully 360-degree movie. If your camera doesn't do this itself, it should come with its own software, but it would have been good to integrate this process into CyberLink's editing suite.
ABOVE You can now stabilise jerky 360 video automatically so the point of view is smooth
If creating virtual-reality films isn't your thing, there are other useful new tools to explore. A collage designer has been added for creating rapid multi-clip opening sequences: you simply drag and drop the clips you want to use into the predefined slots, though you don't get any control over how the clips are cropped.
We were particularly impressed with the colour-matching tool, which is extremely useful if you have footage of the same subject from different cameras or settings. You can select two clips and colour correct one so that it matches the other.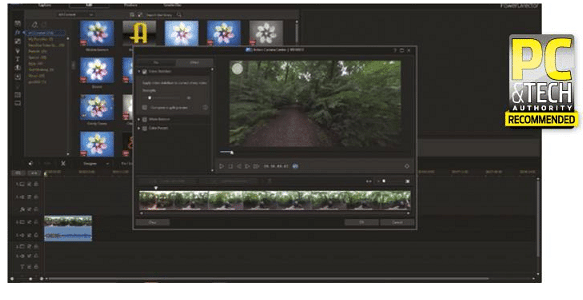 The core sound tools in the software now include 'audio ducking'. This is where the volume of a music soundtrack can be set to automatically fill gaps in a speech audio track. We found the default parameters needed careful tweaking so the volume changes don't sound too abrupt, but it's not hard to achieve good results and is much quicker than carrying out the task manually.
There are four different versions of PowerDirector 16 – Deluxe, Ultra, Ultimate and Director Suite. The Ultra version represents the best value for money. However, it's also worth considering the Director Suite, which comes bundled with PhotoDirector 9, AudioDirector 8 and ColorDirector 6, providing a wider range of tweaks for serious editors. We'd also advise you avoid the Deluxe version, because it lacks some of PowerDirector's best features, such as the multicam editor.
PowerDirector 16 Ultra Review: PRODUCT INFO
WHAT YOU NEED
Intel Core i-series or AMD Phenom II or better
2GB of memory
7GB of hard-drive space
Microsoft Windows 7, 8 or 10
PROS:
Refined video- and audio-editing features
 360-degree video support
 Great value for money
CONS:
Of most interest to 360-degree camera owners
 Doesn't stitch 360-degree videos
PowerDirector 16 Ultra Review: Verdict
CyberLink PowerDirector 16 is one of the most powerful video-editing suites available. Our favourite is the Ultra version, because it's packed with tools but remains remarkably affordable. If you want to maximise your options, though, the Director Suite bundle provides a wealth of extra tools in CyberLink's image editor, advanced audio and colour-grading software.