TRACKR Pixel Review – WE ALL HAVE those items that we're always losing, such as a wallet or house keys. Bluetooth trackers are a great way to keep tabs on your kit, especially when you can enable crowd locate, which turns other smartphones in the network into sensors, all looking for your device.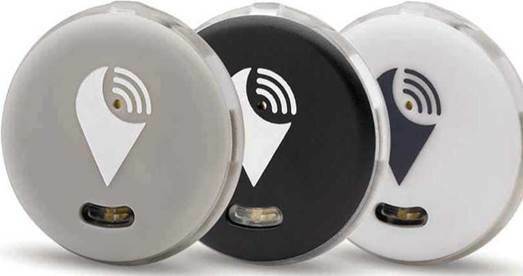 The problem with many cheap Bluetooth trackers is that they lack the user base, and thus the network size, to give your lost goods a reasonable chance of being found. TrackR, conversely, is well established and has the weight of a big crowd network behind it. Firing up the app on our smartphone, we were told that there were 4,984 TrackR devices nearby.
TRACKR Pixel Review: PIXEL PERFECT
TrackR launched with the Bravo, but the Pixel that we have on review here is newer and smaller. It comes with a keychain so that you can attach it directly to keys or a bag; there's also a sticky pad for connecting the Pixel to other devices. The rival Tile Slim is far thinner, but it loses out on the TrackR Pixel's standout feature: a replaceable battery.
When the Tile runs out of battery, you have to replace the entire model (there's a trade-in programme so that you can get a 50% discount); with the Pixel, you can undo the back and slot in a new CR2016 battery, which is easier and cheaper. Getting the back off is rather fiddly, but as each battery can last up to one year, this won't be a regular job.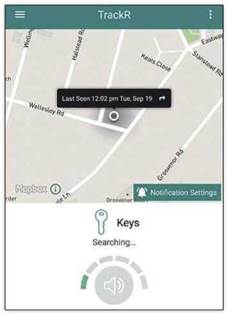 Setup is easy. Just fire up the TrackR app, let the device make a Bluetooth connection to your phone, and tell the app what the Pixel is attached to. You can even select an icon, such as keys, for easy visual identification. When the Pixel is within range of your phone, its location is updated on the app's map, pulling the exact coordinates from your phone's GPS.
That only gives you a rough location, and may only tell you that your keys are in your house. To hone in, the app uses the Bluetooth signal strength to tell you if you're getting closer or further away from your lost item. When you want, you can tap the siren key to sound a 90dB ringer on the Pixel.
TrackR's Crowd Locate feature turns any smartphone running the TrackR app into a detector
We found that the high-pitched sound was easy to hear, but trying to track down its source was rather difficult. A lower, mid-range sound would be a little easier to follow.
When the Pixel loses the connection to your phone, the map screen shows you where the device was last seen, so you can make your way back there and use the app to find your lost item. This can also give a bit of peace of mind. For example, if your wallet was at home, you'll realise that you simply forgot it.
TRACKR Pixel Review: HOME ON THE RANGE
Reconnecting to the Pixel can take a while, and range isn't great. When we deliberately left it in our car, our phone was unable to connect from our house across the street or even just down the road; we had to stand still for a minute, outside the car, for the connection to be made. Trying to find your Pixel in a larger area could be frustrating due to this slow reconnection speed; we found that the Tile system offers faster detection.
TrackR's Crowd Locate feature comes into play when your item is moved, stolen or lost further afield. This turns any smartphone running the TrackR app into a detector, and you'll get a notification and map location if your device is detected. The same issues will apply here, and if someone walks too quickly past your device, chances are your Pixel will evade detection. Marking our device as lost and leaving it in our car on a fairly busy road, it took 24 hours for our Pixel to be 'found'.
TRACKR Pixel Review: SEPARATION ANXIETY
If you want to track something more valuable, such as a laptop bag at an airport, the Pixel has a Device Separation Alert mode. Move out of range of your Pixel and its alarm is triggered. Given the problems with Bluetooth range (we lost the indoor signal by moving to the next room), this mode can trigger a fair number of false alarms, while also eating into battery life.
The Phone Separation Alert sounds your phone's ringer if you walk off with the Pixel but not your handset. This suffers from the same limitations as Device Separation, so we recommend using these modes sparingly.
With the Alexa skill, you can also ask your Amazon Echo to ring your phone, which will sound an alarm even through silent mode. This worked flawlessly, but the same features can be added on Android using IFTTT. Annoyingly, TrackR can only work with one handset using Alexa, which isn't ideal for families.
Alternatively, if your Pixel is within range of your phone, you can tap its button to signal your phone to ring. Given how long the Pixel took to connect to our phone and the number of times the signal was dropped, getting this mode to work can be a little annoying.
We like the app and replaceable battery, and the TrackR Pixel works well if you have a good idea where your lost device might be.
It's frustrating the Pixel is so slow to be found by the app, making it less useful for truly lost devices, as you or another TrackR user can be out of range before detection occurs.
David Ludlow
TRACKR Pixel Review: SPECIFICATIONS
DIMENSIONS 26x26x5.6mm • BATTERY LIFE Up to one year • BATTERY TYPE CR2016 • BLUETOOTH Bluetooth LE4.0 • BLUETOOTH RANGE Upto100ft • SIREN VOLUME 90dB • WARRANTY One year RTB • PART CODE Pixel
TRACKR Pixel Review: VERDICT
The Pixel is useful for finding items lost around the house, but a slow Bluetooth connection lets it down