Powerful NAS hardware that needs a better software platform
TerraMaster's F4-220 is a 4-bay Network Attached Storage (NAS) device that's ideal for home or small business use, or at least it would be, if it didn't have some serious shortcomings in its software platform.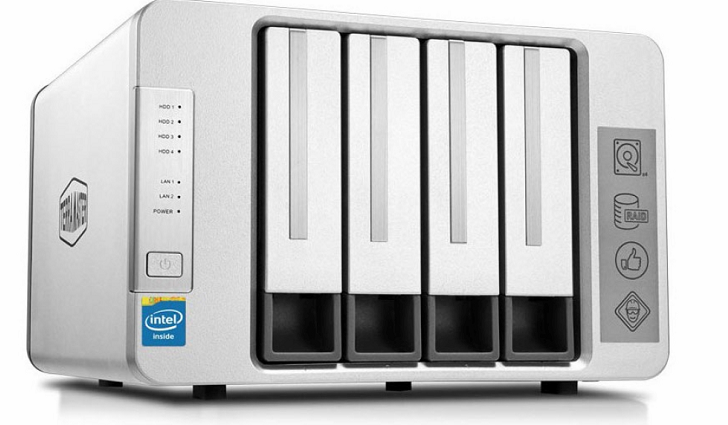 Design
The appearance of the F4-420 is something that you'll either love or hate, but it's consistent with TerraMaster's range of other NAS boxes and its passion for rounded silver surfaces. Essentially, it's a metal and plastic construction that feels robust even if it doesn't break any new ground in terms of style.
On the front are four vertically mounted 3.5-inch drive bays, an array of LED indicator lights and the power button. Around the back are two USB ports (one USB 3.0 along with a USB 2.0 connector) and dual Gigabit Ethernet LAN ports. There are also two 80mm fans at the rear to keep the contents cool, and a power input for a laptop-style power supply unit (PSU).
In the packaging, along with the TerraMaster F4-420 is a box that contains the PSU, power cables, a single Ethernet cable, and a screwdriver to use with a selection of drive mounting screws.
It is possible to install 3.5-inch and 2.5-inch mechanisms, allowing for 2.5-inch SSDs along with conventional spinning platter- based storage. However, you can't allocate an SSD as a cache for conventional drives, unfortunately.
Specifications
If you have 12TB hard drives handy, there is the potential for 48TB of storage, but only if you're willing to decline any form of resilience to drive failure. Using a RAID 5 configuration a whopping 36GB of usable space is available. Or 24TB if you decide to use a RAID 1 mirror.
On the TerraMaster specification page it proclaims that instead of using an ARM CPU, the F4-420 has been blessed with a quad-core 2GHz Intel Celeron (J1900) along with 4GB of DDR3 memory. That's a lower processor clock than the F4-220, which sported a 2.4GHz Intel J1800. Also worth noting is the fact that the 4GB of RAM on this system can't be user upgraded.
The critical difference is that the J1900 is a quad-core processor, whereas the J1800 is dual-core. And that's the only significant difference between the F4-420 and It's 30 percent cheaper F4-220 cousin.
The increase in CPU power has little impact on the speed of reading or writing across a network, so what can the F4-420 do with that extra performance?
Performance
File serving performance on this system is entirely dependent on having a managed switch with the functionality to create channel bonding. Without that critical functionality the best speed you'll see, almost irrespective of the drives in use, are 115MB/S reading and 110MB/s writing. That's the effective limits of Gigabit Ethernet, not the NAS box.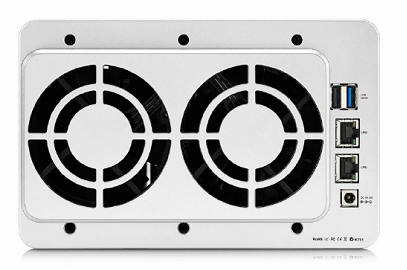 With both Ethernet ports connected to a suitable switch, those scores can be doubled. But unless any connecting PCs also have dual LAN networking, the extra performance will be aggregated across multiple devices.
Wi-Fi isn't an inherent capability, but you can insert a suitable USB Wifi adapter into one of the available ports and establish a link through that.
If you want use both Ethernet ports simultaneously, you have some interesting options including load balancing over two switches, Dynamic Link Aggregation (802.3ad), Balance XOR and an automatic fail-over mode.
Wi-Fi isn't an inherent capability, but you can Insert a suitable USB Wifi adapter into one of the available ports and establish a link through that.
Accessing the F4-420 as a file server elicits a suitably snappy response. Monitoring the performance logs while intentionally flooding the bandwidth of both LAN adapters shows that even the most intense transfers won't overload the quad-core CPU.
Which begs the obvious question, again: what to do with those spare CPU cycles?
Getting the review unit operational wasn't as slick and painless as it should have been. Many of the issues here revolved around the TNAS software that TerraMaster uses to initialise the device and then install its TOS 3.1 operating system.
While possibly a temporary glitch, the download speed from the TerraMaster website was disappointingly slow. It took over two hours to download the required files, disturbingly. When we'd finally got it downloaded, the TNAS PC app didn't include a proper installer, and just appeared to be a collection of VB code with an obsolete file manifest. Our first attempt to run this software failed – mainly because it made assumptions about the .NET installation on the client PC that wasn't guaranteed or even tested, causing it to crash.
As an alternative TerraMaster does offer a 3.1 Beta release that at least has an installable executable, but this too crashed on a Windows 7 PC. Eventually, we got that to work on a Windows 10 machine that luckily had the components that the software was expecting, and we could then install TOS 3.1 on the F4-420.
Once we'd jumped through those hoops, this NAS worked reasonably well, although it isn't anything special from a functionality standpoint.
While the interface is clean and fairly logical, the GUI designer missed the point that when you navigate down through a tree, you might want to reverse back, too.
Along with TOS 3.1 inherent functionality, TerraMaster offers a modest selection of installable apps. They number just 20, which is one more than was listed under TOS 3.0. In the collection are MySQL Server, Plex Media Server, Sugarcrm, WordPress and Apache Tomcat. Other tools that are likely to be popular are the iTunes server and a Dropbox sync tool.
One useful enhancement is the inclusion of 'rclone', a tool that enables other cloud services to be synced such as Google and Amazon S3. Or at least that's what the description implies. We could only find the Google Drive option in the app, and we couldn't get that to work. As with many of the third-party tools, there are no help files or notes for you to refer to.
Some functionality is pre-installed along with the limited installable applications. Those needing DLNA, Time Machine, FTP and Rsync merely need to configure these services through the control panel. These services, are better than the installable apps and have a little documentation.
Overall, the software has had a few tweaks and enhancements, but not the love and attention it needs.
Summary
Given that the F4-420's chief rival – the Synology DS418 – costs less, has around 100 apps to install, and a DSM operating system that has been in development for over a decade, it's hard to see why you would choose the F4-420.
Verdict
TerraMaster F4-420 Review
Solid hardware can't overcome the lack of attention given to the software platform and apps.
Add your review
Best TerraMaster F4-420 prices ?
MORE DEALS

KEY FEATURES
TerraMaster F4-420
Processor 2.0GHz quad-core Intel J1900
RAM 4GB DDR3
Drive bays 4×3.5-lnch or 2.5-inch SATA 6Gb/s, SATA 3Gb/s hard disk or SSD Maximum Internal raw capacity 48TB (4x12TB HDD)
Hot swappable drives yes
Connectivity 1x USB 2.0;1x USB 3.0; 2x Ethernet ports
Max read/write speed 220MB/S (read); 210MB/s (write)
Weight (excl. drives) 2.28kg
Size 227x225x136mm