A lot has changed in the month or two since we first started looking at AMD's Ryzen 7000-series CPUs, and that change has come specifically from Intel with its 13th-gen Raptor Lake CPUs. Read our AMD RYZEN 9 7900X Review.

SOCKET AM5 PROCESSOR
ANTONY LEATHER
AMD's new chips are certainly efficient, drawing less power than Intel's rivals, but they're not cheap either. The Ryzen 9 7900X is a step down from the flagship Ryzen 9 7950X, retailing for £ which places it £ below the new Intel Core i9-13900K – it also costs £ more than the Core i9-12900K and £ more than the Core i7-13700K.
Needless to say, it needs to be better than both of those CPUs in order to justify its premium, and it also needs to match or batter the Ryzen 9 5950X. The latter currently costs the same price, following some hefty Ryzen 5000-series price cuts recently. AMD hasn't upgraded the core counts on any of its Ryzen 7000-series CPUs, though, so the Ryzen 9 7900X still has the same 12 cores and 24 threads as its predecessor. What has changed are its clock speeds.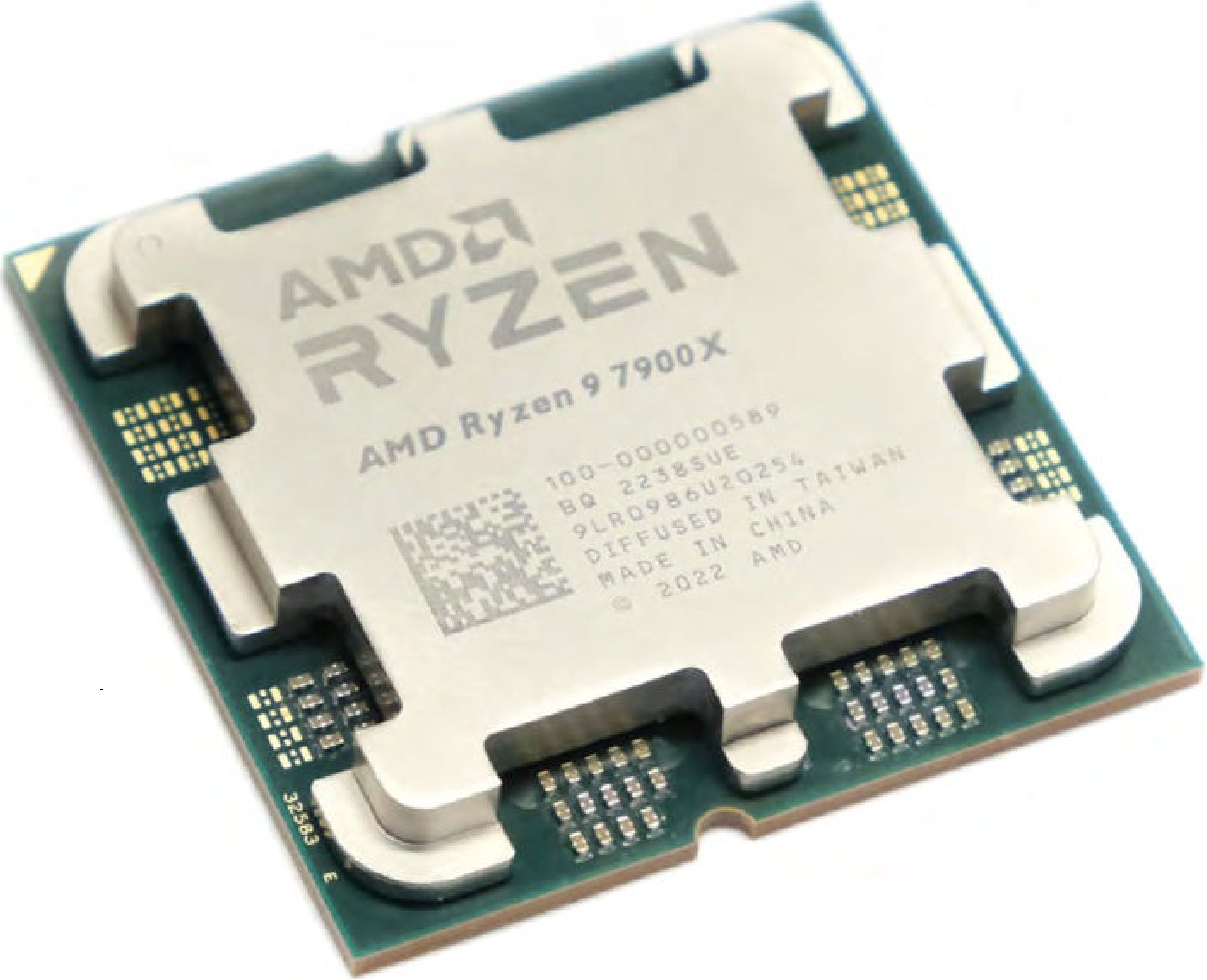 SPEC
| | |
| --- | --- |
| Base frequency | 4.7GHz |
| Max boost frequency | 5.6GHz |
| Core | Zen 4 |
| Manufacturing process | 5nm |
| Number of cores | 12 x physical (24 threads) |
| IGP | AMD Radeon Graphics |
| Simultaneous Multithreading (SMT) | Yes |
| Cache | 64MB L3, 12MB L2 |
| Memory controller | Dual-channel DDR5, up to 5200MHz |
| Packaging | AMD Socket AM5 |
| Thermal design power (TDP) | 105W |
| Features | Precision Boost 2, Precision Boost Overdrive 2, FMA3, F16C, SHA, BMI / BMI1 + BMI2, AVX-512, AVX2, AVX, AES, SSE4a, SSE4, SSSE3, SSE3, SSE2, SSE |
The Ryzen 9 5900X could hit a peak boost frequency of 4.8GHz, but this rockets up to a massive 5.6GHz with the Ryzen 9 7900X. Even the latter's all-core boost was significantly higher than the Ryzen 9 5900X's peak boost, sitting at up to 5.3GHz across all 12 cores. Both CPUs have 64MB L3 cache, but the more important L2 cache has been doubled to 12MB in the new model.
That comes at a cost in terms of thermals though – the TDP has risen from 105W to 170W between the new CPUs, thanks to the increased power on tap in Socket AM5 compared with AM4. In fact, the Ryzen 9 7900X was pretty toasty under heavily multi-threaded workloads, usually hitting 90°C quite quickly in our test rig, which has a full custom water-cooling loop. As a result, we don't recommend using a manual overclock with this CPU.
Under the hood you'll find two 8-core Core Complex Dies (CCDs) with four CPU cores disabled, and in some instances, single-CCD Ryzen 7000-series CPUs are faster than dualCCD chips, thanks to lower latency when dealing with interdie communication. For instance, we saw slightly higher gaming performance in some tests with the single-die 8-core Ryzen 7700X than with the Ryzen 9 7950X, despite the latter having higher clocks speeds.
Performance
Sadly, we weren't able to add a Core i7-13700K to the graphs yet as Intel hasn't sent us a sample, but we'll hopefully get to test one in our next issue. Otherwise, AMD's Ryzen 7000-series CPUs have been consistently ahead in our
GIMP image editing test, which stresses single-threaded performance, and the Ryzen 9 7900X was no exception. It came third overall in our graphs (see p20), and managed to pip the Core i9-13900K to the post in this test, as well as being noticeably quicker than the Ryzen 9 5950X and Core i9-12900K.
It was potent in our heavily multi-threaded Handbrake video encoding test too, managing a fantastic score of 1,239,069, which was enough to better the Core i9-12900K and Ryzen 9 5950X, which both barely cracked one million points – only the Ryzen 9 7950X and Core i9-13900K offer significantly more performance here. It gained the second highest multi-tasking score in our graphs and had the third fastest overall RealBench system score too. This sat at 450,644 compared to 387,778 for the Core i9-12900K and 374,124 for the Ryzen 9 5950X.
Its comparative lack of cores was telling in Cinebench, though, and even the Core i9-12900K was snapping at its heels, with a score of 27,579 compared to 28,843 for the new AMD CPU. With a 10,000-point gap between the Ryzen 9 7900X and the 7950X, and a 12,000-point difference between the 7900X and the Core i9-13900K, it's clear that Intel's extra E-Cores provide an edge if you do lots of multithreaded work.
The single-threaded Cinebench score lagged behind Intel's Raptor Lake CPUs too, with the Core i9-13900K bettering it by nearly 200 points and the Core i5-13600K only sitting a few points behind. In our Prime95 multithreaded stress test, total system power consumption sat at 325W, which was over 100W more than with the Ryzen 9 5950X, but it did manage to undercut the Core i5-13600K here.
Games weren't as impressive as other areas for the Ryzen 9 7900X either, with the Core i9-13600K and Ryzen 7 5800X3D managing to better it in Far Cry 6 by a few frames per second. While margins were slim in Watch Dogs: Legion, the Ryzen 7 7700X provided to be a little quicker than the 7900X as well, as did the Core i5-13600K.
Conclusion
The competition in the CPU market at the moment is fierce and there aren't many bad options, meaning the Ryzen 9 7900X certainly has its place and ushers in new levels of performance for under £ despite AMD not having upped core counts this time around. As an all-rounder, the 7900X makes some sense, given that it's miles faster than the similarly priced Ryzen 9 5950X in every single test and usually has the measure of the Core i9-12900K too, including in games.
Sticking with games for a moment, it's clear that you don't get more performance by opting for more expensive, higher-boosting Ryzen 7000 CPUs. In fact, due to its dual-CCD construction, the Ryzen 9 7900X was a touch slower in one game than cheaper Ryzen 7000-series models. This means you need to weigh up your needs and avoid willy waving. Comparatively, Intel still enjoys scaling in games right up to the Core i9-13900K.
Performance elsewhere revolves around multi-threaded and lightly threaded performance, but we were a tad disappointed with the 7900X's Cinebench score, given it was barely any quicker than the Core i9-12900K, although it did beat the similarly priced Ryzen 9 5950X. On the plus side, in the GIMP image editing test, it was much faster than these CPUs.
Overall then, it's a positive, if mixed bag for the Ryzen 9 7900X. Its biggest issues are the cheaper platform cost for the similarly priced Ryzen 9 5950X and Intel's 13th-gen CPUs, as well as offering zero benefit over cheaper models in games. For a mixed gaming and content creation system, though, it's a very powerful if overpriced CPU.
VERDICT
AMD RYZEN 9 7900X Review
A good all-rounder but it's no faster than cheaper CPUs in games and the price is high.
PROS
Excellent multi-threaded performance
Superb image editing performance
Power-frugal compared with competition
CONS
No faster in games than cheaper models
Ryzen 9 5950X is much cheaper for upgraders
Struggles to stand out from the crowd
Add your review
Best AMD RYZEN 9 7900X prices ?

$

474.00

$549.00
46 new from $449.99
in stock


£

485.00

£599.99
1 used from £418.65
52 new from £476.68
in stock


AMD RYZEN 9 7900X 12/24 170 AM5 76MB TRAY General Specifications Platform: Desktop Product Family: AMD Ryzen Processors Product Line: AMD Ryzen 9 Desktop Processors # of CPU Cores: 12 # of Threads: 24 Max. Boost Clock: Up to 5.6GHz Base Clock: 4.7GHz L1 Cache: 768KB L2 Cache: 12MB L3 Cache: 64MB...

MORE DEALS