If there was one issue with the Ryzen 5 5600X it was its price compared with its predecessor. At launch, there was no sign of the Ryzen 5 5600 and 5500 either, and it looked as though AMD's high value 6-core predecessors were potentially gone forever, as the company levelled up to Intel and realised it could demand premium prices. Likewise, the new Ryzen 5 7600X isn't cheap, but at least it doesn't retail for significantly more than its predecessor and is roughly the same price as the latter a year ago. Read our AMD RYZEN 5 7600X Review.

ANTONY LEATHER
SOCKET AM5 PROCESSOR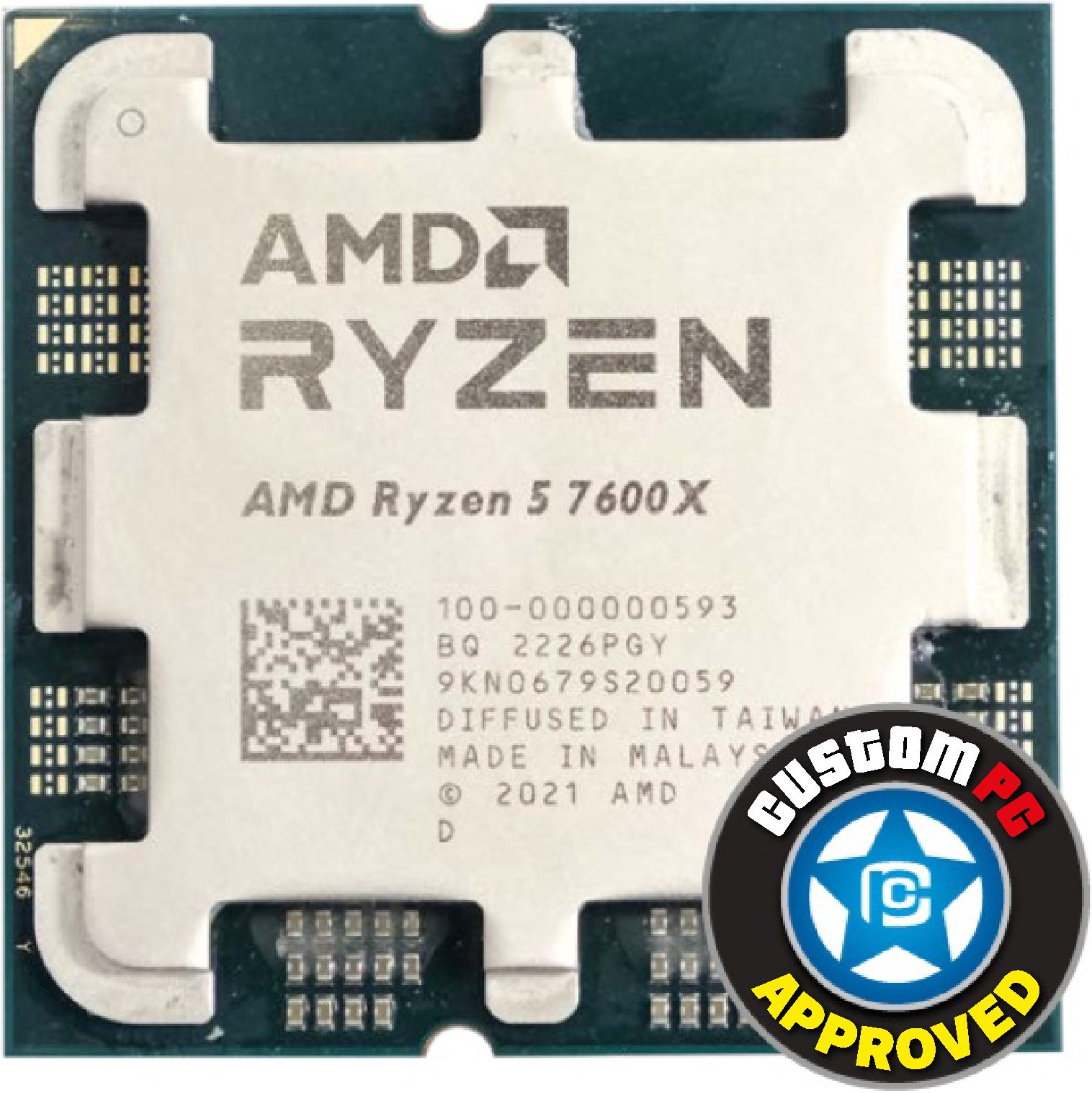 SPEC
| | |
| --- | --- |
| Base frequency | 4.7GHz |
| Max boost frequency | 5.3GHz |
| Core | Zen 4 |
| Manufacturing process | 5nm |
| Number of cores | 6 x physical (12 threads) |
| IGP | AMD Radeon Graphics |
| Simultaneous Multithreading | Yes |
| Cache | 32MB L3, 6MB L2 |
| Memory controller | Dual-channel DDR5, up to 5200MHz |
| Packaging | AMD Socket AM5 |
| Thermal design power (TDP) | 105W |
| Features | Precision Boost 2, Precision Boost Overdrive 2, FMA3, F16C, SHA, BMI / BMI1 + BMI2, AVX-512, AVX2, AVX, AES, SSE4a, SSE4, SSSE3, SSE3, SSE2, SSE |
At £ inc VAT, the current cheapest Ryzen 7000-series CPU costs around £ less the Core i5-13600K, while it's also £ more expensive than the 8-core Ryzen 7 5800X, which will remain on sale to bolster AMD's offerings at the lower end. However, the Ryzen 7 5800X3D costs around £ more, and is a speed demon in games, so it will be interesting to see how it fares against the new flagship 6-core CPU. In this price arena, it's also worth keeping an eye on Intel's Core i7-12700K, which costs £ more than the Ryzen 5 7600X.
The Zen 4 architecture under the hood has brought numerous benefits to AMD's new chips, including a smaller 5nm manufacturing process, increased socket power and other refinements that enable Ryzen 7000-series CPUs to hit higher frequencies than their predecessors. The Ryzen 5 5600X could reach a peak boost frequency of 4.6GHz, but that officially rises to 5.3GHz with the Ryzen 5 7600X and we even saw boost speeds of 5.5GHz in our testing. That's a massive increase in one generation and the all-core boost clock is higher too.
The latter sat at 4.4GHz with the older Zen 3 CPU, but the new kid on the block hits 5.25GHz across all cores in multi-threaded workloads. This should mean the new chip can offer sizeable gains across the board.
That's just as well because AMD hasn't increased core counts on any of its CPUs, putting it at odds with Intel, which has added more cores to all its latest Raptor Lake CPUs. The Core i5-13600K, for example, now has a total of 14 cores. AMD has also doubled the L2 cache from 3MB to 6MB compared with the Ryzen 5 5600X, although the new chips has the same 32MB L3 cache.
One other change is that we're now dealing with a CPU that has a thermal design power of 105W, rather than 65W, and the Ryzen 5 7600X doesn't have a cooler in the box either, unlike the Ryzen 5 5600X. You'll need a powerful cooler for it as well, as it didn't run much below 90°C in our tests, even with our custom water-cooling loop.
Performance
In our RealBench image editing test, which stresses single-threaded performance, the Ryzen 5 7600K managed a score of 88,908, which was high enough for it to claim third place, ahead of Intel's Core i9-13900K, which is a great result.
However, its multi-threaded performance wasn't quite as potent as we hoped, with the Ryzen 5 5600X failing to better the Core i5-12600K in our heavily multi-threaded video encoding test, even if it did beat the Ryzen 7 5800X here, which has two more cores at its disposal. It did reasonably well in our multi-tasking test, but overall, it only just beat the Core i5-12600K and Ryzen 7 5800X in the system score, trailing the Core i7-12700K and Core i5-13600K.
Cinebench also saw the Ryzen 5 7600X struggle, failing to beat the Ryzen 7 5800X and falling a huge amount short of the Core i5-13600K's performance, which managed 24,268 points in the multi-threaded test, compared to just 15,309 for the Ryzen CPU. It was reasonably quick in the single-threaded test, though, bettering all Ryzen 5000-series CPUs, as well as the Core i7-12700K.
Likewise, Far Cry 6 saw the Ryzen 5 7600X better the performance of all the standard Ryzen 5000-series CPUs, as well as Intel's Core i9-12900K, with a 99th percentile frame rate of 100fps, although it was still a way off AMD's Ryzen 7 5800X3D here. In Watch Dogs: Legion, it was again not far from the top of the chart either, with only Intel's 13th-gen CPUs and the Ryzen 7 7700X able to better it.
Power consumption, meanwhile, was nearly 70W higher under load than with the Ryzen 5 5600X, but also significantly lower than our test system with the Core i5-13600K installed, and around the same as a Ryzen 7 5800X system, which it outperformed in many tests.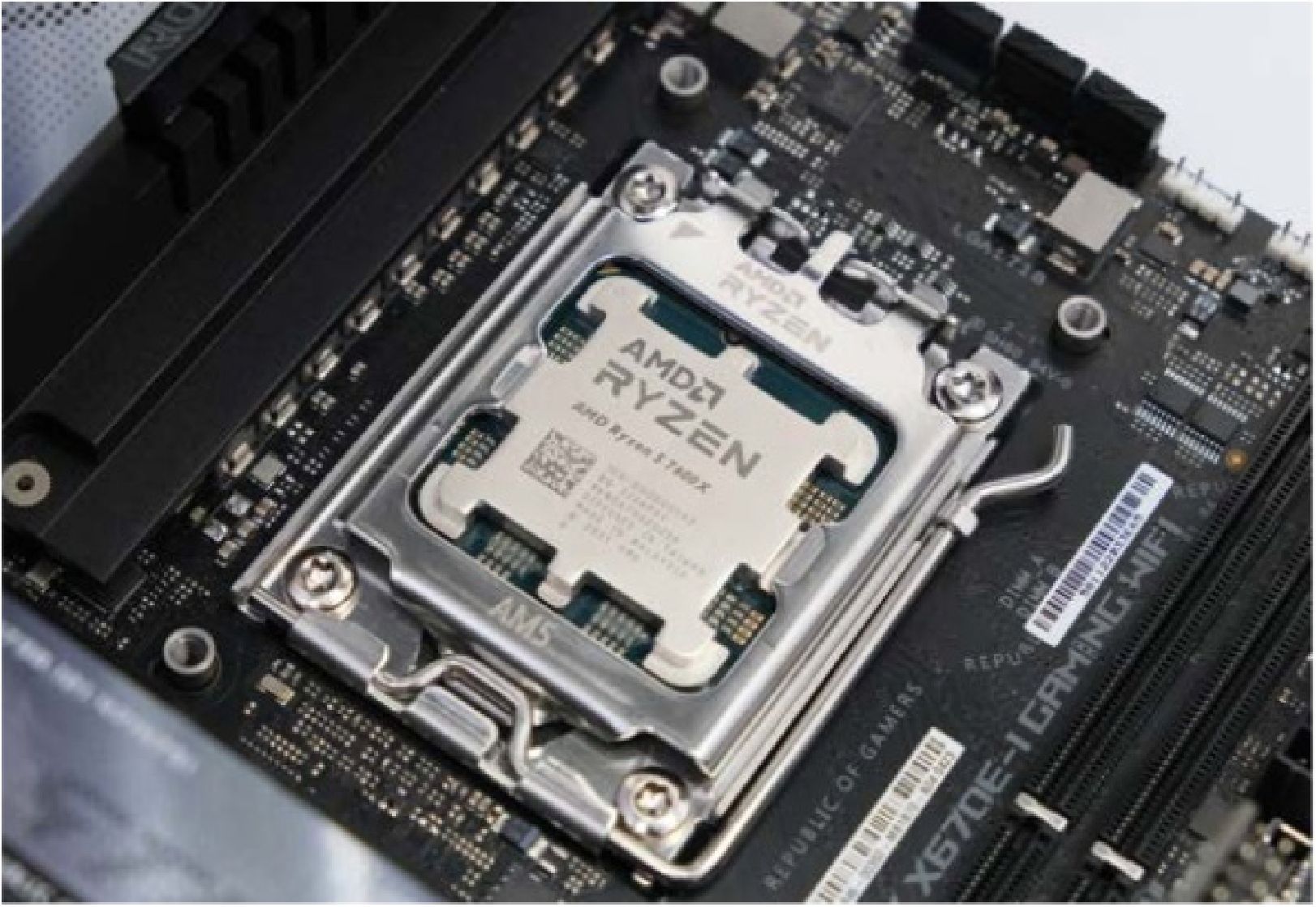 Overclocking wasn't particularly fruitful, though, with the Ryzen 5 7600X hitting an all-core frequency of 5.4GHz with a vcore of 1.2 V, adding 150 MHz to the stock all-core boost, but trailing the peak single-core boost by 100MHz.
Unfortunately, by comparison, the Core i5-13600K overclocked like a trooper and was able to overhaul the Ryzen 5 7600X in the image editing test and extend its lead in the system score, as well as in Cinebench's multithreaded and single-threaded tests. Also, the fact that overclocking the Ryzen 5 5600X means it loses some peak lightly threaded boost frequency compared with stock speed, means it was slower in some tests after overclocking too.
Conclusion
The Ryzen 5 7600X is a solid performer, especially in games and lightly threaded applications, where it often beats the Ryzen 7 5800X and Core i7-12700K. Unlike the Core i5-13600K, this is definitely a CPU that's best left at stock speed, perhaps with some power tuning to cut peak thermals and power consumption using AMD's Curve Optimiser or a manual undervolt. It's well priced for this reason, at least until Intel releases cheaper 13th-gen CPUs.
Its main weakness is multi-threaded workloads, where Intel's extra cores give its Core i5-13600K an advantage, even though AMD has made big strides compared with the Ryzen 5 5600X. Intel also has the benefit of compatibility with cheaper DDR4 memory and slightly cheaper motherboards. If you're building a whole new system, though, as an out-of-the-box CPU for gaming and light content creation, the Ryzen 5 7600X is still a solid CPU for the money.
VERDICT
Editor choice
AMD RYZEN 5 7600X Review
Excellent lightly threaded and gaming performance for the cash, but it struggles in multi-threaded scenarios.
PROS
Excellent lightly threaded performance
Fast out of the box
More power-efficient than the competition
CONS
Core i5-13600K is quicker in a lot of tests
Struggles in multithreaded workloads
Limited overclocking headroom
Add your review
Best AMD RYZEN 5 7600X prices ?
MORE DEALS