When AMD first announced it was releasing cheaper versions of its Ryzen 7000-series CPUs, we assumed the likes of a Ryzen 7 7700 would be noticeably cheaper than the Ryzen 7 7700X. However, a few weeks after its launch, the former only saves you £ over the X-edition CPU. However, both the Ryzen 7 7700 and the similar Ryzen 9 7900 have other advantages aside from being slightly cheaper than their X-branded counterparts. Read our AMD RYZEN 7 7700 Review.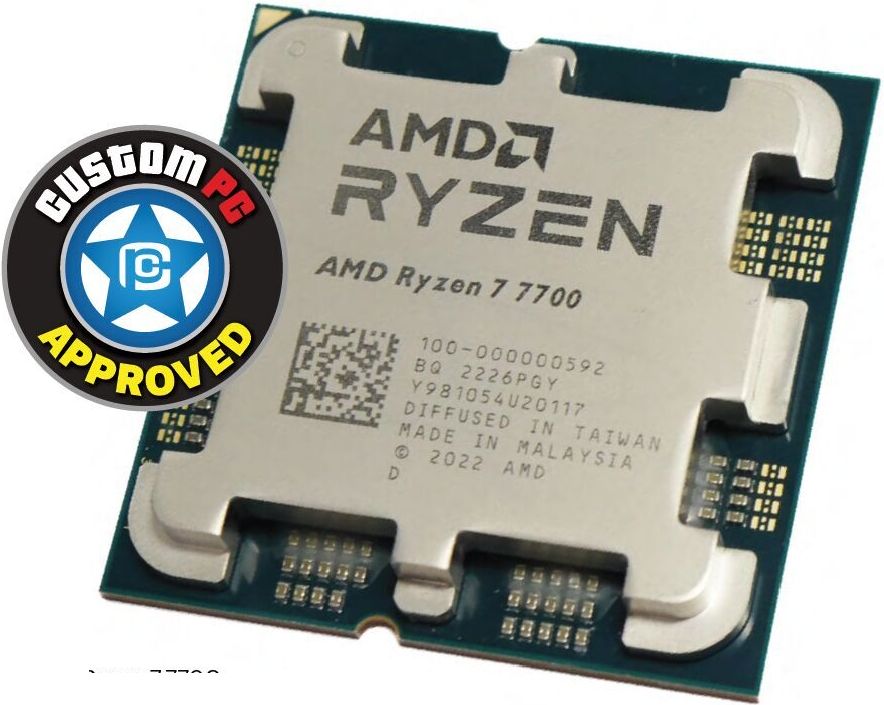 Both are limited to a 65 W TDP rather than 105W for the Ryzen 7 77OOX, but despite this limit, the Ryzen 7 7700 can still hit a peak boost of 5.35GHz, which is just 100MHz short of the 7700X's stock peak boost clock. However, AMD has had to cut performance somewhere to meet this thermal profile, and it's the allcore boost that s been sacrificed. The Ryzen 7 7700X can hit 5.2 GHz across all eight cores, but the Ryzen 7 7700 is limited to 4.7GHz.
SPEC
| | |
| --- | --- |
| Base frequency | 3.8GHz |
| Max boost frequency | 5.3GHz |
| Core | Zen 4 |
| Manufacturing process | 5nm |
| Number of cores | 8 x physical (16 threads) |
| IGP | AMD Radeon Graphics |
| Simultaneous Multithreading (SMT) | Yes |
| Cache | 32MB L3,8MB L2 |
| Memory controller | Dual-channel DDRS, up to 5200MHz |
| Packaging | AMD Socket AMS |
| Thermal design power (TDP) | 65W |
| Features | Precision Boost 2, Precision Boost Overdrive 2. FMA3, F16C, SHA. BMI / BMI1 + BMI2. AVX-512, AVX2, AVX, AES, SSE4a, SSE4, SSSE3, SSE3,SSE2,SSE |
Other than this, the two CPUs are identical apart from the new model coming with a Wraith Prism cooler and a TDP of just 65W – if benchmarks, but the Ryzen 7 7700 rarely went above 70°C.
Overclocking was also interesting, because there was much more thermal headroom than with other Ryzen 7000-series CPUs. However, we couId push the Ryzen 7 7700 up to 5.1GHz with a manual all-core overclock, which caused temperatures to hit 90°C. Meanwhile, switching on Precision Boost Overdrive and Automatic Overclocking kept the lightly threaded peak boost frequency, but still resulted in an all-core boost of 5GHz.
Out of the box, the Ryzen 7 7700's performance wasn't far behind that of the Ryzen 7 7700X and Core i5-13600K, with a system score of 340,984 compared to 360,350 and 372,186 respectively. However, it was noticeably slower in multi-threaded tests, falling 1,500 points short of the Ryzen 7 7700X in Cinebench.
Watch Dogs: Legion also saw a drop in frame rates compared to the X-series chip at stock speed, but with PBO and Automatic Overclocking enabled, it clawed back most of the lost ground. Total system power consumption sat at over 60W less than the Ryzen 7 7700X at peak load, which is around the same as the Core i5-13400F, despite it you're running the chip at stock speed, this cooler will do the job fine. We've seen other Ryzen 7000-series CPUs quickly top 90°C in beating the Intel CPU in every performance test. Our overclock tweaking only resulted in a modest total system power draw increase to 245W too.
Conclusion
In terms of value, Intel's Core i5-13600K costs the same price, supports cheaper memory and has more affordable motherboards available, making it our top choice if bang per buck is your primary concern. There are rumours there will be another generation of CPUs for LGA1700 too, so it may not be the dead-end platform everyone assumed either.
However, the drastic cuts in temperatures and power consumption offered by the Ryzen 7700 over the 7700X at stock speed, plus the fact it can claw back much of the same performance with some simple tweaking, make it a solid choice if you're able to bear the cost of upgrading to AMD's Socket AM5 platform, especially as it also comes with a free cooler that's ideal for small form factor systems.
VERDICT
Editor choice
AMD RYZEN 7 7700 Review
Only the hefty cost of the Socket AMS platform prevents this efficient CPU from getting an unequivocal recommendation.
PROS
Decent multi-threaded performance
Cool-running
Very power-efficient
CONS
Core i5-13600k is faster and potentially cheaper
Socket AMS is expensive
Limited benefits to manual overclocking
Add your review
|
Read reviews and comments
Best AMD RYZEN 7 7700 prices ?
$

328.99
30 new from $328.98
in stock


Leading your team to victory shouldn't cost a fortune. This processor brings exceptional value overclocking and includes the AMD Wraith Prism cooler with RBG LED lighting.


£

315.99

£349.99
42 new from £315.99
in stock

MORE DEALS