The Core i5-13400F didn't receive the warmest of welcomes, despite being highly anticipated. The issue is that th is chip is much more like a Core i5-12600K at a lower price than a Core i5-13600K, and despite its 13th-gen branding, it lacks some of the key upgrades associated with Raptor Lake. Read our INTEL CORE i5-13400F Review.
For example, it hasn't received a doubling of the L2 cache, languishing at the same 9.5MB as the Core i5-12600K, and it also has the same number of P-Cores and E-Cores at six and four respectively, while the Core i5-13600K has eight E-Cores. That said, the Core i5-12400 also had a four E-core deficit compared to the Core i5-12600K, in that it had none at all, so the Core i5-13400F is certainly a step up from its predecessor in more than a few ways.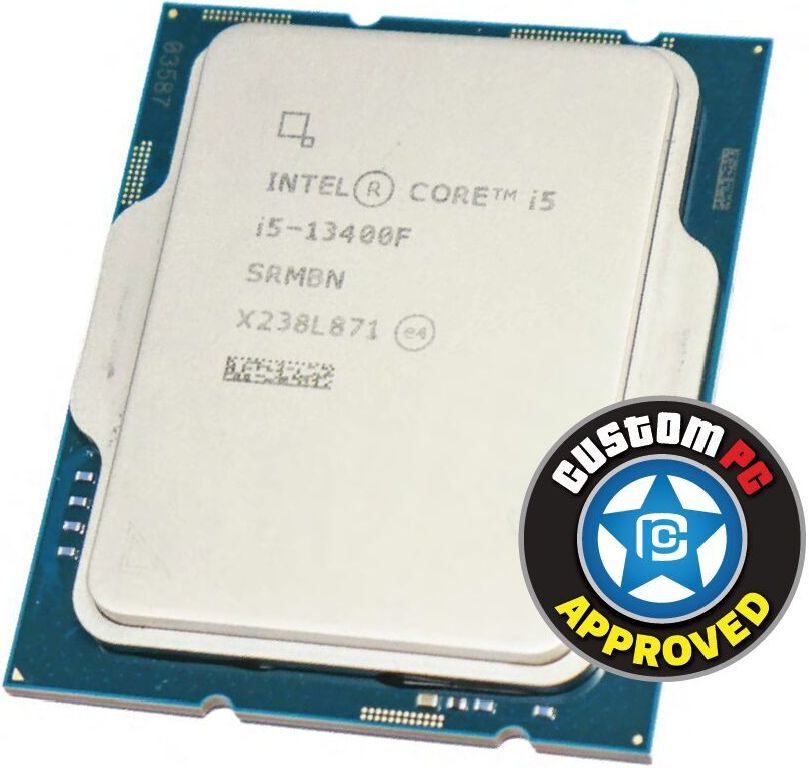 SPEC
| | |
| --- | --- |
| Base frequency | P-Core 2.5GHz, E-Core 1.8GHz |
| Max boost frequency | P-Core 4.6GHz, E-Core 3.3GHz |
| Core | Raptor Lake |
| Manufacturing process | 10nm |
| Number of cores | 6 P-Cores, 4 E-Cores, (16 threads) |
| Hyper-Threading | Yes |
| Cache | 20MB L3, 9.5MB L2 |
| Memory controller | Dual-channel DDR4 and DDRS |
| Packaging | LGA1700 |
| Maximum turbo power | 148W |
| Features | Turbo Boost 2, FMA3, F16C, SHA, BMI / BMI1 + BMI2, AVX-512, AVX2, AVX, AES, SSE4a, SSE4, SSSE3, SSE3, SSE2, SSE, MMX |
In case you're unfamiliar with all of Intel's suffixes, the'F' at the end of the name means this CPU has no integrated graphics, which means it's a little cheaper than a non-F chip, but it lacks that backup facility in the event your graphics card is out of action, or if you just don't need a discrete GPU for your needs.
At a price of £ inc VAT, it doesn't really have a competitor among the other CPUs this month, with the Ryzen 5 76OOX sitting at £ and the Ryzen 5 5600X at £ Needless to say it needs to try to keep up with the former and needs to beat the later in every test to be worth considering.
Out of the box, the Core i5-13400F will hit an all-core boost on its P-Cores of 4.1GHz, which is 1GHz below the Core i5-13600K's figures, and it's also slower than the Core i5-12600K, while its peak lightly threaded boost of 4.6GHz also trails both CPUs by a wide margin. However, it does have a lower TDP than the Core i5-12600K, at 65W compared to 125W, with the peak turbo power being about the same at 148W.
The Core i5-12600K certainly had the measure of the Core i5-13400F in the RealBench tests, but not by the margin its price suggests with a system score of 288,414 compared to 271,519 for the new CPU. The margin was slightly wider in Cinebench's multi-threaded test, at 17,383 vs 15,378, but critically the two were closely matched in games.
The Core i5-13400F also managed to beat the Ryzen 5 5600X in our RealBench overall system score and was miles ahead in Cinebench too, where it aIso beat the Ryzen 5 7600X, although the latter was slightly faster in our game tests.
Conclusion
There are a few points to consider with the Core i5-13400F, with the first being its performance. This is solid, sticking close to the Core i5-12600K and costing a lot less money, while outpacing the cheaper Ryzen 5 5600X and even bettering the Ryzen 5 76OOX in a few tests too.
Critically, Intel has much cheaper motherboards available for its latest chips than AMD, with some B660 models retailing for under £ and they also support cheap DDR4 memory, while with Socket AM5, you need DDR5 memory that still demands a price premium. For now at least, the Core i5-13400F offers excellent value when paired with the right components, and is a much better bet fora mid-range system than AMD's cheapest Socket AM5 options.
VERDICT
Editor choice
INTEL CORE i5-13400F Review
Decent performance for the price, and it also benefits from compatibility with cheap motherboards and DDR4 memory.
PROS
Good performance for the price
Power-frugal
Doesn't need lavish cooling
CONS
Low clock frequencies
No L2 cache upgrade
Only four E-Cores
Add your review
|
Read reviews and comments
Best INTEL CORE i5-13400F prices ?
$

209.95

$241.25
1 used from $368.68
25 new from $209.95
in stock


13th Gen Intel® Core™ i5-13400F desktop processor without processor graphics. Featuring PCIe 5.0 & 4.0 support DDR5 and DDR4 support 13th Gen Intel® Core™ i5 desktop processors are optimized for gamers and productivity and help deliver high performance. Discrete graphics required. Compatible...


£

215.41
2 used from £197.33
43 new from £215.41
in stock

MORE DEALS