The Ryzen 3 2200G is a sizeable cheaper than its Ryzen 5 sibling – a huge amount of money at this end of the budget spectrum.
Even after recent price cuts of AMD's first- generation Ryzen CPUs, it still appears to offer good value for money, costing the same price as the Ryzen 3 1200.
In fact, its base frequency and boost frequency of 3.5GHz and 3.7GHz match those of the Ryzen 3 130OX, which retails for more and also lacks on-board graphics.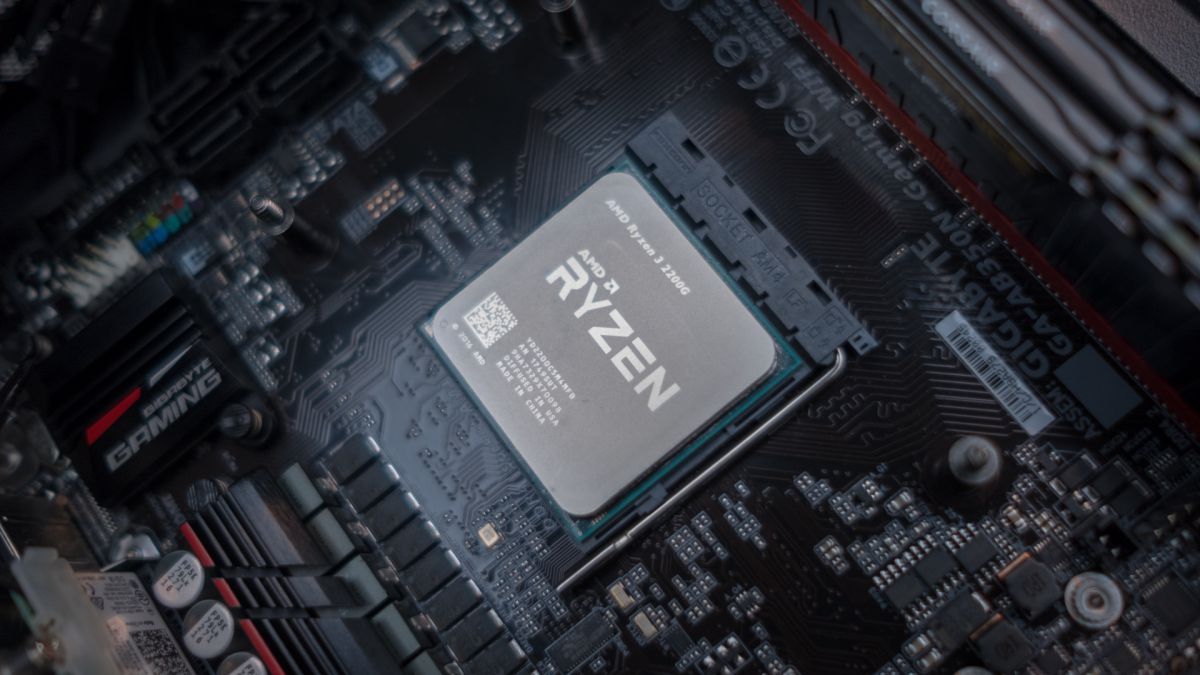 However, the latter also sports XFR, giving it a 200MHz advantage in single- threaded workloads at stock speed, where it's able to reach a maximum of 3.9GHz.
Like its pricier APU sibling (opposite), the Ryzen 3 2200G only has 4MB L3 cache compared to the Ryzen 3 1300X's 8MB, but the L2 cache is the same, with 512KB per core.
Both the Ryzen 3 1300X and 2200G chips have four cores and lack Simultaneous MultiThreading (SMT), so are limited to four threads, unlike the Ryzen 5 2400G.
In terms of GPU horsepower, the Ryzen 3 2200G is also noticeably less powerful than the Ryzen 5 2400G. It only has eight compute units compared to 11, which is the same as AMD's Radeon RX 550 GPU.
It also has a much lower GPU frequency than the more expensive APU, at 1100MHz.
Like the 2400G, the 2200G is limited to providing just eight PCI-E lanes to discrete graphics cards as well, although the performance impact will be minimal.
As with all of AMD's APUs, the Ryzen 3 2200G shares your system's memory, and our test motherboard could supply up to 2GB for its own personal use.
This situation means that using faster memory is akin to overclocking your graphics card's memory, so you'll want to use the fastest memory you can afford if gaming performance is important to you.
We managed to overclock the Ryzen 3 2200G's base clock to 3.9GHz using a vcore of 1.43V, which is 50MHz more than the Ryzen 5 2400G, but we could only get the GPU core up to 1.25GHz.
However, even at stock speed, the Ryzen 3 2200G was quicker than both the Ryzen 5 1400 and Ryzen 3 1300X in our image editing test most likely due to it sporting AMD's new Precision Boost 2 tech.
The benefit of SMT was fairly evident though, with the Ryzen 5 2400G managing 823 points in Cinebench R15 compared to just 578 for the Ryzen 3 2200G.
The pricier APU also has a significant advantage in our heavily multithreaded Handbrake test.
Overall, the Ryzen 3 2200G fell behind the Ryzen 5 1400, but was still quicker than the Ryzen 3 1300X, even bettering it in Cinebench R15.
The lower number of compute units and GPU frequency saw it lose to the Ryzen 5 2400G in games though.
The biggest gap was seen in Deus Ex: Mankind Divided's 30 fps average frame rate, which was 5 fps slower than the Ryzen 5 2400G, although both APUs could only manage playable frame rates in this game at 1,600 x 900 with low settings.
The 2200G was 2fps adrift on the minimum and average frame rate in Fallout 4 too. Once overclocked, though, the Ryzen 3 2200G was still competitive and was rarely much more than 10 per cent slower than the Ryzen 5 2400G in games.
AMD Ryzen 3 2200G review: Conclusion
If the Ryzen 5 2400G didn't have SMT, the Ryzen 3 2200G would be a bargain, as there's not a huge difference in gaming performance, especially when overclocked.
However, you get a much more grunt outside of games with the Ryzen 5 APU. If four threads are enough for your workloads, though, the 2200G is a great entry-level APU for gaming at 1080p and below with low to medium settings.
ANTONY LEATHER
AMD Ryzen 3 2200G SPECIFICATIONS
Base frequency 3.5GHz
Max boost frequency 3.7GHz Core Zen
Manufacturing process 14nm
Number of cores 4x physical (4 threads)
Simultaneous MultiThreading (SMT) No
Cache 4Mb l3 cache, 2MB L2 cache
Memory controller
Dual-channel DDR4, up to 2933MHz
Packaging AMD Socket AM4
Thermal design power (TDP) 65W
Features Precision Boost 2, FMA3, F16C, SHA, BMI/ BMI1 + BMI2, AVX-512, AVX2, AVX. AES, SSE4a, SSE4, SSSE3, SSE3, SSE2, SSE, MMX
AMD Ryzen 3 2200G VERDICT
We managed to overclock the base clock to 3.9GHz
Editor choice
AMD Ryzen 3 2200G review
The 2200G falls behind in heavily multithreaded workloads, but its gaming and lightly threaded performance is astounding for the price.
PROS
Playable 1080p gaming with popular titles
Incredibly affordable
CONS
Early driver incompatibilities
Intel still leads in computational power
Add your review
Best AMD Ryzen 3 2200G prices ?
$

185.00

$210.00
10 used from $116.99
2 new from $185.00
in stock

MORE DEALS