The Ryzen 5 2400G is the most expensive of AMD's new APUs, and it comprises a single Core Complex of four cores. Plus, unlike its cheaper sibling, it has eight threads courtesy of Simultaneous MultiThreading (SMT).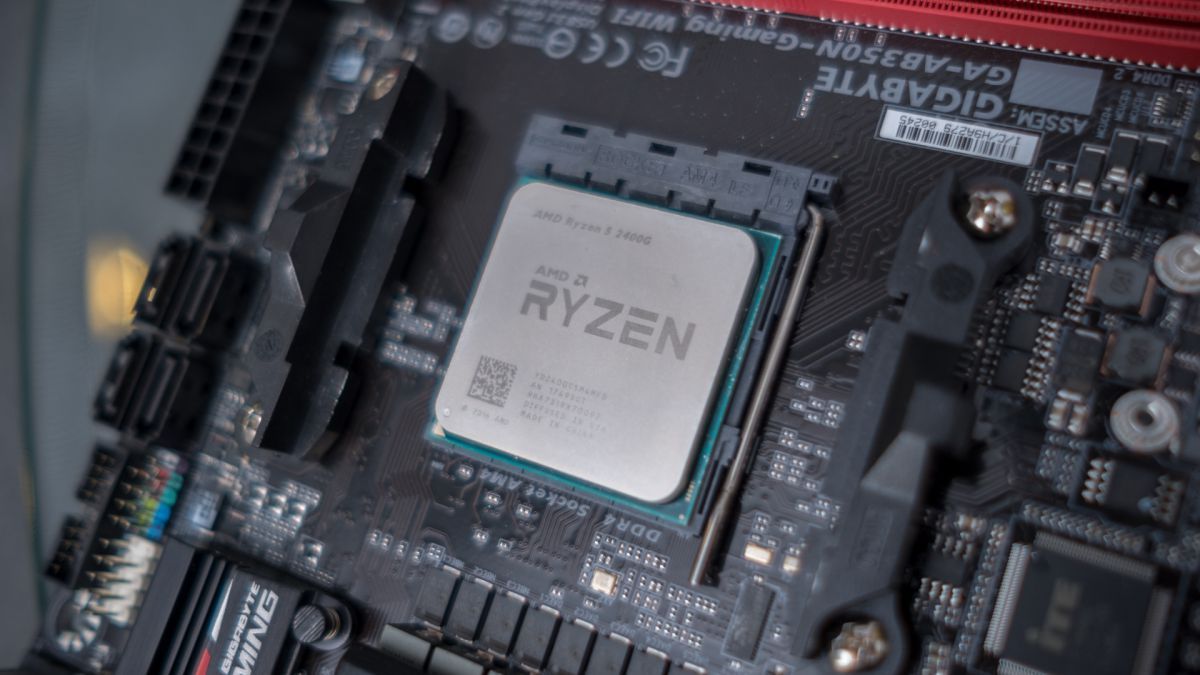 Its quad-core Ryzen 5 siblings, the Ryzen 5 1500X and Ryzen 5 1400, comprise two Core Complexes, with two cores disabled on each one. The latter two CPUs benefit from significantly more L3 cache as a result, at 8MB and 16MB respectively, compared to just 4MB for the Ryzen 5 2400G. This reduction in cache makes room for the Vega IGP, which simply wouldn't fit inside an AM4 CPU with two Core Complexes. That's also the reason why all of AMD's desktop Zen-based CPUs so far have, unlike Intel's equivalents, lacked on-board graphics.
Frequencies are noticeably higher than the Ryzen 5 1400, though, with the maximum boost frequency reaching 3.9GHz compared to 3.45GHz, while the base clock sits at 3.6GHz as opposed to 3.2GHz. Both new APUs also sport AMD's Precision Boost 2 tech, which promises better performance in lightly threaded workloads, as the boost frequency remains higher when low numbers of threads are used.
Meanwhile, the GPU sports 11 compute units – three more than the Radeon RX 550. It also has a higher GPU frequency of 1250 MHz compared to 1183MHz, while the RX 560 has three more compute units and a slightly higher GPU frequency. Both APUs only offer eight PCI-E lanes for discrete graphics cards. That's not likely to affect performance by more than 1 per cent in most games, though, and you still get extra lanes for the chipset and a PCI-E M.2 SSD.
At stock speed, the Ryzen 5 2400G's performance was encouraging, with scores close to those of the Ryzen 5 1500X, which has quadruple the L3 cache, albeit slightly lower frequencies. It was just a fraction behind in the system score and actually beat it in Cinebench R15, while also beating Intel's Core i3-8100.
In games, not surprisingly, the latter's integrated GPU was poor, but the Vega GPU of the Ryzen 5 2400G was able to handle Fallout 4 at 1,920 x 1080 at medium settings with no AA or AF, and Deus Ex: Mankind Divided at low settings at 1,600 x 900.
Switching off the IGP and using an Nvidia GTX 1030 2GB, saw a 5fps gain in the minimum frame rate in Fallout 4 and 4fps in Deus Ex. However, once we'd overclocked the CPU to 3.85GHz using a of 1.43V vcore, and the GPU core to 1.3GHz, it matched the Nvidia card in Deus Ex, but Fallout 4 stayed put. Amazingly, the stock cooler was quiet and coped fine in these tests too – another cost-saving bonus.
AMD Ryzen 5 2400G Conclusion
If you don't mind gaming at 1080p and below, and dropping detail settings, the Ryzen 5 2400G is hard to beat in terms of value for money. Opting for a cheaper CPU and an Nvidia GTX 1030 2GB only nets a tiny bit more gaming performance, while costing more cash and, in most cases, resulting in inferior CPU performance. Also, we used 3000MHz memory in testing, but using 3200MHz memory sees the Ryzen 5 2400G closing the gap between its IGP and the Nvidia card further, and it barely costs any more money. If you want to get started in PC gaming for as little cash as possible, while still having enough CPU power for other tasks, the Ryzen 5 2400G is a great choice.
ANTONY LEATHER
It has eight threads, courtesy of Simultaneous MultiThreading
AMD Ryzen 5 2400G Review: SPECIFICATIONS
Base frequency 3.6GHz
Max boost frequency 3.9GHz Core Zen
Manufacturing process 14nm
Number of cores 4 x physical (8 threads)
Simultaneous MultiThreading (SMT) Yes
Cache 4MB L3 cache, 2MB L2 cache
Memory controller Dual-channel DDR4, up to 2933MHz
Packaging AMD Socket AM4
Thermal design power (TDP) 65W
Features Precision Boost 2, FMA3, F16C, SHA, BMI/ BMI1 + BMI2, AVX-512, AVX2, AVX, AES, SSE4a, SSE4, SSSE3, SSE3, SSE2, SSE, MMX
AMD Ryzen 5 2400G VERDICT
Best AMD Ryzen 5 2400G prices ?
$

650.00
2 used from $274.00
22 new from $650.00
in stock

MORE DEALS