Amazon Echo Spot Review – The Echo Spot is to the Echo Show what the Echo Dot is to the Echo: a smaller, cheaper version with essentially the same features. It looks more endearing, shaped like a truncated sphere about the size of a softball, and its little round screen is attractive, showing a clock, with a choice of faces when idle, and information, such as song details, when in use. Like other Echos, it plugs into the mains and requires a home Wi-Fi network.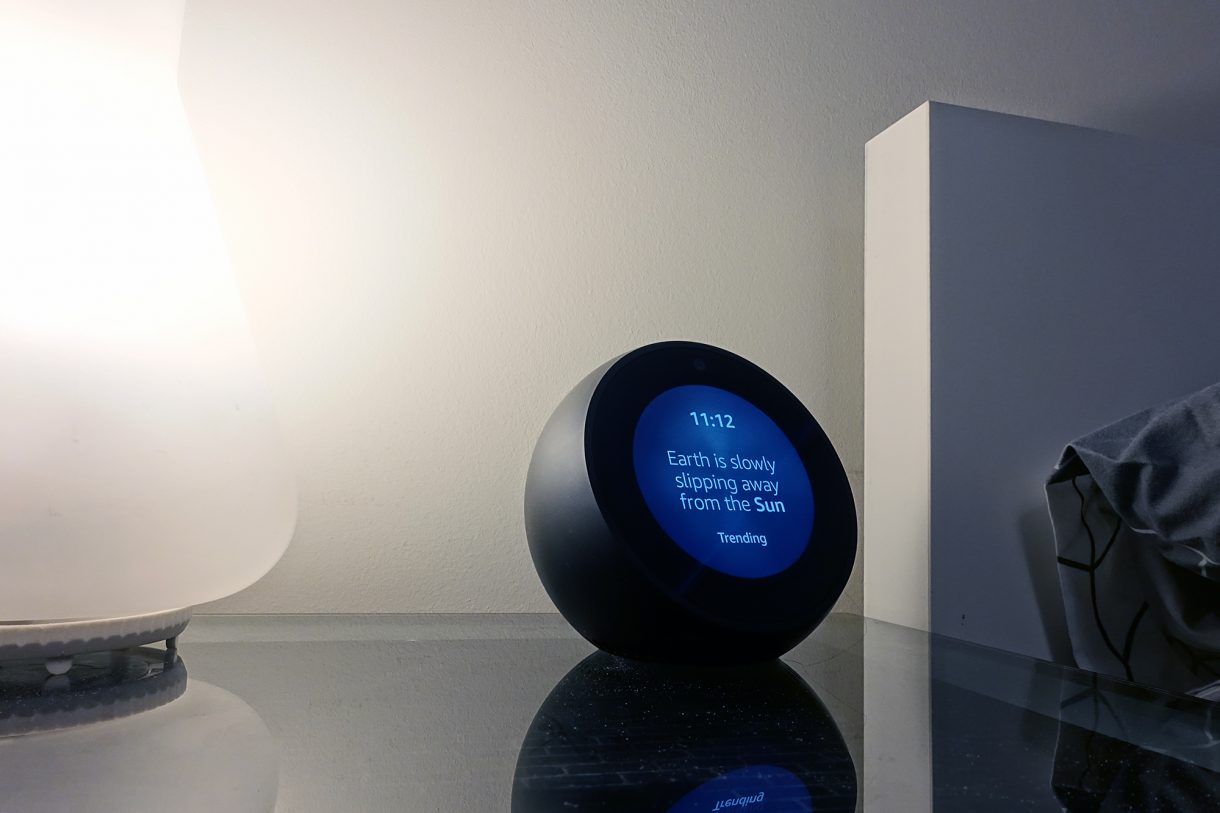 A camera is also built in, as well as the speaker and microphone for communicating with Alexa, so you can use the Spot for video chat with other Amazon Echo users, who can 'drop in' on you if you enable that slightly scary feature. Thanks to Alexa's compatibility with third-party 'smart home' accessories, it can also monitor the feed from devices like a Nest IQ Cam; and you could watch TV shows on it via Amazon Prime Video, if you really wanted to.
A smart alarm clock with a congenial bedside manner
The Spot is described as a smart alarm clock, and it's good at that. Instead of fiddling with knobs, you just say, "Alexa, wake me up at 7am" or "Alexa, wake me at 7am with classical music" Or, if you have an Amazon Prime Music or Music Unlimited subscription,
"Alexa, wake me at 7am with that song that goes 'Tumble out of bed and stumble to the kitchen'". This will all work just as well with any other Echo, but the screen makes the Spot a more
Amazon Echo Spot review: SPECIFICATIONS
802.11n Wi-Fi • Bluetooth 4.0 • 2.5in 480×480-pixel circular screen • Camera • 4x microphones • 1.4in speaker • Mains adapter • 104x97x91mm (HxWxD) • 420g • One-year warranty congenial bedside companion. To avoid getting woken up by people in other
time zones, use the Do Not Disturb mode.
If there's one shortcoming, it's audio quality. The Echo Show impressed us in this respect, but the Spot, although superior to the Dot, sounds thin. There's not much bass, and while it's audible in the bedroom, if you keep it in the kitchen it'll lose the battle with a boiling kettle or extractor fan. Unlike the Show, it does have a jack for an external speaker (as well as Bluetooth), but that seems like missing the point of the compact format. On the input side, the internal mics did pick up our voice reliably.
back to menu ↑
Amazon Echo Spot Review: VERDICT
It's an expensive alarm clock and we wish the sound was better, but with all the same Alexa features as the other Echos and a friendly screen, this feels almost ideal
back to menu ↑
Amazon Echo Spot Review: ALTERNATIVE
back to menu ↑
Amazon Echo (2nd gen)
The Spot's LCD screen is cute, but if you don't feel you need it the standard Echo is 30 quid cheaper and now sounds better
Amazon Echo Spot Review
It's an expensive alarm clock and we wish the sound was better, but with all the same Alexa features as the other Echos and a friendly screen, this feels almost ideal
PROS
Lovely form factor
Video is clear
CONS
Round screen means video cropping
Pricier than the regular Echo
Add your review