RECOMMENDED
Amazon Echo Spot Review: Bedside manna
Steve May is enamoured by Amazon's cutest smart assistant
The Echo Spot packs a 1.4in full-range driver
IT'S EASY TO overlook Amazon's Echo Spot. It's not overtly a living room smart speaker, like its bigger Echo brothers, and it doesn't have a (relatively) large screen display like the Echo Show. To all intents and purposes it appears to be a bedside clock, albeit one with delusions of grandeur.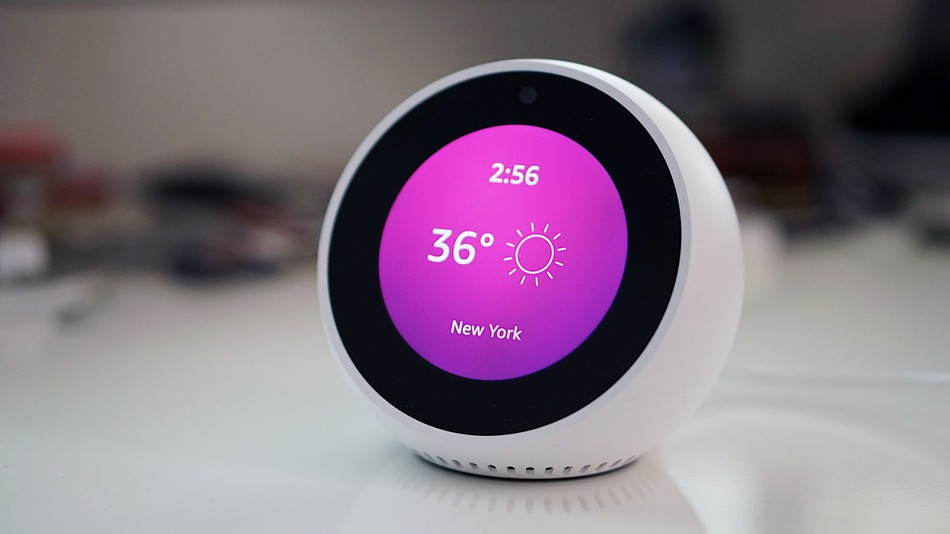 You see, this dinky sphere is a veritable pokeball when it comes to feisty talents.
Not only does it have all the connected functionality of its Echo stablemates, but it's video-savvy too.
The late, late show
Available in black or white, the Echo Spot could conceivably be employed on a work desk or in a kitchen. However, it's most obviously a bedside companion. In the evening, the display dims automatically, becoming almost unreadable in the dead of night (you can override this if you need to).
In terms of design and build, it's slick and polished. Sitting on a flat base, the 10cm circular orb presents a sharp, colourful screen to the world. There are top- mounted physical buttons for volume control and mic/
back to menu ↑
Av info
PRODUCT: Alexa-enabled smart speaker/display
POSITION: Little brother to the Amazon Echo Show
PEERS: Google Home; Amazon Echo Dot
camera activation; you can disable the camera completely in settings if you're paranoid about Alexa spying on you during the night, or simply don't require the Spot's video calling feature.
Naturally, being an Alexa device, you're meant to chat to it, and the Spot's second- generation far-field voice recognition microphones mean it doesn't struggle to hear. In addition to Alexa voice control, there's a 3.5mm audio line output, and Bluetooth transmission to third-party loudspeakers.
Setup takes just a few minutes over Wifi using the Amazon Alexa app. I won't go into any great detail about the feature set, as it's really no different to what we've seen on other Alexa products, although it lacks the built-in smart hub of the all-new Echo speakers, and so won't work solo with Zigbee smart home products.
But there is a plethora of skills available, including as managing connected thermostats or controlling smart lighting, such as Philips' Hue range. Given the form factor though, it's likely that other duties will be paramount – perhaps playing audio books or setting wake-up calls.
When it comes to audio playback, the Echo Spot is actually quite impressive.
It sounds a good deal better than the budget Echo Dot model, by virtue of a larger 1.4in driver design, and has enough volume to be comfortably heard in a moderately sized room.
You can use it to play music from popular services such as Spotify and TuneIn. It will even show music lyrics when streaming content from Amazon Music.
But here's the thing: the Echo Spot is also a video display. Any video content on Amazon Prime can be played back on its diddy (64mm wide) 480 x 480 pixel screen.
It's a bit of an odd experience, as widescreen images are centralised with their edges trimmed for the circular display, but you quickly grow accustomed to it.
So what to use it for? I found myself catching up on late-night anime and checking out the latest movie trailers (although admittedly 2.40:1 clips look pretty small). Pictures are sharp enough, with vibrant colour. Any fears that this might be a second-division LCD display are quickly dispelled.
One drawback is that, because of the ongoing spat between Amazon and Google, there's no YouTube app support. But you can ask the Spot to play music videos. It searches via Bing, then plays what it finds – these tend to stream within a smaller 4:3 ratio display.
You can also view game-streaming site Twitch (which is also owned by Amazon), or add MTV UK News to your flash briefing, arguably the slickest video news package available for the Spot.
back to menu ↑
Surprisingly entertaining
Amazon's Echo Spot may seem an unlikely addition to any AV armoury, and purists will snigger at its video implementation, but it's actually surprisingly useful and entertaining. Quite apart from all the smart home gubbins, it allows you to watch The Grand Tour on a bedside clock. And for that bombshell alone, warrants a thumbs up
back to menu ↑
VERDICT
Amazon Echo Spot Review
The diminutive Echo Spot is a smart speaker unlike any other. And as a bedside companion, it's uniquely entertaining.
Where to buy?
Echo Spot is designed to fit anywhere in your home. Use 2nd generation far-field voice recognition to watch the news, see music lyrics, weather forecasts, to-do and shopping lists, browse and listen to Audible audiobooks, and more. All hands-free?just ask.
Last update was on: 2019-11-16 9:17 am
Echo Spot is designed to fit anywhere in your home. Use 2nd generation far-field voice recognition to watch the news, see music lyrics, weather forecasts, to-do and shopping lists, browse and listen to Audible audiobooks, and more. All hands-free?just ask.
Echo Spot connects to Alexa, a cloud-based voice service to play music, read the news, answer questions, set music alarms, control smart home, and more.
Just ask to play a song, artist, or genre, and see lyrics with Amazon Music. Also, stream music from Apple Music, Spotify, Pandora, and other music services, or books from Audible.
Use the built-in speaker or connect to speakers through Bluetooth or 3.5 mm stereo cable. With multi-room music, you can play music on your Echo devices in different rooms. Adjust the treble, mid, and bass levels with your voice.
Ask Alexa to turn on your lights, show baby monitors and front door cameras, and lock your doors. Plus, control your thermostats, garage doors, sprinklers, and more.
Call almost anyone hands-free, or make video calls to family and friends with Skype, the Alexa app, an Echo Spot, or Echo Show. Instantly connect to other Echo devices around your home.
With tens of thousands of skills, Alexa is always getting smarter and adding new features. Just ask Alexa to control your TV, request an Uber, order a pizza, and more.
Built with multiple layers of privacy protections and controls, including a microphone/camera off button that electronically disconnects the microphones and camera.
back to menu ↑
SPECIFICATIONS
DRIVERS: 1 x 1.4in full-range driver AMPLIFICATION (CLAIMED): N/A SCREEN: 480 x 480 resolution, colour CONNECTIONS: 3.5mm audio output DIMENSIONS: 104(w) x 97(h) x 91(d)mm WEIGHT: 420g
FEATURES: Amazon Alexa compatible; second-generation far-field voice recognition; dual-band Wi-Fi support; Bluetooth connection; integrated camera (video calling to Alexa devices); compatible with Philips Hue, WeMo, SmartThings, Ring, Arlo, Nest; Alexa app (Fire OS, iOS, Android)