Ask me anything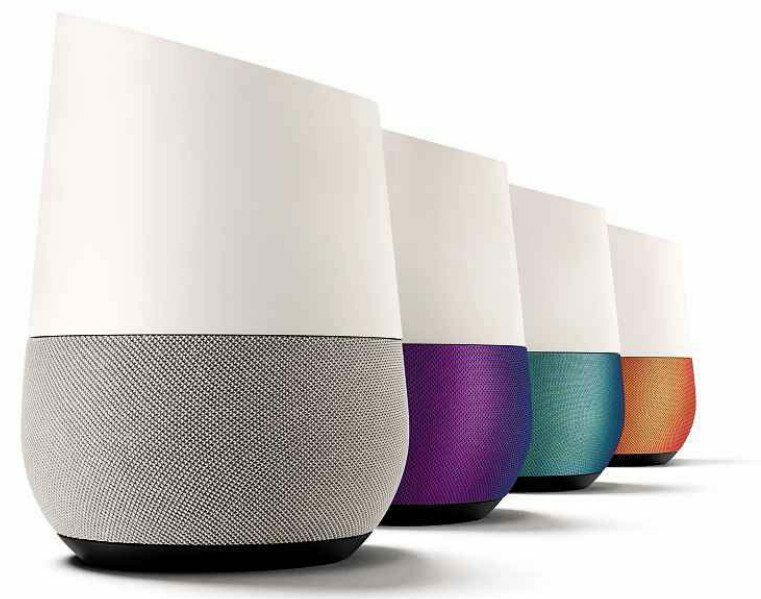 New to the UK, this is Google's rival to the Amazon Echo, a web-connected home assistant (or smart speaker) that listens for voice commands and gives you instant responses. We prefer the Home's look, which resembles a large air freshener (by contrast the Echo looks like the monolith from 2001: A Space Odyssey), and the fabric-covered base – with coloured replacements available – is a nice touch.
More importantly, it's 20 quid cheaper. Like the Echo, Google Home has indicator lights on top and a touch surface that you can use to control the volume or play/pause your music without having to ask. You can also give a long press to tell the device to listen without having to shout 'OK Google', although that's generally easier. Much like the personal assistant on an Apple or Android phone, the Google Assistant can answer questions like 'What's the square root of 729?', 'Will it rain today?' or 'What are the Premier League scores?'.
Being so easy and constantly available, without having to get anything out or turn it on, makes this quite habit-forming. You can also play music from internet services like Google Play Music and Spotify through the speaker just by asking for a track.
Where it gets interesting, though, is when you link Google Home to other devices. If you have a Chromecast audio or video dongle or a Smart TV with Chromecast built in, you can stop flipping through menus and operate it by voice. For example, 'Play The Crown from Netflix'. If you don't have subscription services, it also works with BBC iPlayer. Buy a 'smart' lightbulb and you can dim it or change its color just by asking. If you use IFTTT (see www.
snipca.com/24154) to automate things, you can work that too.
Some services do require fees.
Accessing your YouTube 'watch later' list, for example, requires a YouTube Red subscription, which doesn't yet exist in the UK. The overall range of compatible products and services isn't as wide as Amazon's.
We'd still pick Google Home over Echo, though, because it's cheaper, the speaker is superior, and Google seems better placed to offer an all-encompassing service than Amazon, which tends to focus on selling you things.
IS YOUR PRIVACY AT RISK?
Like Echo, Google Home sends all your commands to a remote server for processing, but doesn't record anything until you say the magic words 'OK Google'. Then your requests are logged and can be used for marketing purposes, much like when you search for 'socks' at google.com and adverts for socks then pop up everywhere. It can also learn about your calendar and email contacts. If you enable third-party services, they'll see your data too. But you can choose what permissions to grant Google Home, so if you don't want to use a particular kind of service, you don't have to. There's also a mute button that turns the mic off.
There's been at least one case in the US where police asked Amazon to release details from a suspect's Echo. In the UK, the Government could order Amazon or Google to retain records of everyone's activities, although it insists it's only interested in metadata (who you contacted and when) rather than content (what you asked for).
SPECIFICATIONS
802.11ac Wi-Fi • Far-field microphones • Speaker • Mains adapter • Requires Android 4.2 or iOS 8 or higher device for Google Home app • 143x96x96mm (HxWxD) • 477g • One-year warranty
VERDICT:
Not everyone will need or want one, but Google Home is surprisingly useful, especially if fiddling with screens and menus isn't your thing
ALTERNATIVE:
This smaller, cheaper unit offers the same features as the Echo, but you need to connect it to your own speakers
Rating 4/5