There's no avoiding the fact that £ is a considerable amount to spend on a gamepad, but you notice the difference between the Razer Wolverine V2 Chroma and a normal gamepad as soon as you hammer the face buttons. Razer describes them as 'mecha-tactile action buttons', and they move with an underlying mechanical switch rather than a conventional membrane. Read our Razer wolverine v2 chroma review.
GAMEPAD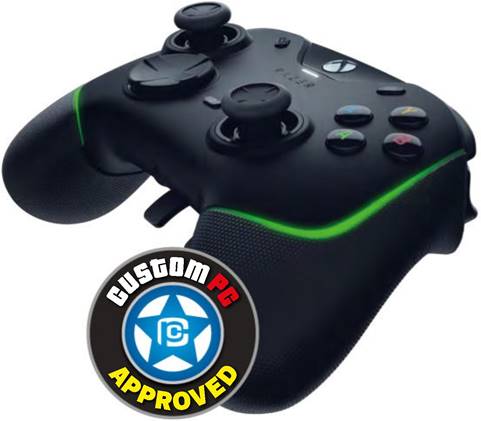 spec
Weight
270g
Dimensions (mm)
162 x 106 x 65 (W x D x H)
Buttons
21 (D-pad, action, analogue sticks, shoulder, underside, View, Menu, Share, Audio, Xbox)
Cable
3m, USB Type-C
Extras
Interchangeable analogue sticks, RGB lighting
Razer claims that this design delivers quicker actuation times than traditional pads, and the buttons do feel fantastic – they're crisp, comfortable and fast. The raised D-pad uses the same design, and it has the same impressive feel. The pad's other buttons don't have the same hardware, but they're enhanced elsewhere.
Meanwhile, glossy casings house the analogue sticks to ensure friction-free movement. Razer includes interchangeable caps in the box as well – a taller stick that encourages accuracy, and a short, convex model for improved speed. They both work well. The taller concave version gives you some extra precision but retains the design of the standard stick on top. The convex version is good as well, but it could do with some more texture on its surface.
The shoulder buttons are large too, and switches on the underside convert the triggers to 'hair trigger mode', which slashes their travel distance for faster actuation.
Again, it works well – the new actuation point feels very solid, so you can hammer against them without issue – we found they worked great in fast-paced games such as Call of Duty: Warzone.
Razer has added plenty of extra buttons to this second incarnation of the Wolverine as well. There are two extra bumpers next to the shoulder buttons and four triggers on the underside. By default, two of those triggers alter the sensitivity of the analogue sticks for precise, slow movement – like a sniper button on a gaming mouse.
Razer has also moved the menu and view buttons upwards compared with a standard Xbox pad, and there are two rings of RGB LEDs around the device. There's also an audio button that can increase your system's volume and adjust the balance between game and chat levels, plus a headphone jack.
It's a busy pad, but the Wolverine feels great in the hand – the textured grips work well, build quality is solid and its 270g weight makes it lighter than every official Xbox pad. It's easy to manage too – Razer's dedicated PC app allows users to change button assignments, alter the lighting, edit stick sensitivity and change vibration levels.
On the downside, this wired pad only comes with a removable 3m USB Type-C cable, but a longer wire would accommodate a wider range of rooms. The four extra buttons on the underside can be awkward to reach too, and you don't get a carry case.
The Wolverine's toughest competition is the Xbox Elite Wireless Controller Series 2, which has the same price. That pad has wireless and wired modes, more interchangeable buttons in the box and a carry case, plus its underside paddles are easier to reach, but it also doesn't have the Razer's superb button action.
Conclusion
The Wolverine Chroma V2's buttons feel fantastic, there's good customisation and you get smart features such as interchangeable analogue sticks, hair-trigger switches and the sensitivity clutch. It's ergonomically well designed too. The price is high, though, and the Xbox Elite Wireless Controller Series 2 arguably provides a more rounded experience thanks to its wireless operation, additional customisation options and included case. If your top priority is getting a fast­action pad that feels great in your hand, though, the Razer Wolverine Chroma V2 is awesome if you can afford it.
MIKE JENNINGS
VERDICT
Best Razer wolverine v2 chroma prices ?
MORE DEALS