Alexa the voice-controlled PA for just 50 quid, and you can plug in your own speaker
It happens to us all, I suppose, but the older I get the more things slip my mind. I was intrigued by the possibilities when I saw my son's Amazon Echo in action, so I bought one for myself – and before you could say 'Alexa' it was making my life so much easier.
I now just ask it to set timers for cooking, as well as to remind me of upcoming birthdays, make quick calculations and conversions, read the weather forecast, and even to tell me the time in the various countries where my sons and daughters live (so I don't wake them up with a phone call in the early hours).
I've never been great at typing or tapping so this is much easier for me than using my PC or phone. Over time my Echo even got used to the sound of my voice and doesn't ask me to repeat myself quite so much anymore.
For the purposes of this review, it'll be particularly easy to get straight to the point. Assuming you already own a speaker of some sort (and we're thinking you already do), then you should buy the Amazon Echo Dot.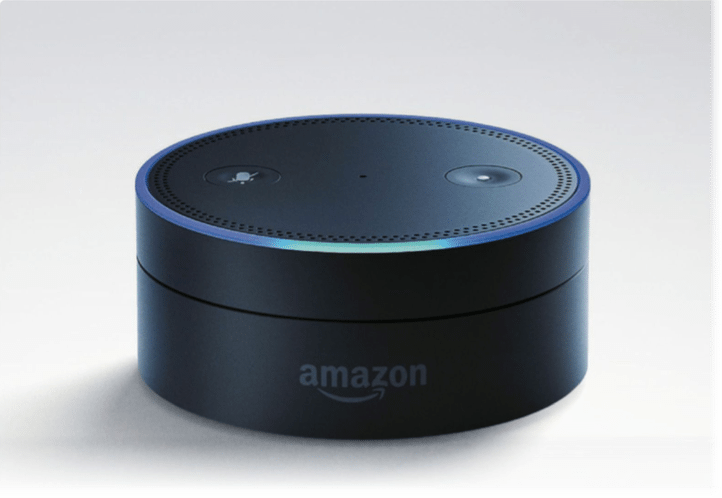 Our reservations about the full-size Amazon Echo, beautiful and full of promise though it is, were that it wasn't amazing as a speaker for music, and it maybe felt a little over-priced. But, we're pleased to say, there's no way we could ever say the same about the much smaller Dot.
Speaker cornered
Granted, its onboard speaker is barely audible, but, unlike the Echo, it has a line out (which is 3.5mm only, if you want to quibble), so you can plug it into whatever you like. We tried it out with a Denon Heos, a Naim Mu-so Qb and the much cheaper Marshall Kilburn and the improvement in sound quality and volume over the Echo was very very marked.
Smaller is better
So, what is the Dot in comparison to its big sister, the Echo? Imagine the rotating portion of the full-sized Echo has been sawn off – that's what the Echo Dot is like. It comes with a little speaker so the Alexa voice service, Amazon Echo's AI hostess with the mostest, is able to reply to you when you need it to.
In its most basic form, you could use a Dot as an extra portal for Alexa, in addition to an Echo. That would be a handy bonus to your already smart home. However, we wouldn't particularly recommend that you listen to music through it. Use the 3.5mm output to plug in a decent-enough speaker, however, and the Dot instantly becomes just like the Echo, but with far superior sound quality.
As such, it's suitable for use anywhere in the house, meanwhile the Echo's natural home is probably in the kitchen.
When you consider that this version of 'Echo But With Better Sound Quality' will cost you just a mere £50, it quickly becomes a must buy. Or if you don't think it's a must-buy, then at least it's a you-might-as-well-buy…
Music Unlimited
The sheer affordability of Echo Dot (assuming you already own a speaker) makes it particularly easy to overlook a key fact. And that is other than playing music and serving as a kitchen timer and to-do list maker, Alexa doesn't yet excel at much else.
However, the new Amazon Music Unlimited streaming app (or 'Skill' to use the official Echo terminology) is undeniably fantastic. Spotify might not exactly be trembling with fear right not least because its app works very well on Echo too, but it should be a little concerned.
However, if you're not a Prime user and want Music Unlimited on your mobile, then it'll set you back a tenner.
The great thing about Music Unlimited and the older, more limited, Amazon Prime service on Echo, is the particularly brilliant way it uses Alexa's voice recognition and cloud database- mining skills.
"With a stellar music, Dot is a really great device to have in the home"
Tracks can be easily selected, favoured and skipped in all the usual ways you're used to, but thanks to the miracle of metadata you can also ask it for "happy 80s music" or "melancholic heavy metal" or even "sad Abba tunes from the 70s". If you are that way inclined, that is.
Even more fabulously (in our opinion), you can actually ask for "That song that goes: [insert the relevant lyrics here]", with lyrics allegedly available for "70-something per cent" of the 40 million tracks on offer. Try it for yourself, but try not to blame it when it doesn't recognise your misheard lyrics…
Function
Functionally, the Dot is identical to the full-sized Echo, so when you add Alexa's acknowledged skills (did we already mention this is what Amazon is calling its apps…) with timers, lists and turning your smart bulbs on and off, we'd say any music lover has more than got their money's worth.
This really is AI on the cheap, with perhaps the ultimate music service also at a giveaway price. For us, it's a done deal.
Amazon echo dot
Wi-Fi connectivity Dual-band Wi-Fi supports 802.11 a/b/g/n (2.4 and 5 GHz) networks. Does not support connection to ad-hoc (or peer- to-peer) Wi-Fi networks
Bluetooth connectivity Advanced Audio Distribution Profile (A2DP) support for audio streaming from your mobile device to Echo Dot or from Echo Dot to your Bluetooth speaker. Audio/Video Remote Control Profile (AVRCP) for voice control of connected mobile devices. Hands-free voice control is not supported for Mac OS X devices. Bluetooth speakers requiring PIN codes are not supported
Audio Built-in speaker for voice feedback when not connected to external speakers. 3.5 mm stereo audio output for use with external speakers (audio cable not included)
System requirements Amazon Echo Dot comes ready to connect to your Wi-Fi. The Alexa App is compatible with Fire OS, Android and iOS devices and also accessible via your desktop browser. Certain skills and services are subject to change, may not be available outside the United Kingdom, and may require separate subscriptions or other fees
Included in the box Amazon Echo Dot, power adapter (9W), USB charging cable and Quick Start Guide Size 83.5 x 83.5 x 32mm
Weight 163g
Final verdict
So, as you can guess, we're fans of the Echo Dot. With a stellar selection of music on offer, as well as to-do list and timer apps, the Dot is a great device to have in the home. And then, on top of that, you have handy news, weather, smart home and calendar stuff too.
Also, it's compact and smart to look at. We like that you can plug it into any speaker with a line- in. This will make it a versatile gadget around the home. It's futuristic tech at an old-fashioned price. If you have an old, beloved but underused speaker, it'll give it a new lease of life. To be honest, at this price, even if you don't want to use Music Unlimited, the Echo Dot is still worth it.