BENQ TK800 Review
BenQ's latest affordable 4K HDR projector to hit shops is ridiculously good for its money, reckons John Archer
AV INFO
PRODUCT: Budget 4K HDR DLP projector
position: Currently BenQ's most affordable 4K model
Peers: Optoma UHD51; Acer V6810
THE WAVE OF affordable 4K projectors just keeps on coming. Hot on the heels of a recent budget 4K grouptest, I now find myself lapping up an impressively talented 4K (and HDR) projector from BenQ that costs just £1,200. And 3D fans will be ecstatic to learn that, unusually in today's projector and TV world, the TK800 supports 3D playback, making it a possible upgrade to anyone clinging on to a Full HD 3D model.
BENQ TK800 Review: Blue in the face
While it seems like a bit of a star on paper, it doesn't really look like one. It's far from ugly with its matt-white body, rounded edges and quirky blue fascia, but there's nothing about it that really shouts 'cutting edge'. At least at only 35cm wide it doesn't take up too much space, and its insignificant weight (4.2kg) makes it ripe for ceiling/ bookshelf mounting.
The TK800's connections deliver the first hint of 4K action, with one of its two HDMIs supporting 4K HDR playback. Other ports include a 12V trigger, RS-232 control jack, VGA PC input and audio in/out options.
The projector's image specifications are where things get really interesting, particularly its claimed peak brightness of 3,000 Lumens. That's a huge figure by affordable movie PJ standards, and could really open up the TK800's HDR potential.
Contrast is rated at a respectable 10,000:1, while a new colour wheel with 'ultra-precise' red, green and blue coatings – and brightness-boosting white elements – claims an impressive 92 per cent coverage of the REC.709 colour space.
The TK800 doesn't carry a native 3,840 x 2,160 set of DLP 'mirrors', but can manipulate these mirrors fast enough to deliver two pixels from each mirror for every image frame. This, in conjunction with proprietary Texas Instruments processing, delivers a 4K effect that's hard to distinguish from native 4K.
BenQ talks rather vaguely in its notes on the projector about a trio of HDR-based processes designed to retain more brightness, shadow detail and natural colour tones than HDR models customarily provide. Despite the lack of detailed information, though, it's quickly clear that these
HDR features aren't just marketing hot air. Even when fed an aggressively mastered HDR film, such as Mad Max: Fury Road on 4K Blu-ray, the TK800 rises to the challenge remarkably well.
For starters, the scenes towards the start of Fury Road where Max is detained in dark caves and tunnels benefit from deeper, more natural black levels than I've seen on other sub-£ 4K units.
As well as making such sequences look more immersive and convincing, this black-level prowess (by budget HDR projector standards) lets you see more background details. Also, colours in dark scenes look richer and more intense with decent black levels to 'bounce off'.
Provided you stick with the projector's adaptive Smart Eco lamp mode, those surprisingly effective black levels can be joined by some strikingly punchy bright highlights. The shot of Max imprisoned in a hanging cage, brightly lit against a darkened cave behind him, looks far more impactful and dynamic on the TK800 in HDR than it does in SDR.
This PJ doesn't give you the sort of beautifully extreme HDR performance a good TV can. But BenQ's nifty light management delivers at least a taste of HDR's advantages without the picture becoming unbalanced; it's not too dark, too short of shadow detail, or too peaky with its colours. In fact, far from feeling like a compromise, the TK800's HDR images often deliver genuine 'wow' moments. Good stuff, considering the asking price.
BENQ TK800 Review: Superheroic sharpness
This budget beamer also excels with its 4K clarity.
The pristine, ultra-detailed images of the Black Panther 4K Blu-ray are projected with superheroic sharpness and crispness. This clarity remains generally intact during scenes filled with fast motion, thanks to some blur- and fizzing-free motion handling. There's a touch of judder in camera pans during Black Panther's final battle, but motion within the frame generally looks fluid and cinematic.
The TK800 does, inevitably, have limitations. For instance, while black levels are easily the best I've seen on such a cheap 4K HDR projector, you can get better ones on similarly priced HD/SDR models. Also, while its enhanced colours outperform rival HDR projectors, Fury Road's deserts can look a little radioactive, and its skin tones can look slightly orange. There's occasionally some noise in colour blends, too.
These all feel, though, like pretty small prices to pay for the extent of the TK800's 4K clarity and HDR enhancements. Especially when the PJ also delivers its high brightness without suffering heavily with DLP's rainbow effect, or kicking out too much in the way of cooling fan noise.
HD Blu-rays are handled with refinement and subtlety, and this BenQ also makes a good choice for delivering bigscreen sporting events, even if you opt to keep a degree of ambient light in your room.
Gamers, meanwhile, will be reasonably pleased to hear that the TK800 takes a respectable 45ms on average to render images.
BENQ TK800 Review: Depth charge
After a little prodding, BenQ managed to send over a pair of 3D glasses so I could check the TK800's stereoscopic capabilities. And they proved impressive.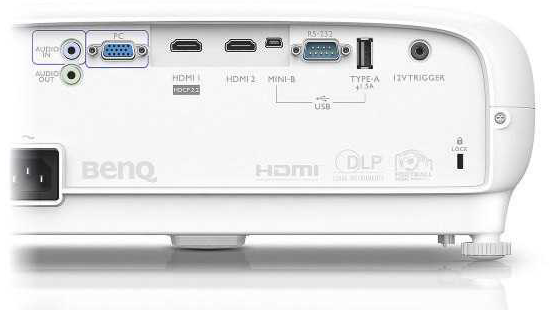 Crosstalk ghosting noise proved pretty much non­existent, even with Gravity's tough 'white-suited astronaut against black space' shots. The 3D effect is convincing and subtle, black levels look remarkably good, and the TK800's exceptional light output means that 3D visuals don't look starved of brightness, which can be an issue with low-cost 3D projectors. And this useful, image-defining luminance doesn't lead to the picture appearing flickery, and nor is there any of the red tint that once affected BenQ's 3D playback.
Just remember to manually turn 3D off once you're done, so that the TK800 reverts back to supporting 4K (you can't have both together).
Even the PJ's sound performance is reasonable.
The 5W speaker – and resonant sound chamber it's housed in – deliver a clean, well-rounded soundstage. There's a dollop of bass, and the sound projects some distance from the chassis, although inevitably it still doesn't seem attached to the screen/pictures.
Overall, the TK800 has me baffled as to how it can do so much for so little. But I'd best leave off there before BenQ starts thinking about putting the price up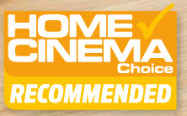 BENQ TK800 Review: VERDICT
You'll be surprised that a £ 4K projector can pump out pictures – both HDR and SDR – as good as this. And it's solid with 3D, too.
Editor choice
BENQ TK800 Review
You'll be surprised that a £ 4K projector can pump out pictures - both HDR and SDR - as good as this. And it's solid with 3D, too.
Add your review
Best BENQ TK800 prices ?
MORE DEALS

SPECIFICATIONS
3D: Yes. Active 4K: Yes. 3,840 x 2,160 (via TI's XPR technology) HDR: Yes. HDR10 CONNECTIONS: 2 x HDMI inputs (one 4K-capable); 12V trigger; 3.5mm audio input and output; RS-232; VGA PC port; USB (service); USB (powered) BRIGHTNESS (CLAIMED): 3,000 Lumens CONTRAST (CLAIMED): 10,000:1 ZOOM: 1.2x DIMENSIONS: 353(w) x 135(h) x 272(d)mm WEIGHT: 4.2kg
FEATURES:
Single-chip DLP projector; 5W built-in speaker system with resonant chamber; 4,000-10,000-hour claimed lamp life depending on lamp setting; 33dB maximum claimed fan noise; 1.47-1.76:1 throw ratio (100in image at 3.25m); manual focus/zoom control; Bright, Vivid, Cinema, Sport, Football and User image presets; CinemaMaster Video+ processing
PARTNER WITH
ROKU STREAMING STICK+:
Add video-on-demand and casual gaming to your bigscreen experience with this HDMI-based Wi-Fi media streamer. It offers a solid range of apps and an idiot-proof user interface
1. The projector offers a 1.2x zoom and 1.47-1.76:1 throw ratio
2. One of the TK800's HDMI inputs supports 4K HDR signals