In a world where iPhones cost a grand and have names you can't pronounce, it's refreshing to see a smartphone for 70 quid that's just called '1'. Then again, Alcatel is French (though now part of Nokia), so is it 'one' or 'un' ? Read our Alcatel 1 Review.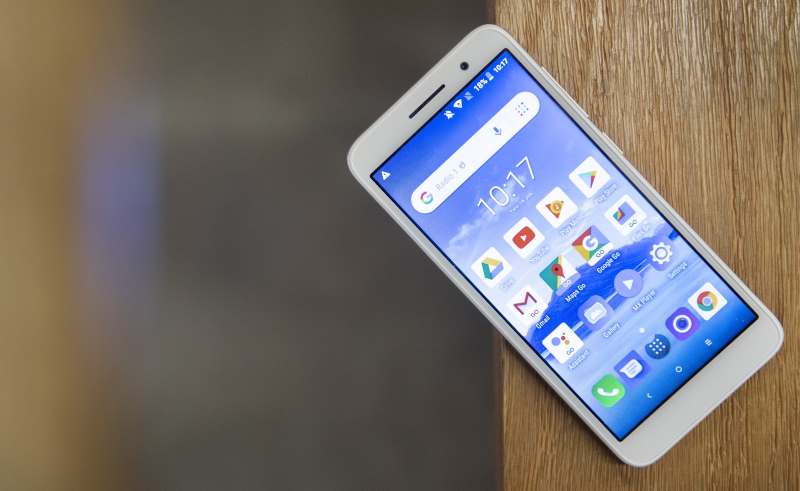 Let's just admit that it doesn't really matter, because you're not going to be asking for one. Or un.
The 1 has a tall 18:9 screen, like all this year's top phones. That's where the similarities end. This screen format started with the iPhone X, which kept the overall shape of a conventional phone but stretched the screen all the way to the edges, eliminating the empty- areas above and below.
However, Alcatel's screen doesn't go all the way to the edge – there are still sizeable borders at the top and bottom, and a fair bit of space at the sides, too. That would make the whole thing unusually large, except that it isn't: it's a compact model, comparable to an iPhone SE. So in fact the screen is unusually small.
That's really just as well, because it's made up of just 960×480 pixels, which isn't sharp even at this size. To dispel any remaining hopes, it's dim. with narrow viewing angles, picks up fingerprints quickly, and covers just 71 per cent of the sRGB colour range, inaccurately. Set into the area above it is a substandard selfie camera, which, like the rubbish main camera on the back, uses software fakery
Screen and cameras are poor, while the battery won't let you use either for very long anyway
to inflate its low megapixel count (just 2 and 5 megapixels respectively). The only positive feature of the silver, black or blue plastic case is that it pops off so you can swap the battery, which ran out after playing our test video for just 6 hours 30 minutes.
Although the 1 has an adequately fast processor, it runs Android Go, a limited version designed to cope with slow processors. And despite that, it still felt slow. We're confused. Actually, we're not: this is just a terrible phone. Motorola's
Alcatel 1 SPECIFICATIONS
5in 960×480-pixel screen
5-megapixel rear camera
8-megapixel front camera
8GB flash storage
MicroSD card slot
802.11n Wi-Fi
Bluetooth 4.2
3G/4G
138x66x9.8mm (HxWxD)
145g
Moto E5 is so much better in every way that it's well worth the extra £.
Alcatel 1 VERDICT
Best Alcatel 1 prices ?
MORE DEALS

Alcatel 1 ALTERNATIVE
Yes. it costs more, but this is a far better 18:9 phone with a battery that lasted nearly 20 hours