Buying a second-hand phone can save you a small fortune – but there are pitfalls you should avoid. We explain how to minimise the risks and bag a bargain
If you've got a spare £1,000 and you're happy to splash it all on a brand new phone, Apple's iPhone XS, which launched in September, fits the bill nicely. You'll even get £1 back in change. The rest of us probably have to settle for a phone with lesser specifications.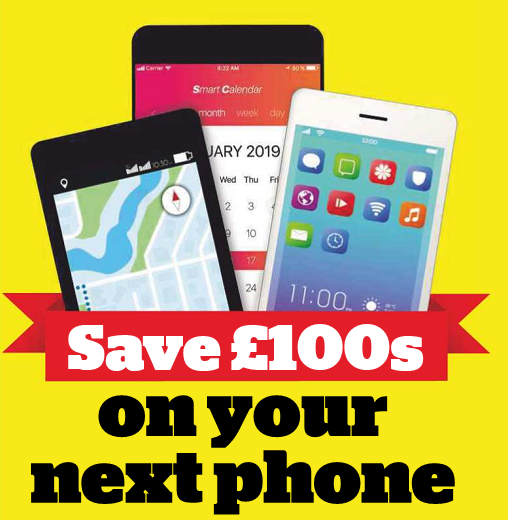 Alternatively, why not consider a second-hand model? As well as paying less for your handset, you avoid getting tied into those long, restrictive contracts and can take advantage of some excellent SIM-only deals. We explain the do's and don'ts of a process that can be fraught with pitfalls.
Find the right seller
Around 85 per cent of UK adults own a smartphone (see www.snipca.com/29493) – and a large number of those upgrade at least once every two years.
This means there's a lot of spare smartphones doing the rounds. Plenty of people choose to sell their old phones directly on sites such as Gumtree (www.gumtree.com/phones), eBay and Amazon Marketplace, and because they just want to get rid of something they no longer need, you can find some real bargains. However, there's little in the way of buyer protection, so it can also require a leap of faith.
If you prefer more peace of mind, we'd recommend buying through an established re seller of phones. Some network providers sell refurbished models with contracts (for example, 02's Like New range – www.o2.co.uk/like-new). However, these tend to cost more in the long run and you can normally save money buying a phone outright.
Try browsing Music Magpie, Smartfone Store and CEX. Remember to compare warranty terms too, because it's likely the original manufacturer's warranty will have expired. CEX, for example, offers a 24-month warranty on all used phones, while Smartfone Store's is just 60-days.
Do your research
Remember that seller ratings can be manipulated, and while eBay and Amazon have their own mechanisms for dealing with disputes, other classified sites leave you very much on your own – so there are a few things you should check before handing over the cash.
With an estimated 183 handsets stolen every day, it's worth making sure the one you're buying isn't the result of criminal activity. Any phone reported as stolen can be easily blocked by the network, rendering them useless. You can check a phone's history using its unique International Mobile Equipment Identity (IMEI) code.
First, get the IMEI of the phone you're considering buying by dialling '*#06*' (see screenshot below). If you're not buying in person, ask the seller to
provide this. When you have the IMEI, run a search on it using the CheckMEND website (www.checkmend.com/uk) to find out if it's stolen, reported lost, the subject of insurance claims or has been blacklisted or blocked.
Run tests and look for damage
You should also check that the phone's connectors are in working order. If possible, bring along a power charger and charging cable, so you can make sure that the phone takes power.
You should also plug in a pair of headphones and insert a microSD card (if it accommodates one). Inserting a spare SIM will make sure the phone works with your network and can make and receive calls. Let the buyer know you're planning to do these checks – they'll realise you're no fool and will probably back out of the deal if the phone is faulty in any way.
Even if the phone is fully functional,
it's a good idea to inspect its external condition. Examine the screen for cracks, of course, but also look for damage on the edges and scratches on the camera lens (see image above).
If you're buying online, we suggest you stay clear of eBay listings with just a single photo (they might be hiding damage on the other side), or those that use a promotional product image rather than one of the real thing. Look for thorough descriptions that mention any defects and feature close-up views – you're less likely to get any nasty surprises.
Retailers that specialise in used phones often employ a grading system for the condition of their models. For example, CEX grades from A (mint condition) to C (merely functional). Smartfone Store and Music Magpie have similar systems.
Make sure the phone isn't locked to a specific network
Most phones are sold unlocked, which means they can be connected to any network, but there are some that will only connect to a specific network.
If you find a phone that you like that happens to be locked, you need to factor in the cost of unlocking, The price varies: EE charges £8.99, for example, while 02 doesn't charge at all. And remember you'll need to contact the network it's locked to in order to free it up. If the phone is locked to the network you want to use, you can choose not to unlock it.
Check the battery
A second-hand phone is likely to have been charged and discharged hundreds of times, which means its battery will drain more quickly than that of a new phone. Cere's no easy way to quickly check the state of a battery in an Android phone, but on an iPhone you can tap Settings, Battery, then Battery Health. If the Maximum Capacity is under 80 per cent, the battery will probably need replacing soon.
Also look at the Peak Performance
Capability section – if it says the iPhone has experienced an unexpected shutdown, it's another sign that the battery is on the way out (see screenshot below).
Until the end of 2018, Apple is charging £25 to replace a battery on an out-of warranty iPhone 6 and above (including the iPhone SE). You can take it in for repair to one of Apple's high-street stores, as well as approved Apple repair centres (find out more at https://getsupport.apple.com).
Android battery replacements are
similar. If other faults, like a cracked screen, are picked up during the replacement, the repairer may demand that these are fixed first, which can significantly increase the cost.
Choose a mobile plan
Once you've bought a second-hand phone, you'll need a SIM card to go inside it. Because you won't be tied into a long contract, start with a small data allowance (2GB or less). If you find it's not enough, you can always increase it the following month. GiffGaff, which uses the 02 network, offers a 2GB data plan with 250 minutes of calls and unlimited texts for just £7.50 per month, and you can cancel or change your plan any time.
Should you buy new instead?
It's worth checking what brand new phones you can get for around the same money as a second-hand model. There are some excellent budget phones out there right now, such as Apple's iPhone SE or the Moto G6.
Second-hand phone bargain hunt
Keen to find out how much we might save on a second-hand phone, we uncovered some great deals. Bear in mind that this is just a guide: prices for second-hand (and new) phones fluctuate, so these precise deals may not be available when you search online.
Samsung Galaxy S9 64GB
Apple iPhone 7 32GB
Apple iPhone X 64GB
HTC10 32GB Grey