The most powerful personal backup utility in the business now with ransomware protection as standard
You can imagine the software architects at Acronis scratching their heads as each annual release rolls around, trying to dream up new features for a backup suite that already contains the kitchen sink. In fact, one of this year's most significant enhancements isn't in the software at all: it's a big boost in the included Acronis Cloud storage, from 50GB to 250GB. The price has gone up too, but only by a fiver. That also includes all product upgrades as they're released, plus phone support and – bit of a weird one this – integration with Facebook and Instagram, so you can backup those all-important social media posts. You can buy the software outright, with no cloud storage.
You may like also: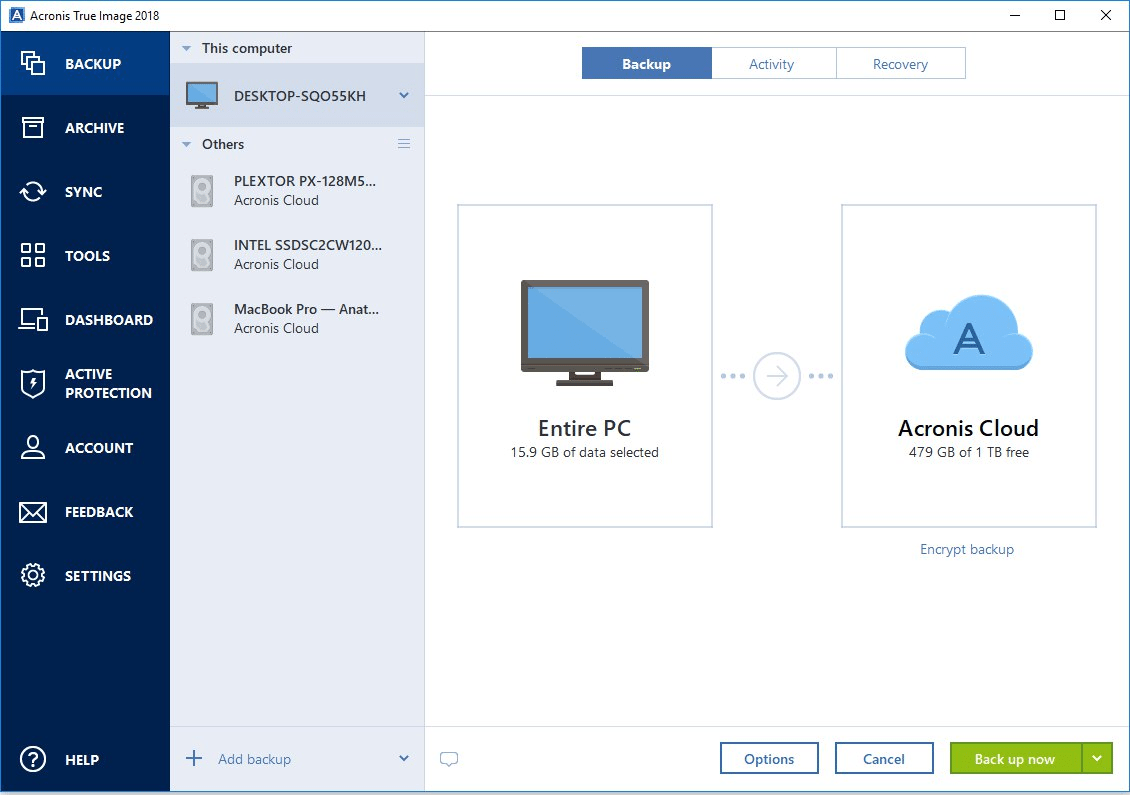 Another welcome upgrade is the inclusion of Acronis' Active Protection feature – previously only available with a costly "Premium" subscription – in the standard client. This monitors your system for ransomware – like activity and blocks any untrusted processes that try to mess with your files. If anything slips through the net, your last backup is automatically restored, so upheaval is kept to a minimum. Acronis claims that it has proved its effectiveness against big-name ransomware threats such as WannaCry and Petya.
True Image 2018 also features improved abilities to convert backups into virtual hard disk (VHD) files. It's long been possible to convert your backups into VHDs that can be mounted within Windows; now, they can also be booted up in a hypervisor, such as Hyper-V or the free VirtualBox, so you can revisit your entire computer as it was at a given point in time. This isn't a new idea: consumer rival Paragon Backup & Recovery has had the same capability for over three years. But it's certainly good to see True Image catching up.
True Image's cloning capabilities have been souped up too, so it's now possible to make a complete image of a Windows system while it's running. With Acronis' Universal Restore tool, you can even restore that image to another computer with completely different hardware – a great timesaver if you're moving to a new PC.
One final enhancement is that your standard licence now also covers an unlimited number of Android and iOS devices. Even better, these can now sync directly with your home NAS appliance, without needing a client PC (so long as your NAS box is compatible with the Acronis app).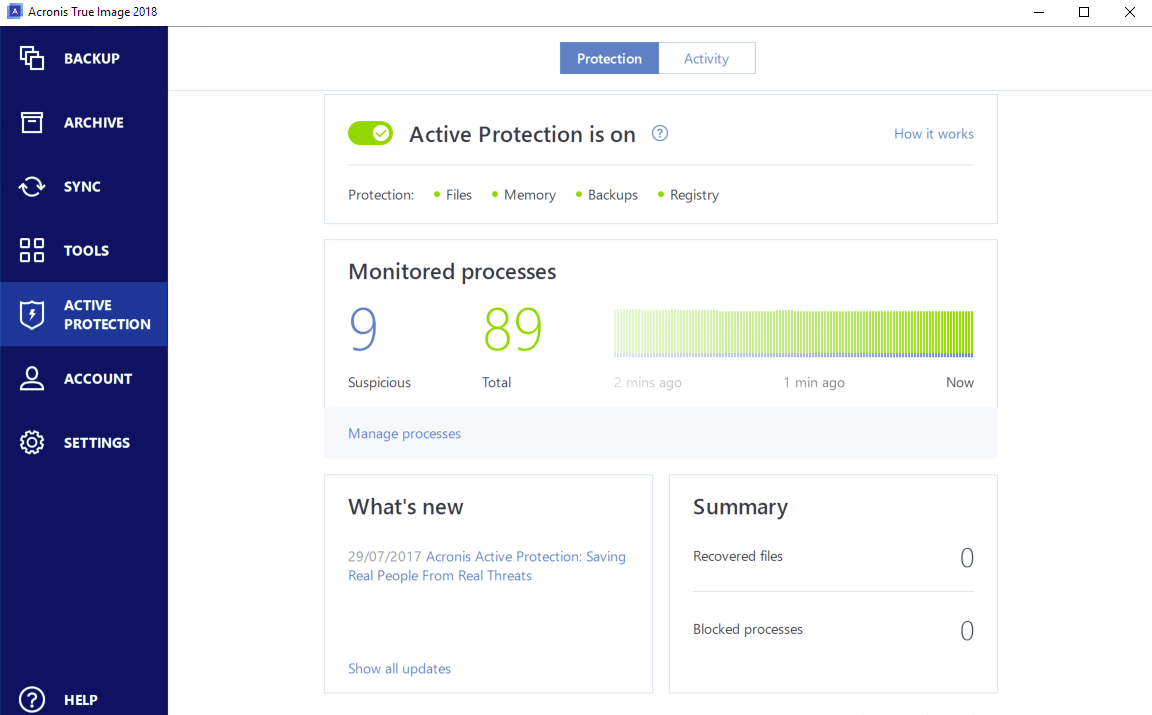 As with previous True Image releases, the user interface isn't unattractive, but the way the program's features are split across seven icons feels over-complicated. Still, it's more transparent than it used to be: a new Backup Activity view lets you review exactly what jobs have been run lately, with details such as total backup size and average transfer speed. A colour-coded indicator lets you see at a glance what proportion of a backup job is taken up by pictures, videos, documents and so forth. And a separate Security Dashboard gives an overview of what the Active Protection module is up to.
ABOVE You can buy the software alone, or with cloud storage
Active Protection monitors your system for ransomware-like activity and blocks any untrusted processes
BELOW True Image 2018 keeps a wary eye out for threats such as ransomware
In all, it's a chunky update – and let's not forget that all of this is on top of what was the most feature-packed personal backup utility ever. You can set up any number of backup jobs, each with its own settings, priority and destination; you can configure your own encryption key for complete privacy; you can choose the geographical location of your cloud datacentre; and if need be you can create a bootable USB drive containing the Acronis recovery software, making it easy to bring a completely borked system back to life.
If you're primarily interested in the cloud backup aspect of things then there are cheaper options: Backblaze, for example, offers unlimited storage for a year (backblaze.com). Or, if you're just looking for a simple way to manage local backups then there are plenty of free tools that will help you out – or you can use Windows' own underrated File History feature.
For the more demanding backer- up, however-the small business owner whose work rests on their data, or the creative working on unique, irreplaceable designs – Acronis True Image provides an extra dimension of peace of mind, protecting you against everything from malware to hardware failure and good old human error. That's why we've ended up recommending Acronis True Image time and again – and the addition of more cloud storage and active ransomware protection only sweetens the deal.
DARIENGRAHAM-SMITH
Editor choice
Acronis True Image 2018 Review
Although it costs more than other services, Acronis' full disk backups, fast performance, and useful extras such as active file protection, make it well worth the cost.
PROS
Excellent desktop interface
Fast upload. Local and cloud backup
Full disk image backup and restore
File syncing
Data verification using blockchain
Ransomware Protection
CONS
Expensive
Limited mobile and web experience
Lacks password protection for shared files
Add your review
|
Read reviews and comments
Best Acronis True Image 2018 prices ?
MORE DEALS