Microsoft Edge is Windows 10's brand new browser. We explain why it's here and how to use it.
Microsoft Edge is unusual – it's a brand-new default browser for Windows 10 and for Windows Phone. As such, a lot of attention has been placed upon it, but why are we so interested in browsers? The answer lies in how we now use the web. So many apps are now available online and we're moving online with them. Chances are you use a web-based email account. Even if you use a desktop email program such as Windows Mail, you'll still be able to access your email account through the web. And likewise, many of us are now editing documents online, writing notes – even editing images. All functions that were, a few years ago, the preserve of desktop software. So when a new browser appears, there's great interest in how it will perform.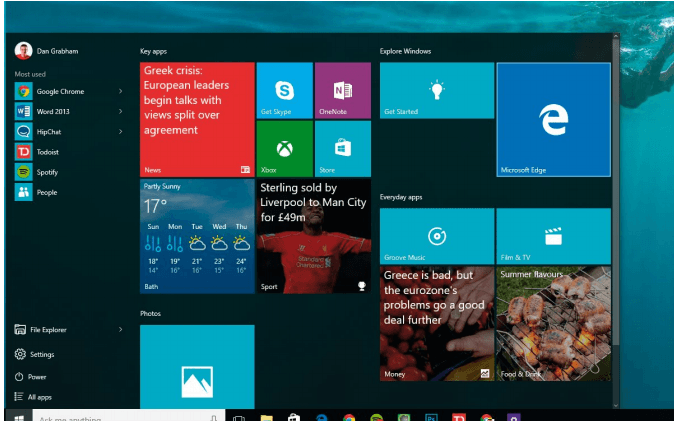 Close to the Edge
Speed is a big factor with orowsers, and it's one of the biggest reasons why Microsoft Edge is getting a lot of attention – and it's also the main reason why you'll like it when you use it. Even when Microsoft Edge was first unveiled in a developmental form back in January, it was clear it would be fast, beating Google Chrome and Mozilla Firefox for sheer speed of rendering simple web pages.
That doesn't necessarily mean this will always be the case; Microsoft hasn't yet added Extensions to Microsoft Edge (the ability to add third-party applications to your browser); extras like that can have an impact on the speed of the browser.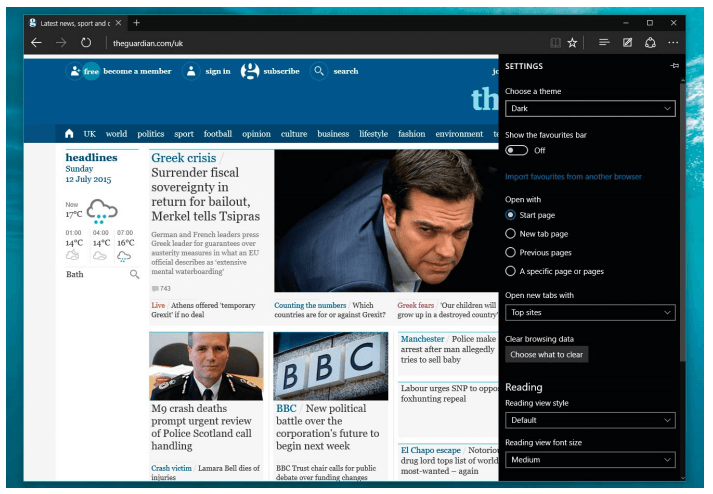 The main reason for the fast performance is that Microsoft has developed a new 'layout engine' for processing (or 'rendering') web pages called EdgeHTML. One reason for its speed is that it's focused purely on modern web page standards rather than support for older pages. That means that some old websites won't work properly. We'll explain more on that shortly, but the benefit is that the engine powering the browser can be faster. Microsoft Edge also matches the speedy Google Chrome for JavaScript performance – JavaScript is the programming language behind many dynamic web pages.
As well as Extensions, there are several other things missing from the version of Edge that shipped with Windows 10. However, you can now rearrange your Favourites, as well as add different search providers to Edge, for example – features that weren't available at first. Microsoft has promised further development on Edge over the coming months.
Initially, when we tried out an early version of Microsoft Edge back in January (it was originally codenamed Project Spartan), it was basically unusable as a browser because so many features hadn't been finished and some web pages didn't work properly. Now it's quite different and it's perfectly possible to use as a day-to-day browser. We've done it and we like it. Microsoft has a bit of a problem with Internet Explorer. However much it wants to, it can't consign it to the Recycle Bin for good. That's because a lot of businesses have long-used software that depends on Internet Explorer. It's been a default browser for a huge number of systems. While other browsers can be used, specifying a particular version of IE within software requirements provides a standard browser – often provided with Windows itself – that can be rolled out across a business. If you've been for an appointment at your bank recently, chances are they were using IE. This long dependence may be changing, but it's due in no small part to Internet Explorer being a constant running throughout the last two decades of Windows – it first debuted as part of an add-on pack for Windows 95.
And for that reason alone, Microsoft has also included Internet Explorer with every version of Windows 10. So while Edge is the browser that's front and centre, Internet Explorer is still there if you need it – you can simply search for it from the Taskbar.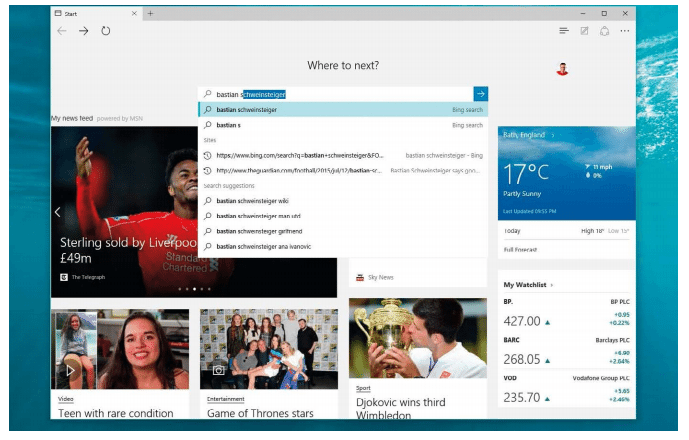 Another reason for continuing to include it is that, as we previously mentioned, Microsoft Edge has been designed with the future in mind. It won't properly load websites that use outdated web tech. Internet Explorer is the fallback if you come across a page like this; if there's a page Edge can't load properly, you'll be offered the chance to load it in IE instead.
This shouldn't be seen as a criticism. Edge is a clean break from older web technologies and is a leaner browser for it. As well as its speed, Edge also brings some innovative new features to the table. One of these is the ability to annotate web pages. While third-party apps have enabled this before, it's unusual to see it in a browser. You can highlight certain paragraphs just as you would with a highlighter pen. Then you can type (or write!) notes on the page. Finally, you can export your creation to OneNote so you can save the note for posterity and share it. It's just another indication of the different ways we're now working with the web – because more and more of us are working on content within the confines of the browser, Microsoft thinks it could give Edge the jump on rivals. And, by association, get more people using OneNote, which also comes as a Windows Store app within Windows 10. Your Notes are always backed up and synchronised across your Windows devices. There's even a shortcut to create a Note from the Windows 10 Action Centre.
Microsoft hopes Edge will become a default for many users of Windows, and despite temptation to the contrary, it's even kept a similar 'e' logo to make things easy for users familiar with IE. But in every other way, Edge is a completely new experience and is much better for it. And even though it's already a good experience in use, there are still plenty of new features to come, too.
Edge on Linux
Microsoft has released the Stable version of its flagship Edge web browser for Linux, as it continues to embrace the Linux desktop. The Redmond-based champion of proprietary software has been testing Edge for Linux through the Dev Channel since October 2020, and the Beta Channel since May 2021, before deeming it worthy for the move up to the Stable channel.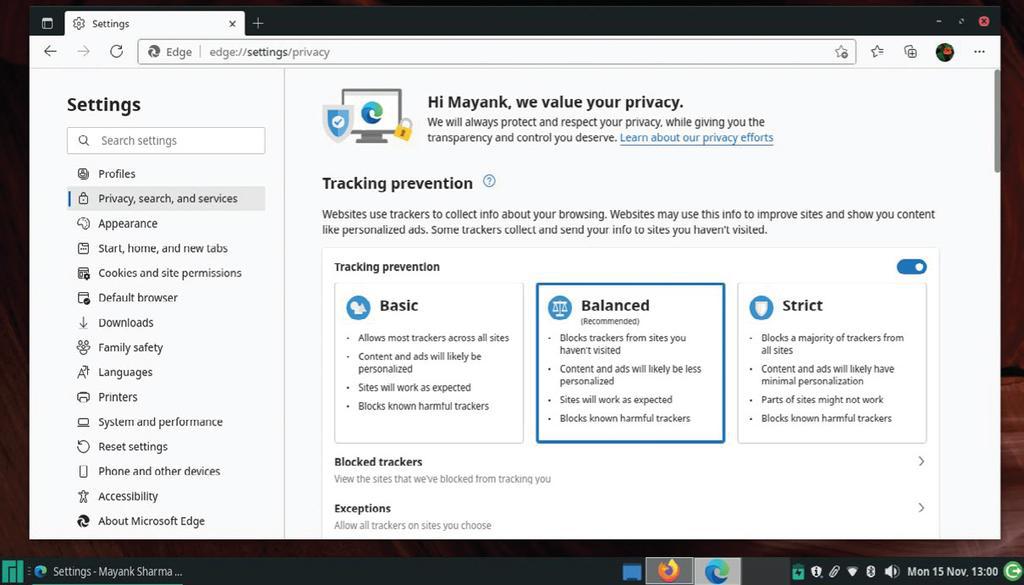 With the release, Edge for Linux joins its mainstream peers that you can use on all major desktop and mobile OSes, including Windows, macOS, iOS, Android and Linux.
Oddly, Microsoft decided to share the news of Edge for Linux graduating to the Stable channel amid a string of announcements on the first day of its Ignite conference for developers and IT professionals. However, for reasons unknown it hasn't done a standalone post on the development, so we aren't sure about the improvements that have earned it the promotion, and how it compares in terms of feature-parity with the Windows and macOS variants.
From the looks of it, Edge for Linux offers most of the same features as the browser running on the other desktop platforms. The release lacks the Internet Explorer compatibility mode that, for what it's worth, doesn't feature in the Mac version of the browser, either.
The IE compatibility mode has a limited real-world use, and there's a high probability that users who need that mode wouldn't be running Linux as the main OS. What is useful though, is the ability to sync passwords, extensions, bookmarks and open tabs across platforms, and Edge for Linux does that without any issues.
Another handy feature is the browser's ability to juggle tabs, which it does via tab groups, and the vertical tab layout. The browser will also put unused tabs to sleep to free up some system resources.
Sure these features aren't exclusive to Edge. For instance, the tab wizardry can be replicated on Firefox, with the Sidebery add-on. However, by offering these features out of the box, Edge pitches itself as a ready-to-use option for most productivity use cases.
Take the edge off
It's clearly a sign of the times, when one of the strongest points that Microsoft advertises is its browser's privacy features. Microsoft touts the research from CyberRatings.org, which gives its browser the edge over Chrome and Firefox by blocking the most phishing URLs and malware. The browser will also warn you if your passwords appear in any breaches, and also boasts of tracking protection functionality.
The browser also has a Kids mode, which turns the browser into a safe environment for young users. However, the procedure outlined for activating the mode doesn't work in the Linux version. In the absence of any Linux-specific documentation, we can't tell if the procedure for activating the Kids mode is different on Linux, or if it doesn't exist altogether.
Edge for Linux is an extension of Microsoft's focus on services such as Microsoft 365 and Windows 365. The browser will help Linux users experience these services as Microsoft intended them to. In the same vein, the browser enables Linux users to sign into a browser profile with an Azure Active Directory, and other Microsoft enterprise domain services, which will help users explore Microsoft's portfolio of cloud services.
Outside of the limited perspective of helping Linux users consume Microsoft's online services, as first-class citizens Edge for Linux will have a tough time dislodging the incumbents on the Linux desktop.
IN BRIEF
Edge is Microsoft's web browser that's now available for Linux users. The browser no longer has Microsoft's in-house HTML and JavaScript engines at its core, and since 2020 is based on the Google-supported open source Chromium project, which also powers other open source and proprietary browsers such as Brave, Opera, Vivaldi, and Google's own Chrome.
VERDICT
DEVELOPER: Microsoft
LICENCE: Proprietary
FEATURES 7/10
PERFORMANCE 8/10
EASE OF USE 8/10
DOCUMENTATION 5/10
A capable browser that will have a tough time finding users on the Linux desktop outside of the very specific use case.