Mark reviews an inexpensive hybrid design that is surprisingly well featured
I've yet to be really convinced by hybrid laptop/tablet systems, as these generally seem to offer nothing special either way. However, spending Microsoft Surface levels of cash is one thing, and this the price of the Venturer BravoWin 10K is entirely another.
It's truly affordable, yet buildin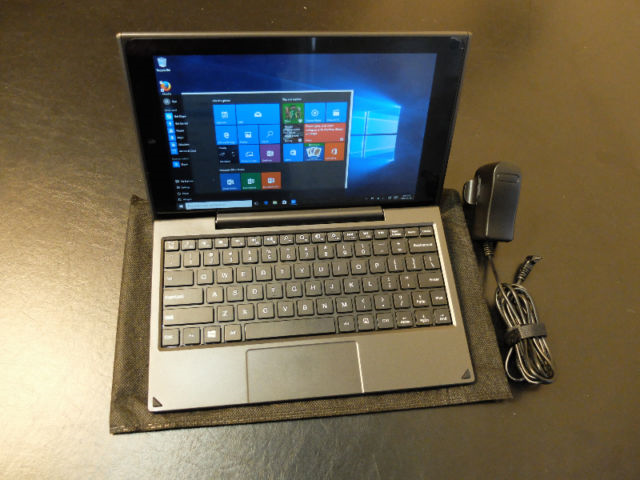 What bemused me is how few of those cost-cutting decisions seemed to impact the overall experience, and how little extra you get in a hybrid that isn't in this one.
Venturer understandably chose the Intel Atom Intel as the base platform, and the quad-cored Z3735F (1.33GHz) in particular. That's fine for general office and surfing duties when combined with the 2GB of RAM it has.
A tighter fit is the 32GB of storage, which after Windows 10 Home is installed, leaves just 12.4GB left for the user's needs. That might not seem too bad, and it isn't until Microsoft releases a major update to Windows 10, and your personal files take up space required to do that upgrade.
Thankfully, you can augment the space needed either with a USB key or the micro-SD card slot provided, but either is an additional expense you should budget for from the outset.
There are no other upgrade directions to take; the BravoWin 10K is going to have this much memory and storage for eternity.
Where it started to confront my expectations was with a 10.1" 1280 x 800 IPS multi-touch panel that is rather sharp and reasonably saturated. The only problem I noticed with it was that in desktop mode (when the keyboard is attached), the icons are generally too small to be operated by finger tips, unless you're a child. Some system scaling is therefore a necessity if you want to work that way.
Once you detach the keyboard, Windows 10 offers you tablet mode, and touch becomes much more useful.
Docking is via a simple magnetic edge connector, and the keyboard is no more than that word implies. All ports, batteries and computing are located exclusively in the tablet, and disconnecting the keyboard has no real implications on performance.
The keyboard is of a membrane design, but it's generally serviceable if you can accept relatively small keys and the fact your hands will obscure the taskbar at times.
The port complement is also decent, even if they're all placed on the same rather cluttered edge. There is one each of USB and micro-USB, mini-HDMI, the aforementioned micro-SD, and audio jack.
There isn't a LAN port. Instead, networking is provided by 802.11n wi-fi and Bluetooth 4.0. The 'n' class wi-fi is probably faster than using USB 2.0 port for installing applications, I'd suggest.
There are two 2MP cameras, front and rear, and I promise not to mention them ever again. According to the maker, the battery will last 'Up to 8 hours', but that's a stretch even with the lightest use. If you get more than about five hours, you're doing well, and doing anything that requires 3D graphics would decimate the battery life even faster.
Where this device works best is doing basic office chores, and it has the Mobile version of Microsoft Office pre-installed for you to use immediately. As the Atom CPU implies, this isn't a gaming solution, although it can play media files back acceptably.
Where this machine isn't that great is in respect of the fine details, like the ones that the user will stumble into the first time they use it. The power button requires an additional screen swipe to wake the machine, for reasons that this reviewer couldn't fathom.
But my biggest bugbear is undoubtedly the trackpad. As pointing devices go, this is poor on numerous levels, as it uses 'virtual' mouse buttons that I could never reliably locate. That's a shame, but it's cheaply rectified with a USB or Bluetooth mouse.
While I don't think this is the most elegant solution, but what I can't escape is that it is a fully functioning Windows 10 mobile system for less than £150. And it's generally a better system than that price would suggest.
While I can't see myself recommending it for a student, for those who want something light to enter some text and browse the internet, it's more than sufficient. Mark Pickavance
A cheap hybrid design that is fine for light duties.