Is it as good as it looks on paper? Read our ASUS ROG Zephyrus M16 2023 Review.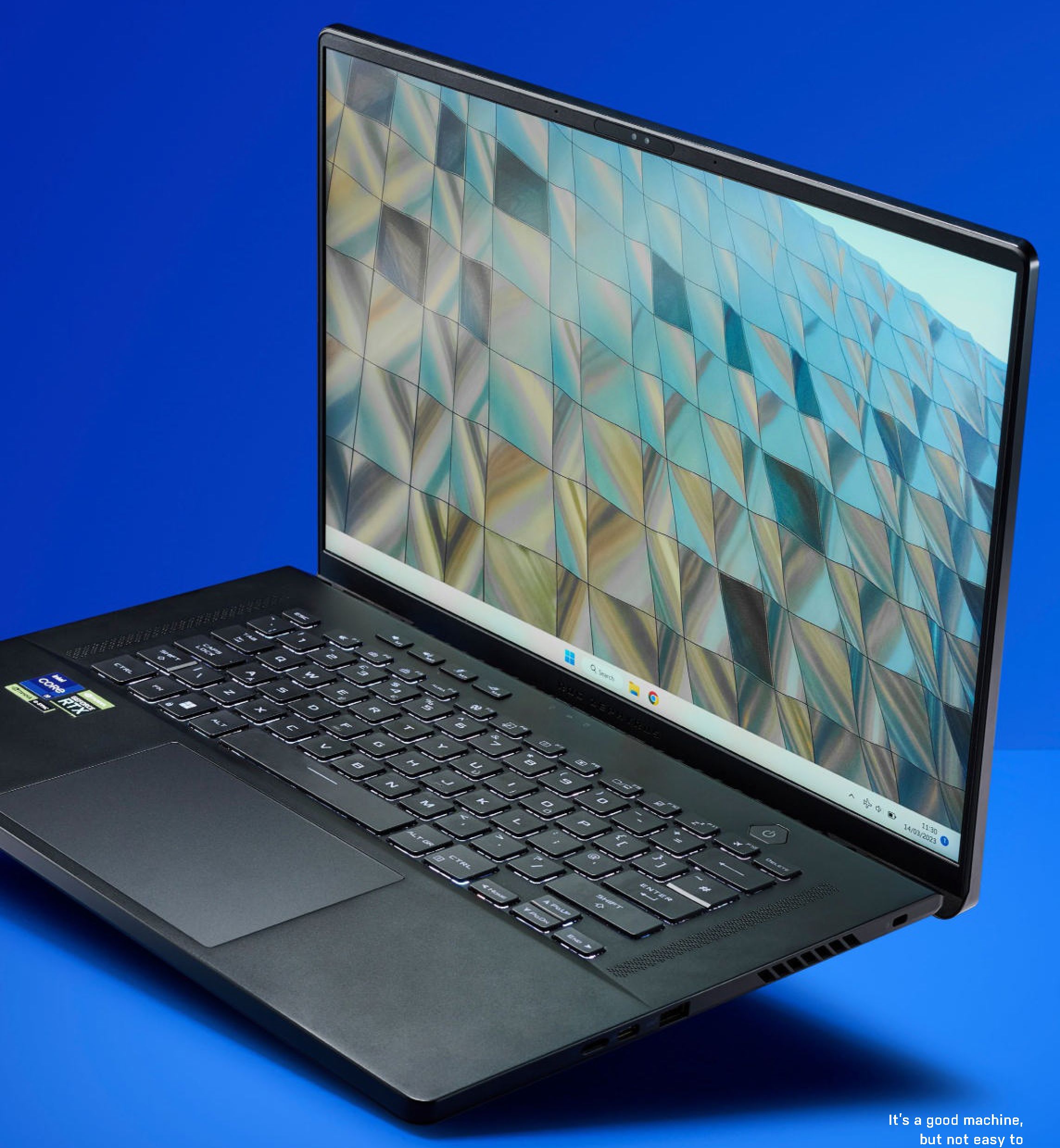 It's a good machine, but not easy to justify for the price.
it's crazy how a GPU as powerful as the RTX 4090 can be condensed to fit within a laptop, let alone alongside the rest of the components. So when we got the chance to take a look at an all-new ASUS laptop featuring an RTX 4090, we were more than excited. The ROG Zephyrus M16 from last year was an impressive device, so this revised 2023 model with an Intel i9-13900H and an RTX 4090 inside should be a recipe for success, right?
The design hasn't changed much over last year's model. The chassis is matte black aluminum and magnesium, making it feel tough and rugged. The hinge feels sturdy, too, and there's no screen wobble. The design changes drastically when we take a look at the lid, though. ASUS has introduced an LED lighting panel, a.k.a. AniMe Matrix. It's an attentiongrabbing feature, but falls more into the gimmick category. You can add your own animations, have it react to music, or add text. However. you can't see it while you're using the laptop, so it's a little pointless. Saying that, you can also disable it.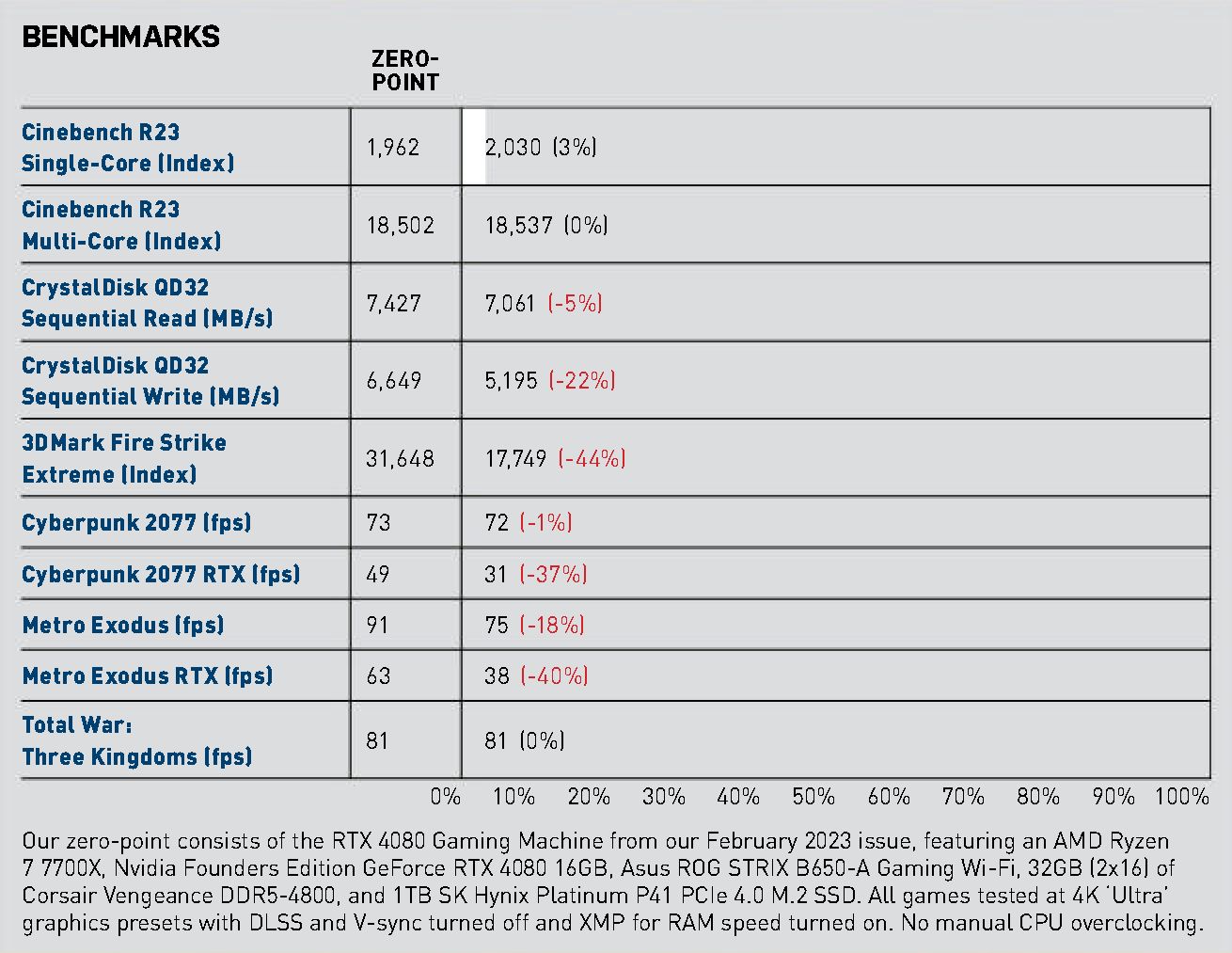 Opening it up, we're greeted with a large 16" 16:10 ratio panel. It has thin bezels, with a 92 percent screen-to-body ratio. Despite the subjective ASUS typeface, we love the feel of the keyboard. The keys have deep travel, yet maintain responsive feedback. They're also backlit, and the glow can be adjusted in the ASUS Armoury Crate software. The trackpad is very responsive, with a tactile feel to the buttons. Above the screen is a Full-HD 1080p camera. It's adequate for meetings, especially with the built-in microphone, as that does a great job of capturing your voice clearly.
Back to the screen, its aforementioned 16:10 ratio gives you slightly more vertical real estate. ASUS calls this the Nebula HDR Mini-LED display, and it's nothing short of stunning. It's incredibly rich in color thanks to its 100 percent DCI-P3 color coverage, and very bright at 1,100 nits from the Mini-LED technology. It has been factory calibrated to meet Pantone color palette standards, making it great for digital artists and video editors. Not only that, it's buttery smooth, with a refresh rate of 240Hz, and a response time of 3ms. But can we get the most out of it with what's beneath?
Yes, but at a cost. The mastermind behind this system is Intel's i9-13900H packing 14 cores (6 for performance and 8 for efficiency), 20 threads, and clock speeds of 2.6GHz. Pair this with an Nvidia RTX 4090 GPU, and you're in for a world of fun, right? Well, not quite, although our 4K ultra benchmarking results are impressive, especially on a laptop, when we compared them to the RTX 4080 machine we built in our February 2023 issue, it was just slightly behind. The 4090 inside of this machine has been limited to 120W in its turbo mode, so performance is capped here, making the cheaper RTX 4080 variant of the M16 better value when it comes to bang for buck.
All this power comes at a cost, and not just the $ price tag. Its battery life isn't great, but this isn't shocking—the GPU requires a lot of power, and we can't recommend using this to game on unless it's plugged into an outlet. So where does this leave us? It's an impressive machine, but when you can build a betterperforming PC for around $ less (our RTX 4080 February 2023 cover build), you must really value portability to go with this laptop option. Sure, ASUS' offering will provide you with the same great gaming experience and eye-popping visuals, but it's an expensive way to do so.
SAM LEWIS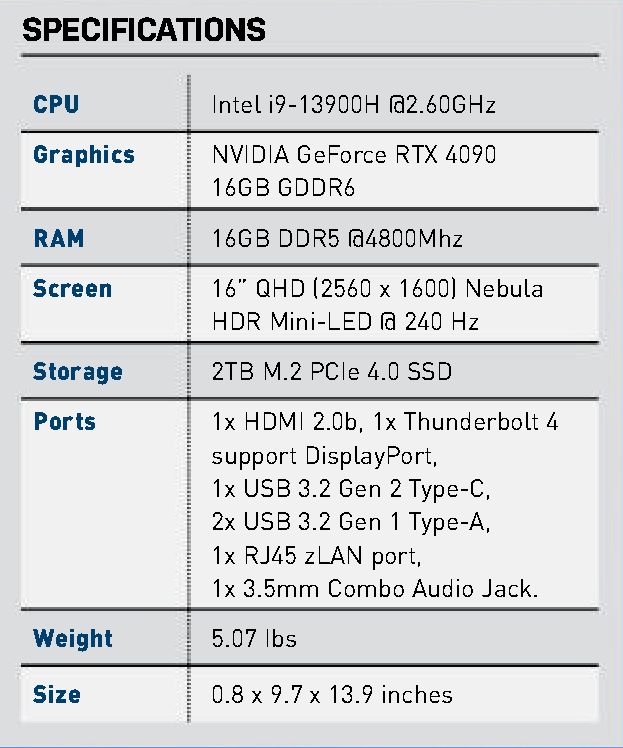 VERDICT
ASUS ROG Zephyrus M16 2023 Review
PROS
Silky 240Hz refresh rate
gorgeous panel
lightning CPU/GPU combo
CONS
Poor battery life
unsmooth edges
very expensive
gimmicky lid lighting
Add your review
|
Read reviews and comments
Best ASUS ROG Zephyrus M16 2023 prices ?
MORE DEALS

See also THE COMPLETE GUIDE TO…OLED laptops