13th Gen intel CPUs and 40 series Nvidia GPUs have landed on Lenovo's Legion Pro gaming rigs. Read our Lenovo Legion Pro 5i 16IRX8 Review.
You probably know Lenovo for its flexible Yoga range, but the Legion brand has had a pretty solid gaming laptop offering over the last few years. Central to this range is the performance-first Legion Pro 5i gaming laptop that takes a pretty traditional 16-inch gaming chassis outline and puts some of the best mobile gaming components you can get into it.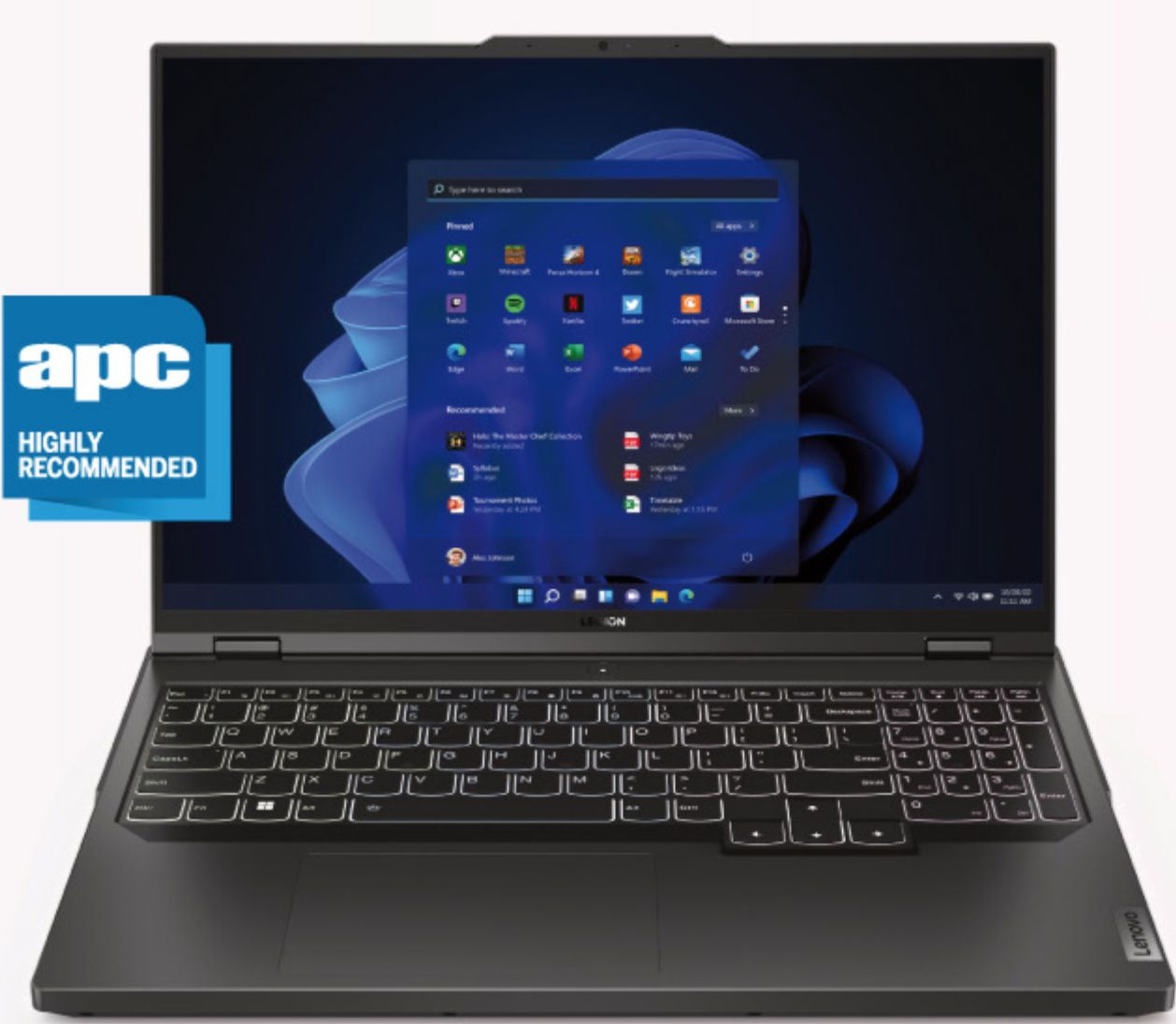 ■ W11 Pro; 16-inch 240Hz display at 2560 by 1600 pixel display, 3ms response, 500nit, VESA HDR 400, G-Sync, X-Rite Pantone; Intel Core i9-13900 CPU; Nvidia GeForce RTX 4070 GPU; 32GB of RAM; 1TB NVMe SSD; 84Wh (2h 36min 1080p movie playback); 36.3 x 26 x 2.7 cm; 2.49kg.
The headline feature of this device is that it's the first through APC's door with updated 13 th generation Intel mobile processors and a Nvidia 40 series GPU. The device we tested came with an Intel Core i9-13900 CPU, 32GB of RAM and a Nvidia RTX 4070 GPU, but the unit can be configured with your choice of two 13 th gen i7 CPUs; a 4060, 4050, or 3050 GPU; and various RAM and storage options.
The i9-13900 CPU has a total of 24 cores, 8 of which can boost up to 5.6GHz when needed, which is a massive expansion of hardware capabilities. This translated to 60 percent performance improvements in heavily multi-threaded tasks like video rendering over the Intel Core i9-12950HX and up to 25 percent improvements on general work tasks. This added performance does draw extra power with the powerful chip's base draw rated at 65W, but this year's Legion Pro 5i managed to improve on the battery life of its predecessor, lasting 4 hours and 47 minutes in PC Mark 10's Modern Office Battery benchmark.
The Nvidia RTX 4070 on the Legion Pro 5i offered a similar story. With a max power draw of up to 140W allocated, this GPU showed up to 48 percent performance improvements over last year's Legion 5i Pro Gen 7 with a 150W 3070 Ti in real world gaming benchmarks. It was even capable of outpacing some of last year's gaming rigs with lower powered 3080 Ti GPUs, which sets the bar high for gaming laptops in 2023.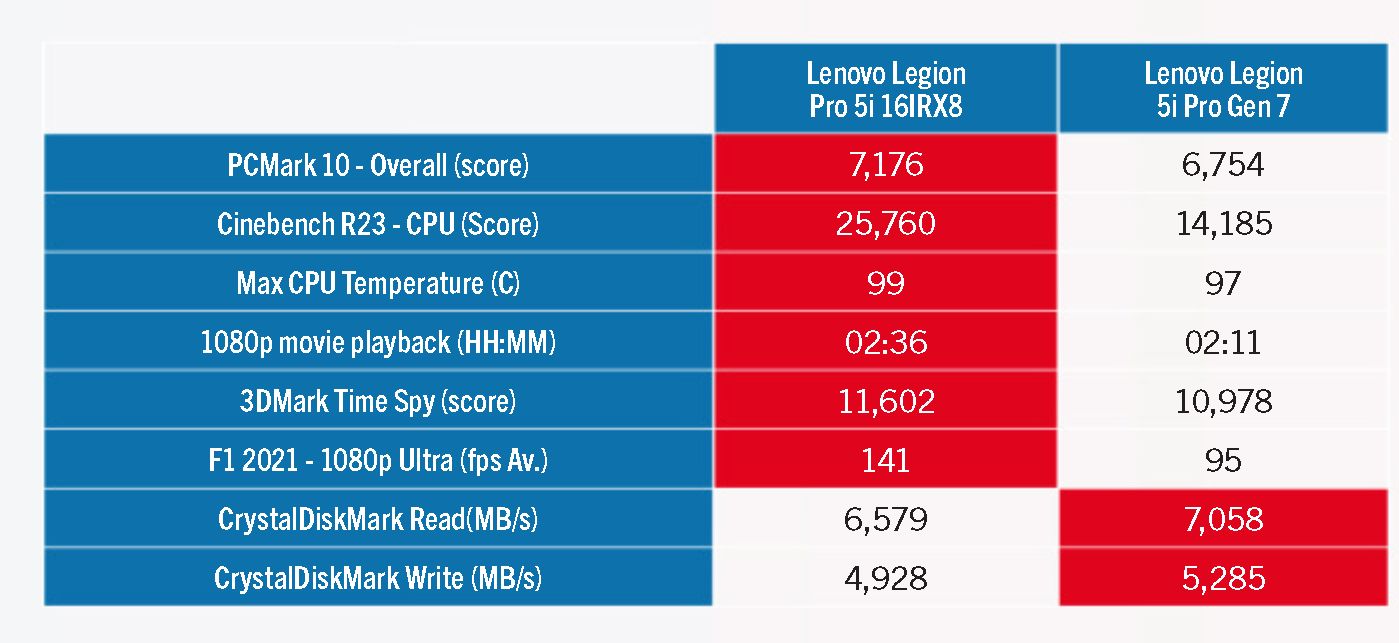 These impressive performance specs combine with the fast 240Hz WQHD screen for an excellent balance of resolution and refresh rate. Considering how high end the rest of the specifications are we're a little disappointed that there was no option for 4K, but if you crank ray tracing to Ultra in Cyberpunk 2077 you'll only get 48fps averages in 2560 by 1600 pixel resolution, so it makes sense to limit the screen to this configuration. While the display is only rated to reproduce the sRGB colour spectrum, there is an HDR setting that'll allow you to experience HDR-like colours and Vesa has certified it as HDR 400 compliant.
We did have a few niggly issues with the automated GPU switching technology in this device since every now and then you'd hit momentary screen freezes while the device shifted graphics responsibilities from the integrated Intel UHD Graphics to the Nvidia RTX 4070, but you can always turn off the auto-switching if you don't need battery life or gaming grunt and the the tech should save battery life for anyone that wants it.
Don't expect to leave home without a charger since you won't make it through some movies without topping up and while it's portable for a full-fat gaming workstation, it's much bulkier than slim gaming ultrabooks. Thermals, keyboard and trackpad were all solid and there were no other major limitations to be found.
Joel Burgess
Verdict
Lenovo Legion Pro 5i 16IRX8 Review
A great initial release using the latest gaming components on the block.
Add your review
Best Lenovo Legion Pro 5i 16IRX8 prices ?
Lenovo Legion Pro 5i 16 LCD Gaming Laptop WQXGA 240Hz Intel Core i9-13900HX 16GB RAM 1TB SSD NVIDIA GeForce RTX 4070 8GB Onyx Grey
$

1,569.99

$1,699.99
in stock

MORE DEALS

See also THE COMPLETE GUIDE TO…OLED laptops