Going all-AMD definitely has its advantages. Read our Alienware M17 R5 Review.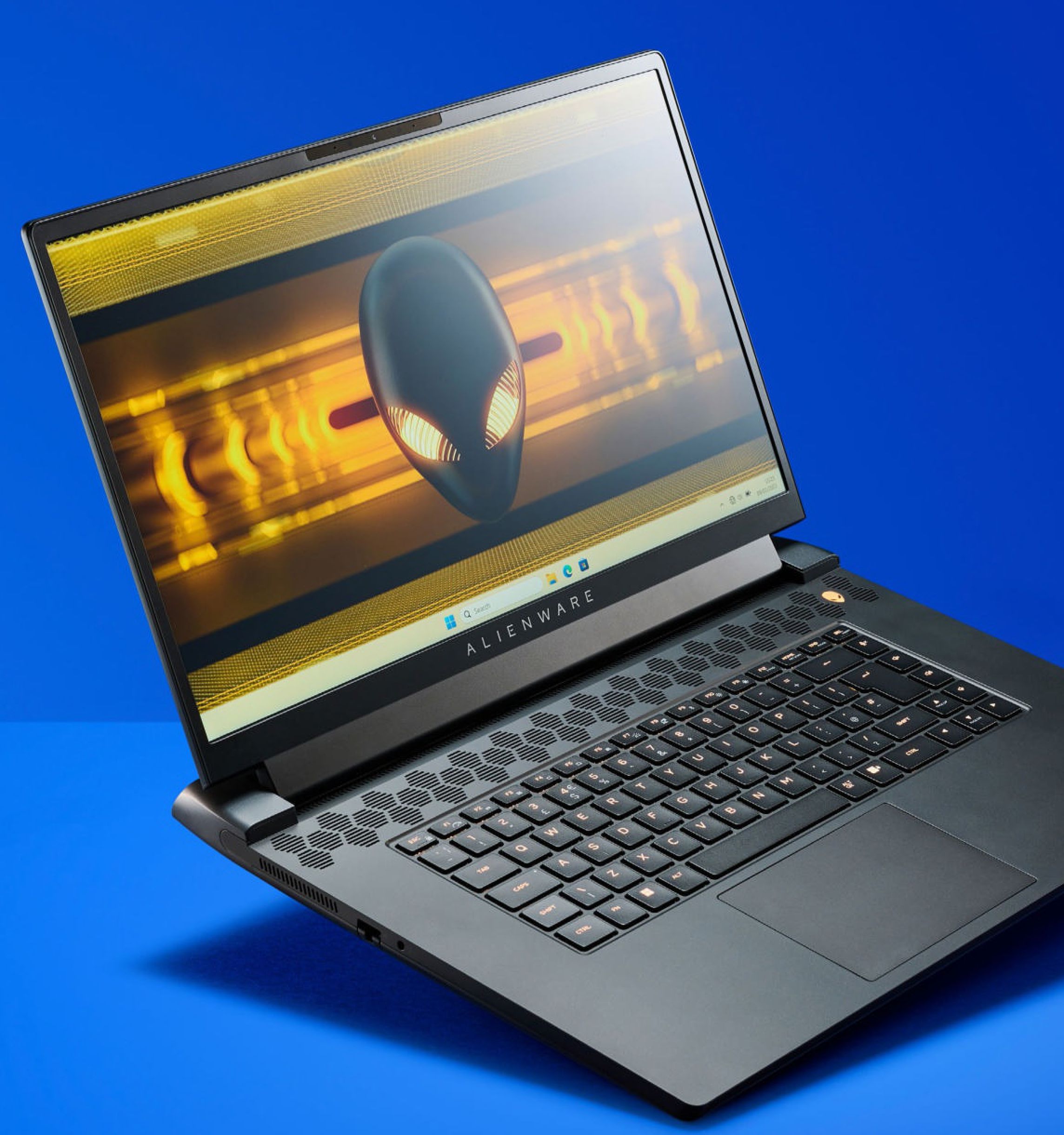 Ryzen 6900HX meets Radeon RX 6850M XT.
we're now at a place where it's truly a competition in the laptop space. Instead of Intel and Nvidia ruling the gaming scene, AMD is making some serious noise and OEMs are starting to dance to its beat.
Enter the Alienware m17 R5. Boasting an AMD Ryzen 9 6900HX processor and a Radeon RX 6850 XT GPU, the laptop is not to be trifled with. Thanks to AMD Advantage Suite, this system is optimized to ensure that you're getting the best performance out of it. You also get Cherry MX keys, a stunning 4K display, great speakers, and a slick design to boot.
Our test configuration featured the 3.3GHz AMD Ryzen 9 6900HX processor with 32GB of RAM, 1TB PCIe NVMe M.2 SSD, AMD Radeon RX 6850 XT GPU with 12GB of VRAM, and a 3,840 x 2,160 display with a 120Hz refresh rate and 3ms response rate. In other words, it's a powerful machine.
The laptop also follows Dell's Legend 2.0 design language, with a grayish black finish, numerous RGB elements around the alien logos, and onyx black vent at the rear. It looks nice, but this isn't the most portable 17-inch laptop at 15.6 x 11.8 x 0.9-inch and 7.3 pounds. If that's important for you, look for the thinner and lighter MSI Vector GP76, Razer Blade 17, or Asus ROG Zephyrus Duo 16.
There are ports on the back and sides, including three USB-A 3.2 Gen 1 ports, a USB Type-C 3.2 Gen 2 port, HDMI 2.1, an expandable Gigabit Ethernet port, and a headset jack. There's also a DC-in port for the 240W charger, which is bulky and heavy, and I couldn't get the laptop to charge using USB-C. I'd have liked to see more USB-C ports, but this is where you pay the price for going AMD—Intel laptops tend to have more and faster USB-C ports.
The 17.3-inch 4K display is simply stunning. Games such as Cyberpunk 2077 look tailor-made for it, with the neon skyline of Night City glittering almost as brightly as the stars in its sky. FreeSync Premium prevents screen tearing, with low frame rate compensation (LFC) also keeping things smooth. Colors looked good and we loved the 436 nit brightness, but the measurable color reproduction was less impressive, only measuring 76.2 percent on the DCI-P3 color gamut. It's also Dolby Vision enabled if movie watching on a laptop is your thing.
The unique feature of this laptop is its all-AMD design, which the company dubs AMD Advantage. It basically means an AI system runs in the background to keep it functioning optimally, offering max performance when needed in games and productivity ( what AMD calls SmartShift Max), and battery optimization when you're not (SmartShift Eco). You can monitor this in real time with AMD Software: Adrenalin Edition. There's also AMD Smart Access Memory, which allows the Ryzen CPU to access the 12GB of GPU memory over a fast PCI Express 4.0 link, which helps to eliminate bottlenecks.
This results in some impressive performance in games, with 80+ frames per second at 1080p Ultra in the likes of Assassin's Creed Valhalla, Metro: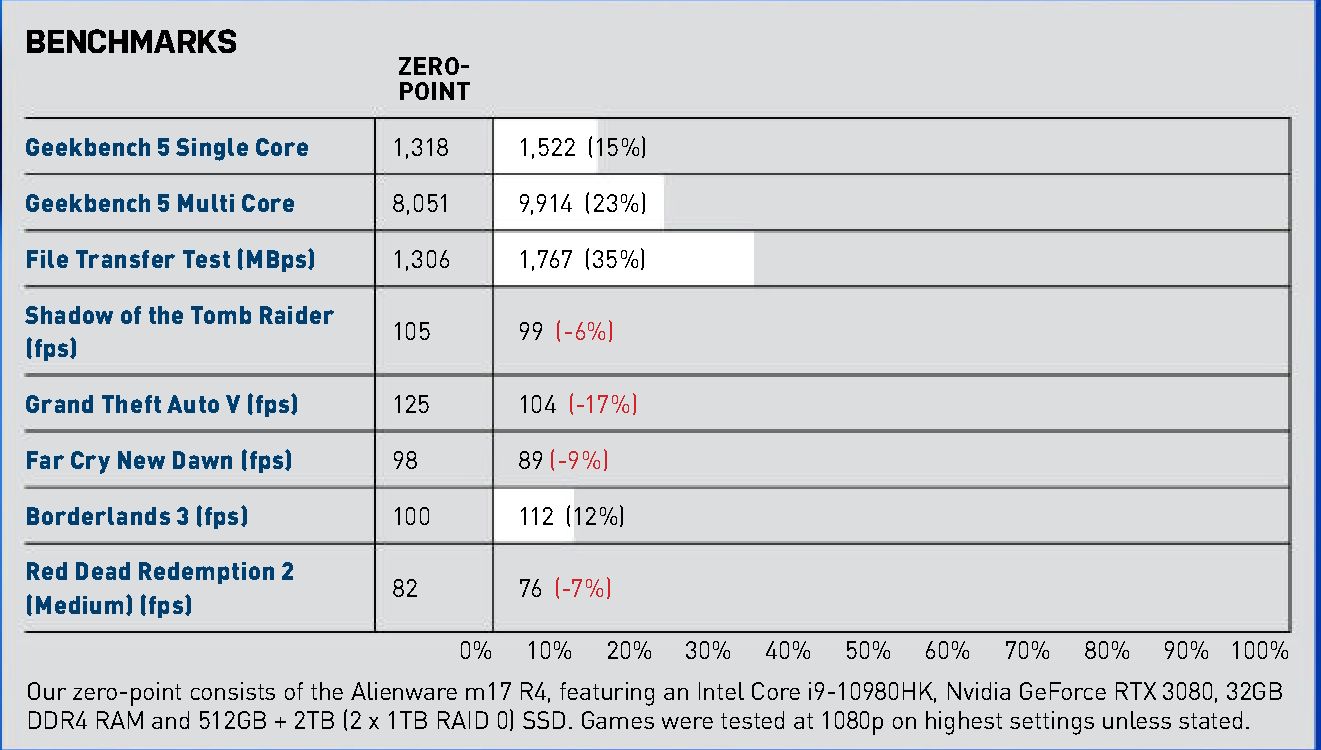 Exodus, and Far Cry New Dawn. Sadly, crank things up to 4K, and those frame rates go down to the 40+ fps level. This means that as nice as that 4K screen may be, you'd be better off saving money and going for the 1080p option unless your work or video consumption demands it.
It managed six hours and seven minutes on our battery test, which consists of continuous web surfing over Wi-Fi at 150 nits. The speakers also sounded better than on most laptops, with Dolby Atmos support, plus Performance audio settings, which help players locate that footsteps. Sadly, the 720p/30fps webcam left a lot to be desired.
At around $ in our review configuration, and $ for the 1080p version, this Alienware is good value for a desktop replacement. It's a premium product that makes the most of its allAMD configuration. While the urge to go for an Nvidia 40-series may be strong, AMD shows it's still worth considering, especially with the price of those machines being so high.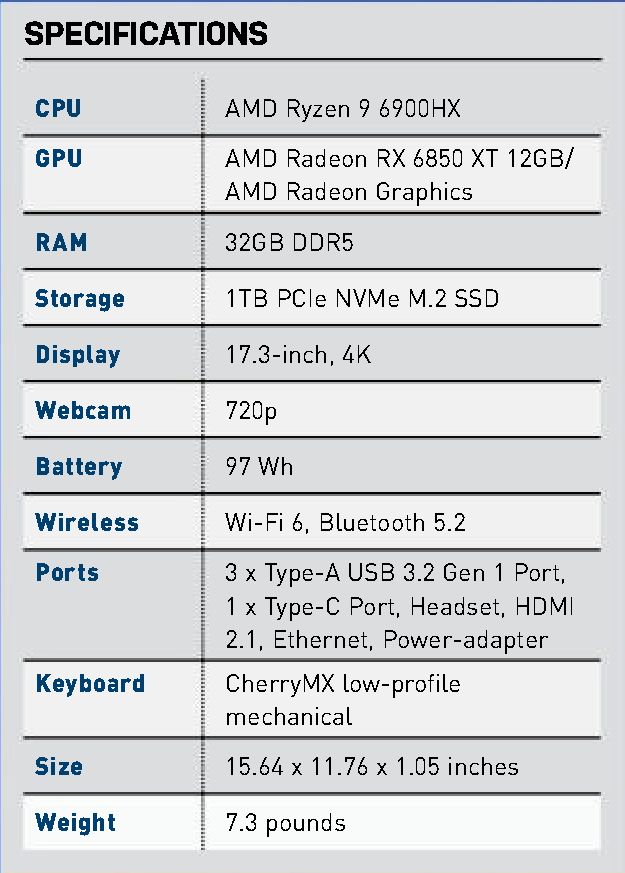 VERDICT
PROS
Sleek design
great performance
comfortable keyboard
long battery life
clear audio
Add your review
Best Alienware M17 R5 prices ?
MORE DEALS

See also THE COMPLETE GUIDE TO…OLED laptops