The 17.10 'Artful Aardvark' Ubuntu release represents a seismic shift in Canonical's approach to its flagship Linux distribution – and the changes provide plenty to excite new and existing Linux users, too
Ubuntu 17.10 'Artful Aardvark' succeeds 'Zesty Zapus' and marks not only a new beginning as the alphabet name convention begins to be recycled, but also a new era for Ubuntu as a product. In April, Canonical announced that its 'Unity' project was dead, and with it the dreams of a unified desktop, server, tablet and phone distribution. Long delayed, Unity was expected to finally reach a solid state of maturity in 17.10 ahead of a full LTS release next year in 18.04. Instead, Artful serves as a bedding-in period for Ubuntu with GNOME, an approach fans of the environment have long dreamed of and advocates of the Unity project have just as long decried. GNOME vs Unity is polarizing in the way all the best open source
Everything feels polished, stable and ready for prime-time despite the obvious challenges of the last six months
arguments always are, but it looks like there's now only one winner.
Changes to the distro have proceeded at breakneck pace since Canonical's announcement, with the development team working hard to ensure the release would be on time, stable, familiar and comfortable to existing Ubuntu users despite the change in desktop environment. They also needed to integrate the myriad other improvements that are included in any Ubuntu release. This is perhaps the biggest accomplishment in Artful Aardvark: everything feels polished, stable and ready for prime-time, despite the obvious challenges of the last six months.
Although the change in strategic direction is the headline-grabbing aspect of 17.10, there are plenty of other features that are worthy of note. Alongside the new desktop environment comes a new default display server, a different display manager, some UI paradigm changes, oh, and a rather nice new desktop background. A previously supported architecture no longer makes the cut, the kernel version gets its customary update (and it's a big one), hardware support is improved across the board and many of the bundled applications get significant updates, too.
Alongside the main Ubuntu distro, the server version and the various flavors are also updated, reaping the benefits of the upgraded core.
As is typical with non-LTS releases, the server updates are particularly incremental, limited mostly to minor package updates – it's likely most server users will wait until 18.04 LTS before upgrading, unless there is a specific change in Artful that's required.
If you are a desktop user, are you debating whether to upgrade or not?
If you're on another Linux distribution, perhaps a GNOME-based one, are you deciding whether to make the switch?
We're going to look at exactly what's included, how you can whip Ubuntu 17.10 into just the right shape for your needs and what the other options are, both inside and outside of the Ubuntu ecosystem.
There's so much talk of Ubuntu changing, does this mean it will all be new and unfamiliar to existing users? If you're dipping in for the first time, what does it mean?
As always, Ubuntu 17.10 is infinitely customisable and the switch to GNOME adds more options than ever before. We show you how to tweak and tune your installation.
Artful Aardvark isn't all about GNOME… there are accomplished alternative flavors, too. If you lament the loss of Unity and want to try something new, we can help.
Ubuntu 17.10 changes
Canonical's cross-platform vision for Ubuntu is dead. Long live the new vision for Ubuntu! The future's bright, but it's GNOME
---
QUICKTIP Wayland issues
If you are having issues running Wayland (some apps do have problems) you can still run a Xorg session by changing your selection at the new 'GDM' login screen.
---
Ubuntu 11.04 'Natty Narwhal' was released, in April 2011, becoming the first version to use Unity by default, although the previously default GNOME was still available as an option. The move to Unity was hugely controversial, not least because fans of the GNOME environment feared that the change would deal a crushing blow to the project, even jeopardizing its future entirely. The 11.10 'Oneiric' release took things a step further, no longer including GNOME even as a fallback. In July 2012, Canonical founder Mark Shuttleworth spoke of the desire for Unity to provide a unified interface across multiple devices – laptops, tablets, phones and even TVs. Over the following five years, however, reality would bite – the mobile phone space came to be dominated by iOS and Android, the tablet market came to be dominated by iOS, and attempts to launch Ubuntu into both markets would fail. And so, here we are – it was announced in April this year that Unity development would cease and Ubuntu would revert to GNOME, with 17.10 'Artful' becoming the first release of the new era.
Ubuntu 17.10 ships with GNOME 3.26 'Manchester' by default, effectively replacing both the standard Ubuntu distribution and the previously offered GNOME flavor (usefully, an upgrade path from both Unity and GNOME 17.04 distros is provided). Many of the standard packages in Ubuntu are also provided by the GNOME release, which coincidentally receives a number of significant updates in the new version. The
Wayland introduces a much more controlled graphics stack, which will ultimately be better performing, more efficient and more maintainable
---
HOW TO Update your installation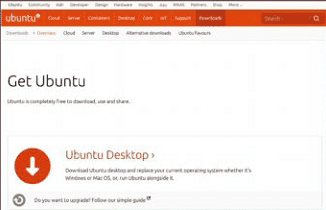 Before you update your main installation, it's a good idea to try the live-boot ISO and check everything's working. Although hardware support is typically improved in new releases, there can be gotchas which mean you might want to wait before updating. You'll notice that for the 17.10 release there are no longer 32-bit ISOs – this is unlikely to affect most users on modern hardware, however.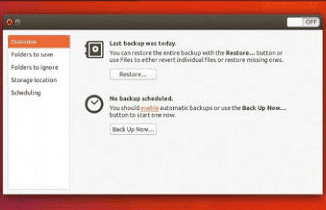 Before upgrading, you should back up your data. We know it sounds obvious (and you have backups already, right?), but there's always a chance that something might go wrong. Even if you just copy your most important files to a USB stick, it's worth the effort. If you want to be ultra-efficient and give yourself a rollback plan, you can even take a full image of your hard disk using the dd command (carefully).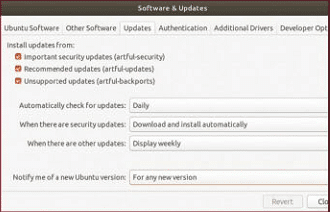 If you are running on a desktop machine or have access to the GUI, you can update using the tool. Open 'Software & Updates', click the 'Updates' tab and make sure that 'Notify me of a new version' is set to 'For any new version'. Optionally you can also check the option for pre-release updates. Next time you check for updates, Software Updater should notify you that a new version is available.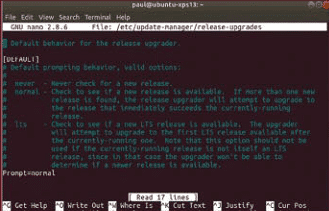 Upgrading from the terminal
If you're running Ubuntu on a server or just prefer to work in a terminal, do this. First, ensure the update manager is installed with sudo apt install update-manager-core. Ensure/ etc/update-manager/release-upgrades is set to 'normal' (if on an LTS release, your system will only update to other LTS releases by default), then launch the update tool with do-release-upgrade.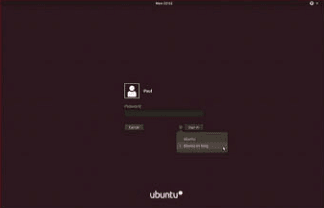 Dealing with Wayland issues
Although Ubuntu 17.10 will log you into a Wayland session by default, you may need to boot into a Xorg session (the old display server) if you experience issues (these often manifest themselves as a flashing cursor). To do so, you just need to click the 'cog' icon in GDM (the login screen) and select the alternative session. Your choice will be remembered as default for next time you log in.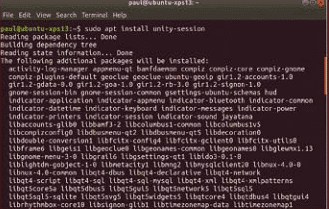 Retaining access to Unity
If you just can't let go of Unity or you want to give yourself a period of transition, you can add the option to GDM whether you are upgrading in place or doing a fresh install. Just install the package with sudo apt install unity-session and the option will appear. This of course applies to other desktop environments too: you can happily run KDE, MATE, Cinnamon and suchlike alongside your other choices.
---
system search functionality has had a huge overhaul and is much improved, with settings and actions now included in the results. The settings application itself looks more polished than before and in the newly updated display settings view, support for HiDPI is improved, although GNOME HiDPI support in general still falls short compared to in Unity with support for only integer scaling, although this is slated to be fixed in a forthcoming release, with Canonical investing considerable resources in this area.
LightDM and the Unity Greeter are no longer the first thing you see as you start Ubuntu – instead GDM, the GNOME Display Manager, is used. The classic Ubuntu 'Ambiance' styling makes an appearance, with signature aubergine and orange present and correct!
It's the Wayland forward
After much debate, it was decided that Artful would ship with the new Wayland display server in this release. Despite concern that it was not ready for prime-time, it appears to be working well for the most users. Why use Wayland? Over time, the X graphics stack has become something of a sprawling monster – although this is somewhat an aspect of its versatility, it's also a side effect of many hacked fixes through the years – Wayland introduces a much more controlled stack, which will ultimately be better performing, more efficient and, just as importantly, more maintainable.
Through the Unity years, Canonical has been forging ahead with its own display server, Mir. Originally expected to become default together with Unity 8, development is effectively stopped from a desktop distro perspective, with the focus instead shifting to using Mir on loT devices.
Artful also ships with a 4.13 kernel, which brings a raft of new hardware support – not only for the latest Intel and AMD processors, but for older machines too, as well as dedicated boards such as the Orange Pi, BubbleGum 96 and Rockchip RV1108. Thunderbolt support sees significant improvements, a number of file systems have fixes included and there are numerous security improvements. The next kernel version, 4.14, is a LTS release, so there's plenty crammed in ahead of the next release lockdown.
---
Snaps on Ubuntu 17.10
Snaps, the universal Linux packaging format, are set to get a big boost in Ubuntu 17.10. Snaps are designed to bundle all the dependencies an application needs, therefore reducing the common issues with missing libraries and the need to repack an app multiple times for different distributions. Snaps are front and centre in the Ubuntu Software store – the 'Featured' banner in the store now promotes snaps by default and it seems the 'Editors Picks' are only snap-packaged apps. An Ubuntu One login is required to install them, just like the mobile app stores on Android and iOS.
---
QUICK TIP Cutting-edge kernel
If you like to test out the latest kernel outside of your distro, the UKUU tool is invaluable. Install it with: sudo add-apt- repository ppa:teejee2008/ ppa followed by sudo apt- get update && sudo apt-get install ukuu.
It doesn't play nicely with Wayland just yet, though!
---
Customise 17.10
The GNOME desktop environment is very customisable, whether you want it to look like Unity or look completely different
---
QUICK TIP Reopen file browser tabs
You know how you can press Ctrl+Shift+T to reopen a closed tab in Chrome? Well, the same shortcut works in Nautilus, the GNOME Files tool.
To make the switch to GNOME less jarring for existing Ubuntu users, the theming and colors employed in Unity have also made the leap to the Artful default desktop. Aubergine, orange and, er, brown are used to full effect – there's a good chance you'll feel right at home in the new release, unless you are a particular desktop power user. One of the first things you may notice is that the window buttons (i.e. minimize/maximize/close) have migrated from the left to the right, which is actually where they started out in Ubuntu prior to moving across the screen back in 2010! In the spirit of customisability, you can of course move them back again. A related beautifully timed development is that one of the most guilty parties for using non-standard window buttons, Chrome, has just started using standard GTK controls in Beta builds – a welcome change that hugely improves the look of the browser on Ubuntu. Expect this to filter down to the stable release soon.
To make GNOME look exactly as you'd like, it's useful to understand exactly how it is themed. GNOME Shell (the bit you look at) has a GTK+ theme (Ambiance), which handles the appearance of apps, dialogs and so on, together with a shell theme which controls the appearance of the top bar, task switcher, top menus and other 'shell' components. If you want to change the theme on your machine, ideally you need to find a look that has both a GTK+ theme and a shell theme. Due to the huge popularity of GNOME, you're likely to find that most of your favorite themes work just fine.
---
Extensions make GNOME flexible
In order to apply your themes, you're first going to need to install a GNOME extension. Extensions are an incredibly powerful way to add features to or change the behaviour of GNOME in a flexible, easy-to-use way. To get started, simply fire up your web browser and point it to https://extensions.gnome.org. You'll be prompted to install a browser extension and after doing so, you're ready to start adding extensions! The first one you should install is 'User Themes' – this allows you to configure the aforementioned shell themes from your user directory.
A number of extensions are installed as standard on Artful. The stock GNOME 3.26 installation doesn't include a dock that looks quite like the Unity equivalent – but fortunately the bundled 'Ubuntu dock' extension fixes this, so things look comfortingly familiar. 'Ubuntu appindicators' ensures app indicators appear in the top panel, which also doesn't happen by default on GNOME.
Installed extensions can be viewed, updated, enabled/disabled, removed and, most importantly, configured directly from the extensions website, or you can use Tweak Tool (formerly GNOME Tweak Tool). Like its Unity Tweak Tool equivalent, it includes a huge number of ways to refine your GNOME installation, as well as the non-browser based
---
Dash to Panel
The launcher included in Artful is a fork of the popular 'Dash to Dock' GNOME extension. An alternative extension, 'Dash to Panel', is a great example of how powerful the extensions system is. Dash to Panel removes the left side launcher, replacing it with a (dare we say it) a 'Windows-alike' bottom panel and relocates everything, including the clock, system icons and notification icons.
It has some great features, including previews on icon hover, customisable running indicators and useful keyboard shortcuts. After install, you'll probably want to remove the standard dock with sudo apt remove gnome-shell-extension- ubuntu-dock.
---
extension management tool. To install, use sudo apt install gnome-tweak-tool.
Tweaks within the tool are broken down by category – the 'Appearance' section allows you to set your theme preferences, enable/disable animations or even set a system-wide dark theme. The 'Desktop' section is particularly useful for adding and removing desktop icons, as well as setting desktop and lock screen backgrounds. The 'Fonts' section also contains the scaling preferences, while 'Keyboard and Mouse' enables you to tune your input settings. The 'Windows' section lets you change behavior around window focus and click actions, as well as show/hide and reorder the title bar buttons.
While the Ubuntu development team has done its best to make GNOME feel familiar, there are some things that are just fundamentally a bit different.
The GNOME dash is as powerful as the Unity equivalent (particularly with the improvements in the 3.26 release); however, it does appear more basic at first glance, despite offering the ability to search across apps, documents, Ubuntu Software Centre and potentially even more via additional functionality installed using extensions. Items can be 'added to favorites' (displayed on the launcher) directly from the dash via a right-click menu.
One of the biggest differences in GNOME is how menus are handled – it can seem a bit strange initially. This is because for many applications there are effectively two menus: the global menu (which appears in the top bar) and the application menu (the standard menu you'll find within an app). Whether you'll have only the global menu or the application menu too depends entirely on the software developer – the intention is that apps will support the main 'global menu', but uptake to date has been patchy (although this may improve now that Ubuntu has made the leap to GNOME). Using the Tweak Tool and extensions, it's possible to change the default behaviour and move the global menu to the application title bar – which also
Extensions are an incredibly powerful way to add features to your shell in an easy to use way makes it more easily accessible for apps that aren't running full-screen.
One change you'll notice straight off the bat in GNOME is around notifications. They will now appear under the clock in the middle of the screen at the top, albeit briefly. Once again, their behaviour can be tweaked using extensions. It's possible to make notifications stay in the message tray until clicked, add a notifications indicator to the user menu, disable or enable notifications with a keyboard shortcut (a.k.a. 'boss mode'), move the location of the notifications to the top right (in a Unity style) and even send GNOME notifications to your smartphone!
As you refine your desktop environment, you'll come to realise that GNOME's versatility when it comes to customisation really is unrivalled.
---
Useful GNOME extensions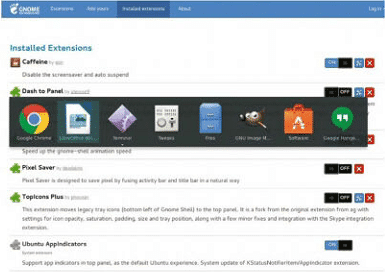 When viewing the GNOME extensions website (https://extensions.gnome.org), it's possible to list extensions in order of popularity, to help you discover new gems. We also have some favourites of our own! One major criticism of newcomers to GNOME is that it feels slow. In reality, it's actually not – it just has animations that are longer-running than many find ideal. The 'Impatience' extension helps with this – you can set your own animation speed, for example running at '0.5x', which doubles the speed of the animations. 'Pixel Saver' is a useful extension to save you real estate. The extension saves pixels (as the name suggests) by fusing the activity and title bars. How often have you had your machine go to sleep in the middle of something important? The 'Caffeine' extension is the answer to this problem. It adds a coffee mug icon you can click to keep your machine awake.
QUICK TIP Firefox sync service
If you are a Firefox user, you'll be pleased to hear that GNOME Browser has support for the Firefox sync service for bookmarks, history, passwords and even tabs!
Alternative distros
Ubuntu with GNOME isn't the only flavour in town – and if you feel like it's time for a change, there are plenty of other options
QUICK TIP Desktop environment
If you are choosing a distro to get access to a different desktop environment, remember that most of them are easily installable on standard Ubuntu, courtesy of the APT utility.
With the release of 17.10, Ubuntu has lost one flavour, but a host of others remain, each with its own USP. Even if you upgrade your main installation, you can easily partition off an area of your disk to try something different and if you maintain your data separately from your system partition (a good idea), you'll have access to all your files too.
Ubuntu MATE A distro of particular interest this time round. Using the MATE desktop (of Linux Mint fame), this flavour sets out to welcome disgruntled Unity users with open arms. Last time out, MATE introduced a panel layout called 'Mutiny', which is designed to mimic Unity 7, without realizing how significant that would become in Artful! The layout has had a number of improvements for this release which provide a more than skin-deep implementation of Unity, with support for global menus, a powered-up Super key, improved indicators and the HUD so loved by Unity keyboard warriors. Windows ('Redmond') and macOS ('Cupertino') layouts are also included, making MATE a good choice for OS switchers. Ubuntu MATE aims to make modern computers fast and old computers usable.
Kubuntu The 17.10 edition features the latest version of KDE Plasma 5 – 5.10, together with KDE Applications 17.04.3 rather than the GNOME set of default apps.
In terms of UI styles, KDE takes the 'bottom panel' approach in the style of Windows or the GNOME Dash to Panel extension, so it instantly feels quite different to the main Ubuntu distro. A solid suite of additional apps is included, updated to their latest versions, with LibreOffice 5.4 and Firefox 50.1 particularly well integrated. Muon package manager returns as an alternative to Plasma Discover and VLC becomes the default media player for this release.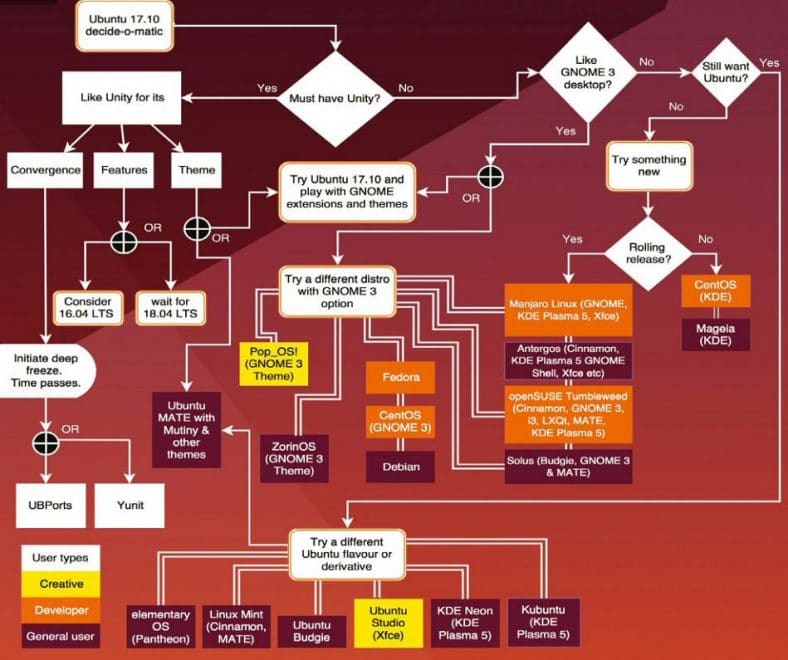 Lubuntu Powered by LXDE, which is in the process of finally moving from GTK 2 to Qt for this release. The Artful release is actually split into two sub-releases: the regular flavour and a 'Lubuntu Next' version allowing users to preview the LXQt changes. For most users, using the stable GTK 2 based version makes sense, but it's useful to have a sneak peek at what is coming up, likely as the main environment in the 18.04 LTS release. Lubuntu is designed to be lightweight and also modular. It's straightforward to tailor which features you want in and out of the distro, making it ideal for systems with limited space and capabilities.
Xubuntu This distro uses the lightweight Xfce desktop. It's fast, but still has a good level of polish, so it doesn't look outdated like some lightweight options. The 17.10 release lacks any huge changes, but that's Xubuntu's way – gradual improvements and excellent stability.
Ubuntu Budgie is a lesser known flavour of Ubuntu, having only debuted in the recent 17.04 'Zesty' release. The Budgie distro is broadly built on GNOME (albeit with plans to also move to Qt in the future), and includes Budgie version 10.3 for the Artful release. Changes include an improved Alt+Tab switcher, a new greeter (based on a fork of Unity Greeter ironically), a number of updated applets and additional settings options.
In addition, a number of standard GNOME apps have been dropped and replaced with lighter alternatives, particularly those that rely on the GNOME 'Tracker' file indexing service. This is a change that helps reduce Budgie's memory footprint.
Life outside Ubuntu
While these are likely to cater for most tastes, there are of course a huge number of other distros available, both with GNOME as a desktop environment and without. One benefit of moving from Unity to a near-stock GNOME install is that you can switch to a non- Ubuntu based distro (and indeed a non-Debian based distro) and if you wish you can get virtually the same experience, just by installing a handful of extensions. Within the Debian/Ubuntu camp, Linux Mint is a
A really interesting option if you want to stick with GNOME but also like the idea of something a little different is openSUSE Tumbleweed
wildly popular distribution. Mint is designed to be ready to go out of the box, even including proprietary codecs, something that many distros shy away from. Mint uses the Cinnamon desktop environment by default (itself a fork of GNOME Shell version 2), although a number of other environments are available for installation. Mint also includes the MintTools suite, which has the acclaimed software and update managers (the update tool assigns updates a safety level to help users avoid breaking their system). A generally conservative approach to software updates means Mint is virtually unbeatable in terms of stability.
A really interesting option if you want to stick with GNOME but also like the idea of something a little different is openSUSE Tumbleweed. Tumbleweed is a rolling-release version of the openSUSE distro, containing the latest stable versions of all software instead of relying on rigid periodic release cycles. The project exists for users that want the newest stable software. While this sounds somewhat scary, in reality the distribution is extremely reliable. Incompatibilities can sometimes occur because of the very frequent kernel updates, but this is still quite rare.
If you don't want to try a rolling distribution but still want to use GNOME, you can of course use the regular openSUSE distro, or another option is Fedora. Sponsored by Red Hat, Fedora is effectively the upstream source for future versions of the commercial Red Hat Enterprise Linux. Fedora is
---
QUICK TIP Long-term support
Ubuntu 16.04 remains the current LTS release – if you're attached to Ubuntu how it is today, you don't need to upgrade immediately. 18.04 LTS is still a while away.
QUICK TIP Upstream GNOME
Install gnome- session and choose 'GNOME' from the login screen to use a more upstream version of GNOME. Install the 'vanilla- gnome-desktop' metapackage to access the additional core GNOME apps.
---
updated frequently and provides a good alternative to the more common Debian-based options.
A lauded Linux distro that is really quite unlike anything else is elementary OS. Touted as a 'fast and open replacement for Windows and macOS', elementary is simply stunning, with a level of polish just not seen in any other distro. It ships with a small, carefully curated set of apps that are designed to cater to everyday needs rather than fill up a PC with unnecessary bloatware. An independent, open source app store called 'AppCenter' aids discover-ability and installation of additional apps, as well as supporting indie developers through pay- what-you-want purchasing. The current elementary version – 0.4.1 'Loki' – is based on the current Ubuntu LTS release and as such is exceptionally stable.
Another distro that has caught our eye of late is Solus. Using the Budgie desktop environment and with a curated rolling-release model, Solus has been built from the ground up and uses a forked version of the PiSi package manager, which becomes 'eopkg' in Solus. The distro has gained quite a following in a
"The Solus distro has built up quite a following in a short space of time with its impressive looks, excellent performance and accessible nature"
short space of time with its impressive looks, excellent performance and accessible nature. A sensible set of software is included – the current Solus release, version 3, includes kernel 4.12.7, Firefox, LibreOffice, Rhythmbox and Thunderbird. The team now include Snaps support for simplified installs, too. Solus doesn't define its audience too specifically – it aims to work well for home use, office use, for developers, for content creators and for gamers. Ambitious, but this distribution is definitely one to watch.
All the changes
The Ubuntu website provides a full record of changes in the 17.10 release. On the Desktop, aside from the GNOME switch, kernel 4.13 inclusion, Wayland and GDM changes, Artful gains Driverless Printing Support for IPP Everywhere, Apple AirPrint, Wi-Fi Direct and Mopria printers (the printer settings themselves have moved into the main settings app). The still-included Amazon app now opens in the main web browser, the on-screen keyboard is replaced with Caribou from GNOME, and Calendar now supports recurring events (hurrah!). LibreOffice is updated to version 5.4, Python is updated to version 3, and the Settings app has been redesigned. Simple Scan has a new workflow and design and becomes a core GNOME component, while System Log is replaced by the Logs app.
In the Server build, QEMU has been updated from 2.8 to 2.10. libvirt is updated to 3.6 and the DPDK is updated to the latest stable release – 17.05.2. Open vSwitch reaches version 2.8, the bind9 DNS server now includes the new Key Signing Key (KSK) and cloud-init is now at version 17.1. In addition, curtin is updated and version 4.6.7 of Samba is included.
Pop goes the Ubuntu
System76 is best known for selling laptops preloaded with Ubuntu Linux and it has now decided to release its own distribution. Called 'Pop!_OS' (yes, that's how it's written), the new system is tailored to 'meet the needs of professionals and makers' and to make the Linux desktop 'as productive as possible for the engineering, devops and computer science fields where Linux excels'. Hmmm. So what does that mean? In reality, Pop!_OS is a fairly bare-bones Ubuntu GNOME-based distro with a custom theme, custom icons and numerous other styling elements. And that's about it for now. Clearly it's early days but it will be interesting to see where System76 takes it.