Chances are, being a TNR reader you'll have already heard of Pop!_OS. This is an open source distro for STEM and creative users, created by System 76. Until now, Pop!_OS has been locked to x86 CPU platforms. However, a new version, powered by the latest Ubuntu 21.10 "Impish Indri" 64-bit release and geared towards the Raspberry Pi's Arm CPU, has been unleashed upon the world.
After downloading the image, we flashed Pop!_OS to a fresh 32GB micro SD card and popped it into a Raspberry Pi 4 with 4GB of RAM. We followed the set-up assistant to get our install configured for our language and Wi-Fi requirements. The install process wasn't totally smooth – in fact it stalled when selecting our language, but a quick reboot and we were back in business. After configuring the system, we were asked to configure a dock at the bottom of the screen. The dock can either be centralised or extended across the entire width of the screen. After this we configured the general look and feel of the OS.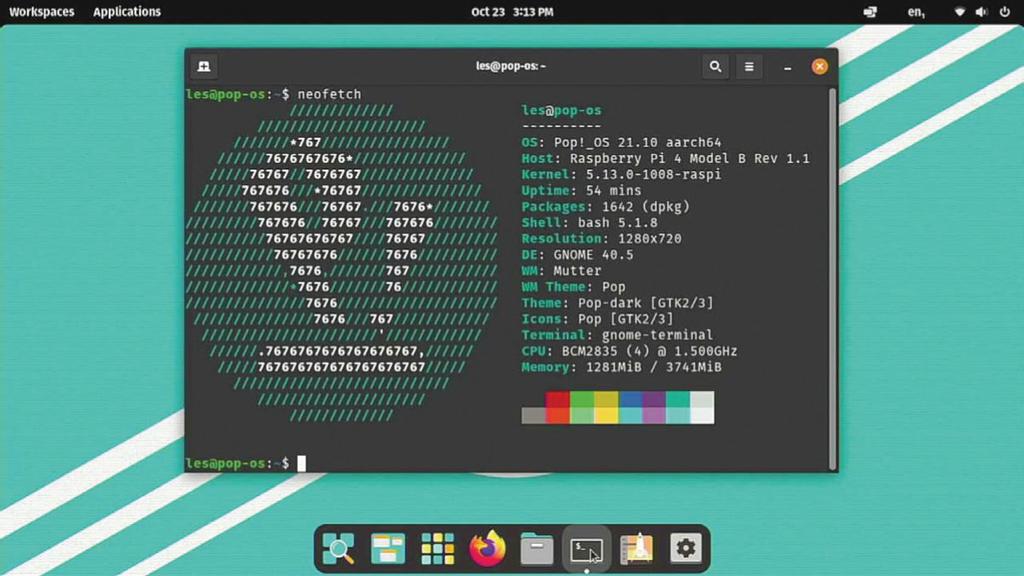 The first thing that struck us was the UI's clean and professional appearance. A large part of this is due to System 76's hard work with the custom Gnome desktop COSMI, and it's clearly paid off. Pop!_OS is powered by Ubuntu and that means we can easily install applications using apt, snap and so on. But Pop!_OS caters to those new to Linux. The Pop!_Shop is where we can install applications using a slick and intuitive interface.
Fizzy or flat?
Overall, Pop!_OS feels fast enough on a stock Raspberry Pi 4 to be a usable experience. Basic web browsing, office tasks and file management are low hanging fruit that require little power, but they are something that we do most days and so it's good to see Pop!_OS performs these duties well.
Video playback via YouTube is always troublesome, even for the Raspberry Pi 4 or 400. We tested YouTube playback using an episode of Tom's Hardware: The Pi Cast. The show is streamed at 720p and playback was decent, although we saw many dropped frames when we went fullscreen. We tried another video at 1080p 60fps (Big Buck Bunny) and this was a slideshow, dropping 95 per cent of the frames even on a wired connection. During our streaming test we noticed a bug when setting the sound output device. Typically, we can choose between HDMI and the analog headphone jack. Pop!_OS refers to HDMI as an "Analog output" which isn't correct. Selecting this option enabled audio playback via HDMI.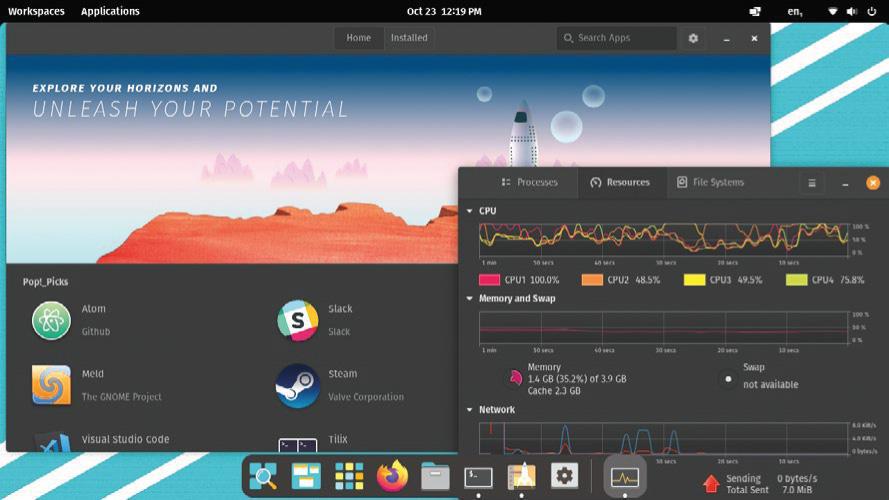 The Raspberry Pi is famous for its GPIO and in the past Ubuntu has always lagged behind the official Raspberry Pi OS with support for HATs and add-ons. This is still the case with Ubuntu 21.10, which Pop!_OS is based on, so if GPIO projects are your thing then Pop!_OS is not for you. The official Raspberry Pi cameras are supported by Pop!_ OS, but again they're not as refined as Raspberry Pi OS.
Who is Pop!_OS for? The demographic for Pop!_OS are new Linux users, or those that need or indeed want a simple user interface. The desktop experience is sublime; everything is simple and looks beautiful. If all you need is a basic machine for browsing the web and learning to code then Pop!_OS has what you need without making things too difficult. This is a solid attempt at bringing Pop!_OS to the Raspberry Pi and we can't wait to see what the future holds.
IN BRIEF
Pop!_OS aims to bring its famed ease of use to the Raspberry Pi. Making use of a slick, custom Gnome desktop, Pop!_ OS is designed to be run on the Raspberry Pi 4 and 400. It's based on Ubuntu 21.10, Pop!_OS and so inherits some of Ubuntu on Pi's failings, but don't let that put you off a solid OS.
VERDICT
Pop!_OS Review
It isn't ready to topple Raspberry Pi OS from the top spot, but Pop!_OS runs well and looks great. It's a solid OS choice.
Add your review
MORE DEALS

DEVELOPER: System 76
WEB: https://github.com/pop-os/beta#readme
LICENSE: GNU General Public License v3.0
FEATURES 8/10
PERFORMANCE 8/10
EASE OF USE 9/10
DOCUMENTATION 9/10
It isn't ready to topple Raspberry Pi OS from the top spot, but Pop!_OS runs well and looks great. It's a solid OS choice.
Rating 8/10