TP Link RE450 review – You can pay a lot of money for fancy extenders, but in our tests the TP Link RE450 did the job more than adequately.
Wi-Fi is one of the most magical technologies we use. Set up your home broadband router, type the password into your favorite PC or tablet, and, hey presto! from now on, whenever you're at home, it's on the internet.
Unless it isn't, because you've wandered into the kitchen, the back bedroom or the shed and the Wi-Fi signal doesn't quite reach there.
One solution, short of casting spells, is a pair of powerline plugs, which route the data through your existing mains electrics. This sounds more like complete madness than magic, but it does work. Sometimes not very well, and sometimes brilliantly, depending on… well, sadly you'd have to be a wizard to know exactly what. Try D-Link's AV21000 HD Gigabit Starter Kit if you just need a wired Ethernet socket for a PC, or Devolo's dLAN 1200+ WiFi ac kit if you want top speeds and the ability to connect wireless devices.
Fast and reliable, it extends your Wi-Fi to areas your router cannot reach
But there are also ways to stretch your Wi-Fi further simply by using more Wi-Fi. A range extender such as this TP-Link model, also known as a repeater, sits anywhere that's near enough your Wi-Fi router to get reception, then passes the signal along from its own antennas to other devices, which can thus be further away. You can pay a lot of money for fancy extenders, but in our tests the TP Link RE450 did the job more than adequately.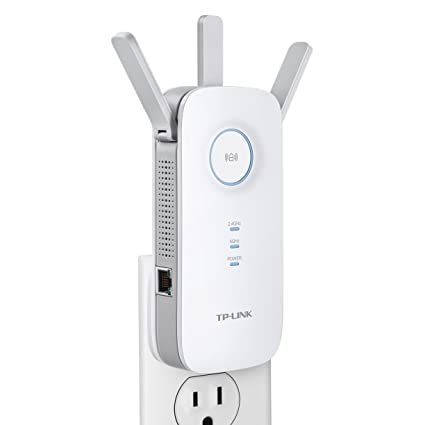 In fact, installed in a hallway to pass the signal from the router in the front room to locations at various distances around the house, it was faster than most other extenders we tried, despite being one of the cheapest. That's the kind of result we like. Things slowed down when we used older mobile devices, which could only connect on the 2.4GHz waveband, at longer distances, but it still kept the connection alive. If you position it too far from your router, the ring of blue light on the front lets you know by turning red.
Like other repeaters, the TP Link RE450 can be configured for various purposes, such as connecting 5GHz Wi-Fi devices to a 2.4GHz-only network, or turning a wired Ethernet connection into a Wi-Fi access point. It's not the most flexible networking gadget around – there's only one Ethernet port, for example. But the fact it can do more than one thing makes it more likely to keep paying for itself in the future, rather than sitting idle because you upgraded to a more powerful router, moved to a smaller house, or decided it was too cold to work in the shed.
Complementing this versatility is the TP Link RE450's smart-looking case, which is much slimmer than its rivals. With a built-in mains plug, it looks similar to a powerline adapter, albeit flatter. Having to restrict yourself to wall sockets isn't
Tp link re450 specifications
• Dual-band 802.11ac/a/b/g/n Wi-Fi repeater • 1x Gigabit Ethernet port (cable included) • 3x adjustable aerials • 163x77x67mm (HxWxD)
ideal for something that you may need to position carefully for the best reception, but it shouldn't really be a problem, and it makes the whole thing easy to plug in and forget. Our only gripe is that it's wide enough to stop you plugging anything into an adjacent socket. Some sort of pivoting arrangement might be the only way to perfect this design. The three aerials fold up when not in use, making it easy to pop in a bag if you need to.
If you want an extender specifically to connect older devices at distances of several dozen yards, this might not be the best option. But as an all-round repeater it's effective, has no serious flaws and is excellent value for money.
Tp Link RE450 Review: Verdict
Best TP Link RE450 prices ?
$

79.98

$99.99
8 used from $34.99
22 new from $53.99
in stock

MORE DEALS

Why pay more when this does what you need? Apart from it hogging a double mains socket, we've no complaints
Tp Link RE450 Review: Alternative
Devolo WiFi Repeater
Even more compact, this repeater is dinky and affordable but not as, fast or reliable