Plug in and get ready for Wi-Fi 6E. Read our Netgear Nighthawk A8000 Review.
If you're lucky enough to have a Wi-Fi 6E router or mesh system, but you're using an older desktop or laptop that doesn't support the latest networking tech, then you might not be getting the most out of your network. The Netgear Nighthawk A8000 USB dongle aims to address this— it's a simple, affordable way to complete the Wi-Fi 6E loop.
You get two main components in the box with the Netgear Nighthawk A8000. First is the Wi-Fi 6E antenna, which looks like a chunky USB drive and folds out to form an antenna. Second is a dock for this antenna, which connects to your laptop or desktop computer via a USB-A cable. You can either plug the antenna straight into your computer, or use the cradle if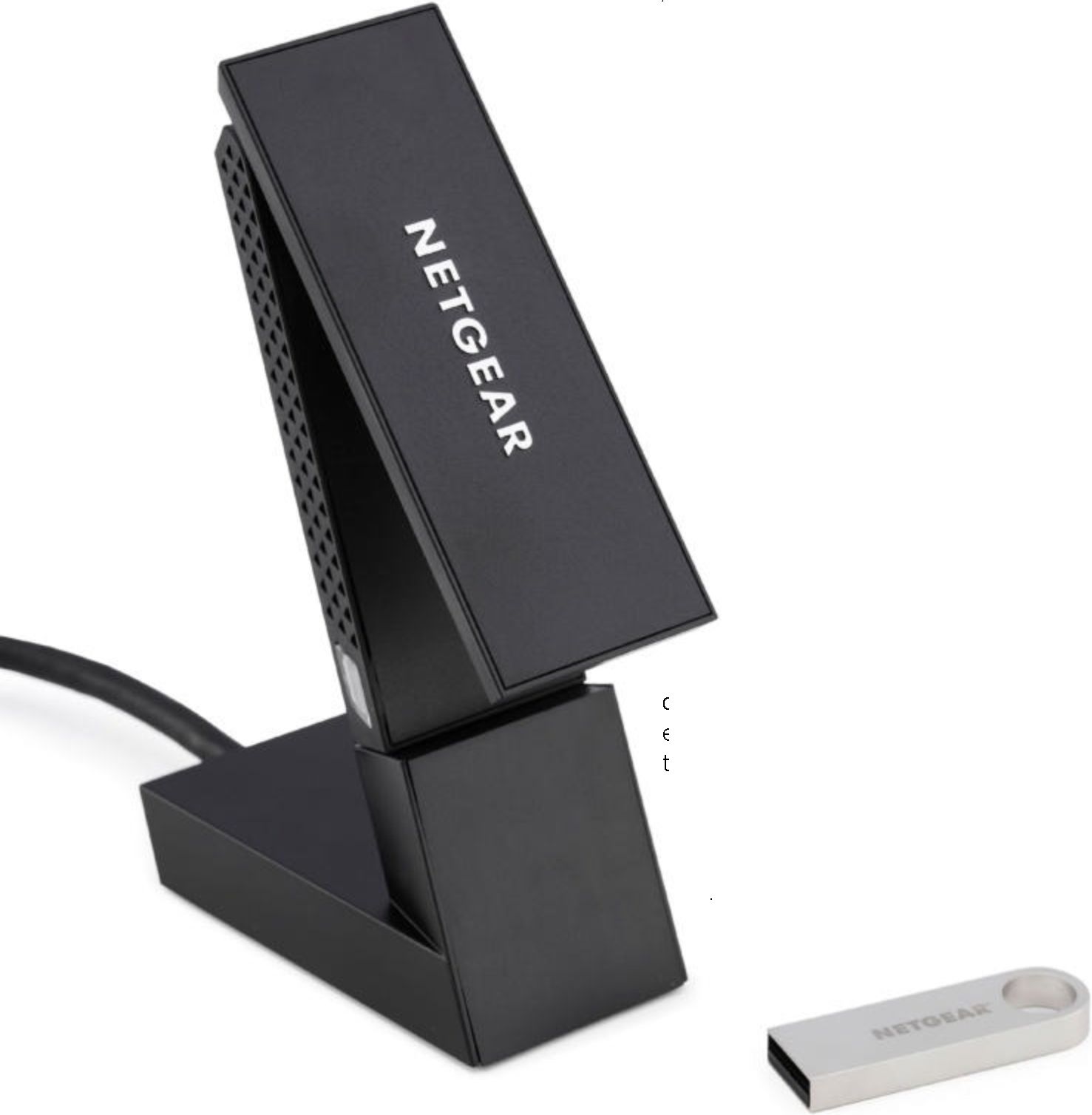 it's more convenient for your particular setup or will get a stronger signal.
There's no USB-A-to-USB-C adapter here, so if your laptop or desktop only has USB-C ports, you'll need to supply an adapter of your own. The supplied software that you need to install comes on a USB-A drive as well, so the same applies, though you can also download it from the Netgear website if you need. It's also worth noting that it's a Windows-only device, and you'll need Windows 11 if you want to take advantage of the fastest 6GHz band. This might prove restrictive for some people, again if they're not using the latest computers.
IN THE DESIGN
As for the design, there's not too much to report: it's black, functional, and reasonably compact. It's big as far as USB drives go, so it's good to have the option of the cradle if it's difficult to plug the antenna directly into your laptop or desktop. It's light and highly portable, but does protrude from a laptop to such a degree that you'll have to be careful not to break it.
For testing, we took advantage of Netgear's Orbi RBKE963, the QuadBand mesh system that sits at the top of the company's consumer range and offers beamforming specifically for the A8000. The dongle supports tri-band connectivity—2.4GHz, 5GHz, and 6GHz. The dongle supports USB 3.0 for the fastest possible connection to your computer, and speeds of up to 1,200Mbps are possible on the 6GHz band.
Your mileage will vary depending on your home and environmental factors such as the thickness of your walls. When testing it with our own Wi-Fi 6E system, we found the connection to be quick and stable, with slight gains in terms of speed compared with a Wi-Fi 6 router and no adapter. While we don't have a huge house, the connection remained strong even at the edges of it, up in the top bedroom, and even out in the back garden. Even with modest performance boosts, remember these will add up day on day, week on week.
We also found that the A8000 is still a worthy upgrade for users of devices that have Wi-Fi 6 or 6E receivers on board, but who want even better speed and reliability, thanks to the device's large antenna. You can, of course, use the A8000 with Wi-Fi 6 routers and USB 2.0 ports, but the speeds won't be as good. The Netgear A8000 is really the only product of its type on the market at the moment, aside from PCI-E Wi-Fi 6E cards, which need more work to install.
The USB dock is also a good addition to the package, as it gives you lots of flexibility when it comes to positioning the antenna and trying to get the best signal. If a Windows laptop or desktop computer on your home network is in need of a Wi-Fi 6E upgrade, then the Netgear Nighthawk A8000 is a great way of adding one with the minimum of fuss and expense, but it's not going to be worth the cost for everyone. -DAVID nield
VERDICT
Netgear Nighthawk A8000 Review
PROS
Excellent performance
Easy to set up
Flexible design
CONS
USB-A only
Bulky
Wi-Fi 7 on the way
Add your review
Best Netgear Nighthawk A8000 prices ?
£

89.99
1 used from £86.42
4 new from £89.99
in stock


The NETGEAR Nighthawk X6 AC3200 Router, with breakthrough Tri-Band WiFi delivers multiple bands for homes with many WiFi devices. WiFi speed up to 3.2Gbps and 6 high-performance antennas provide maximum speed and range. Nighthawk app allows for easy setup and WiFi management, while NETGEAR Armor...
$

268.15

$279.99
out of stock

MORE DEALS

www.netgear.com
SPECIFICATIONS
| | |
| --- | --- |
| WiFi | WiFi 6/6E |
| Bands | 2.4GHz AX (up to 600Mbps), 5GHz AX (up to 1,200Mbps), 6GHz AX (up to 1,200Mbps) |
| WiFi Speed | AXE3000 |
| USB | USB 3.0 |
| Security | WPA3 |
| Dimensions | 3.66 x 1.24 x 0.57 in |
| Weight | 0.99 oz |