If you've bought yourself a shiny new laptop, smartphone or tablet recently, it might have the latest Wi-Fi 6 standard built in. If so, and you want to make the most of it, you probably need to upgrade to a new router. Asus's RT-AX55 is one of the most affordable ways to do this. Read our Asus RT-AX55 Review.
"More than enough for most typical home broadband needs"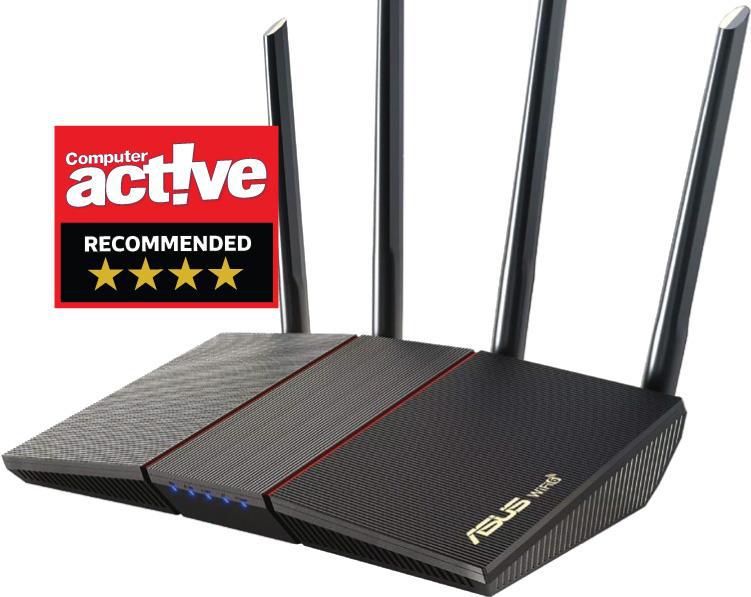 Its quoted top speed of 1.8Gbps is relatively modest compared with some of the more expensive Wi-Fi 6 routers around – this is because it's dual-band rather than tri-band. However, this is still more than enough to handle most typical home broadband needs, providing fast, reliable web browsing, music- and video-streaming, as well as the occasional casual gaming.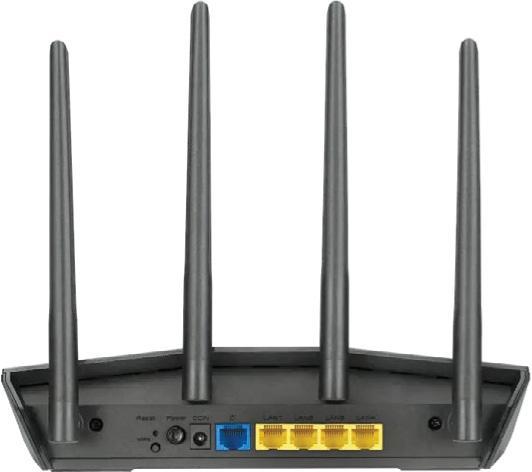 The RT-AX55 has a sleek design, with a streamlined black casing and go-faster red stripes. It features one Gigabit Ethernet port for connecting to your existing modem or router, with four additional Ethernet ports to provide a wired connection if required (pictured below left).
There's an easy-to-use app to help you get started. To make an initial connection to the router, you need to scan a QR code that's hidden on its base, then set up a password. We were also pleased to find that the app gives you the option of creating a single network that combines the 2.4GHz and 5GHz bands or put the bands on two separate networks. For advanced users, there's also the option of opening up a web browser interface, which provides more detailed control over the network settings.
In our tests, the RT-AX55 proved to be a good upgrade to the ageing router in our home office, which had to rely on powerline adapters to get any kind of Wi-Fi signal from the main router. At short distances the RT-AX55 matches the speed of our current router.
However, it delivers a huge improvement at longer distances, with its 5GHz band maintaining top speeds of 100Mbps and 12.5MB/s for Steam downloads. The 2.4GHz band is a little slower, dipping to 90Mbps, and 11MB/s with Steam, but that's still fast enough for streaming video and routine web browsing.
SPECIFICATIONS
Dual-band 2.4GHz/5GHz • Wi-Fi 6 • 4x Gigabit Ethernet ports • 1x WLAN Gigabit Ethernet port • 280x276x184mm • 374g • One-year warranty
VERDICT
An affordable way to bring Wi-Fi 6 into your home, though it isn't the fastest option we've tested
8/10
Best Asus RT-AX55 prices ?
£

99.78
5 used from £91.64
9 new from £99.78
in stock


ASUS RT-AX55 - wireless router - 802.11a/b/g/n/ac/ax - desktop

MORE DEALS

ALTERNATIVE
Netgear Nighthawk RAX80 £ More expensive, but remains the fastest Wi-Fi 6 router we've seen