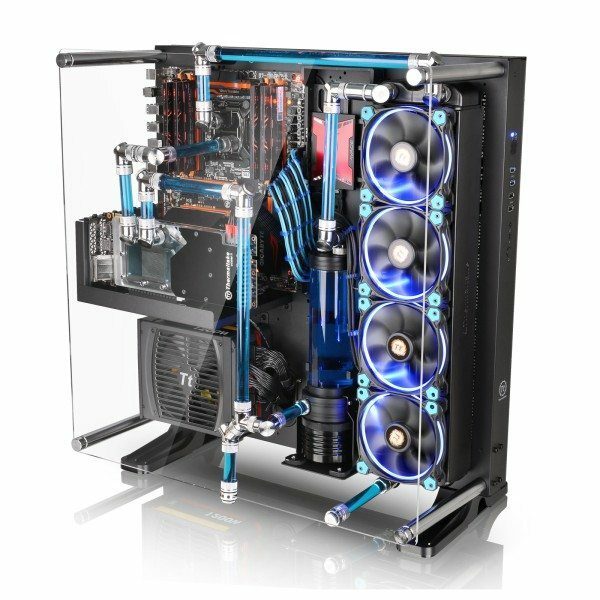 Thermaltake Core P5 Review | Nobody appreciates modded PCs as art better than CPU. Just flip to the Mad Reader Mod in this issue and you'll see yet another world-class example of a PC that's pleasing to the eye yet brutal with the benchmarks. But thanks to Thermaltake and the new Core P5, you can concoct a system worth showing off without having to leave your day job and convert your bathroom into an ersatz paint booth.
Thermaltake refers to the Core P5 as a "wall-mount" chassis; and sure enough there's a heavily reinforced VESA mount on the backside to let you hang it from your wall, but there are also a pair of steel and plastic flippers included for a vertical setup, and a quartet of conical plastic case feet for horizontal configurations. Thermaltake's Core P5 comes with a 5mm-thick acrylic sheet that mounts to chromed steel pegs at each corner of the chassis. The acrylic comes covered with a protective film to make sure it remains immaculate until you're ready to show the case off. The enclosed portion of the chassis is 2-inches wide by approximately 24-inches high and 22-inches deep. The right/top side of this open-air chassis acts as an extended motherboard tray, supporting up to ATX motherboards. The power supply installs below the motherboard, there's an external mounting slot for one of the three internal HDD/SSD bays to the right, and the rest of your custom watercooling components mount to the right side of the case. Rubber grommeted holes peppering the panel let you route cables out of sight. One of the cooler additions to this package is the horizontal graphics card cage, which lets you mount this component parallel to the motherboard. Thermaltake also throws in the flexible x16 PCIe ribbon cable that makes this possible. Staunch traditionalists can, of course, mount the graphics card perpendicular to the motherboard if they so choose. There's nothing preventing you from air cooling a system installed in/on the Core P5, but doing so would be missing the point. You can also forget about using one of those closed-loop coolers. This case is a dream for custom liquid cooling setups, particularly those that utilize hardline tubing. There's space on the right side of the Core P5 for a 480mm radiator, and room for a reservoir as tall as they come. All the traditional benefits of working on an open-air case apply to the Core P5. The poor cable management that often plagues other cases of this type, however, is not an issue, thanks to the enclosed motherboard tray design. This case is a good choice for novice or experienced users looking to create a visually arresting liquid cooled system. Dimensions: 23.9 x 13.1 x 22.4-inches (HxWxD)Material: Steel, plastic, acrylic
Motherboard support: ATX, mATX, Mini ITXBays: 3 3.5/2.5-inch bays, 3 internal or 2 internal 1 external; Fan support: 4 120mm or 3 140mm on the left sidePorts: 2 USB 3.0, 2 USB 2.0, audio I/O.