The Most Impressive PC Cases Money Can Buy
We check out some extreme chassis for sale
PC cases have evolved drastically over the last 20 years or so, from the rather bland beige, toilet-coloured offerings of the past to the more elaborate and visually astounding things we see today.For many, a case tells you as much about the owner as the hardware inside. A futuristic-looking chassis speaks of someone who likes to have the latest technology, for example. A case with multiple fans, vents and LEDs attached, meanwhile, suggests an extreme overclocker looking to impress others with their skills.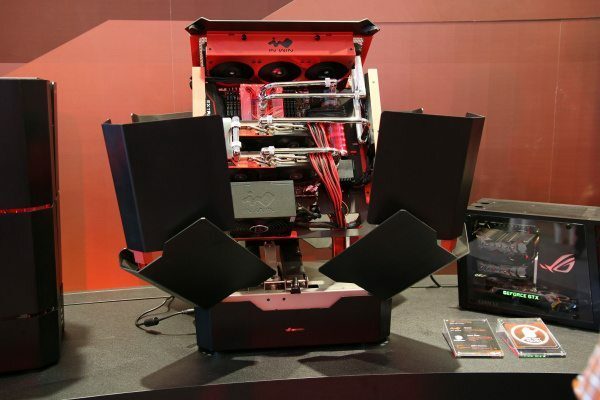 We're not trying to delve into the psychology of a PC owner, we're not that qualified, but it's apparent that PC cases are as important in a build these days as the technology inside.With that in mind, we thought we'd take a look at a collection of the most visually impressive, stunning and outright weird cases that are currently available to buy. After all, it may inspire you to go forth and build one yourself, dremel in hand, or it might make you think twice about your next custom PC build.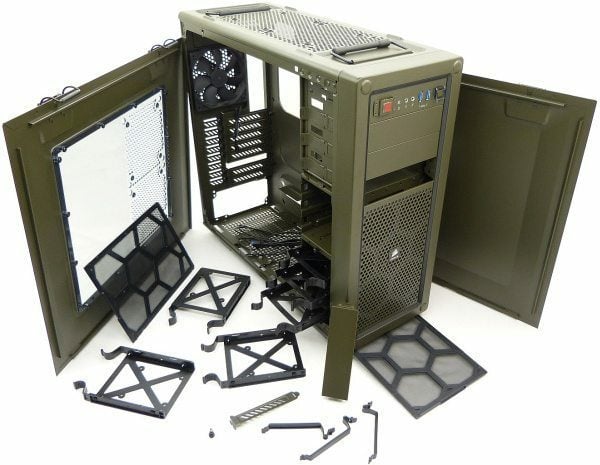 The Corsair Vengeance C70 is a case that would suit someone with as military background or those whose choice of gaming fun is, say, continual Call of Duty battles online.It's an olive green mid-tower case that's designed to look like an ammo box, complete with hinged handles, clasp-covered side panels, rugged and riveted looks and a reset button that's under a flip plastic lid that resembles the launch button in a missile silo.It's quite an extraordinary case and one with plenty of cooling options and room for some of the biggest cards and motherboards available.How much does it cost, you ask. Well, surprisingly it's not that much. For a mere £ on average, you can be the owner of this chassis. Be aware, though, you might get a few unwanted glances from the police if you were to carry this through the streets to a LAN gaming session.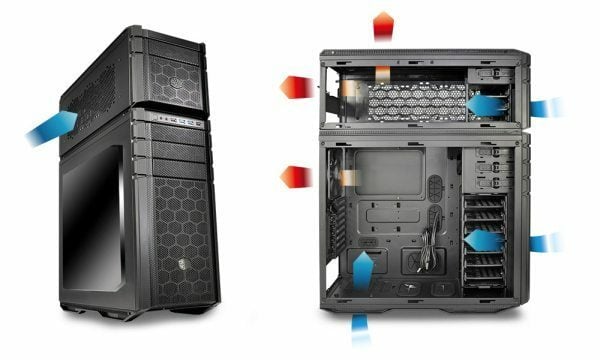 Cooler Master has gone all out with this elaborate, expandable, stacking system PC case. In fact it's quite ground breaking.
The HAF (High Air Flow) case design isn't something new, but this stacker element has gone through a few design changes and as a result has been available for a good year or so now.
The Stacker is basically a mid-tower case with two extra ITX-sized cases that can be clipped on (or rather stacked, as the title suggests) to either the top or bottom of the main tower.The main mid-tower section has many great benefits, such as ample room for liquid cooling solutions, a large motherboard and expansion cards, as well as countless other features. The further two attachment cases can be used to house more custom cooling solutions, as well as space and the mounting bays for up to nine 3.5" hard drives and an extra PSU in each.
There's plenty of mesh front air vents throughout each of the individual units, as well as dust filters and rubberised mounts for silent running and rubberised pass-throughs for cable management within and between each of the different cases.
You have several options available to you for stacking the cases. You can opt for the main tower with the pair of smaller ITX-cases on either end, like we mentioned a moment ago. Or, you could instead find more use for several of the ITX cases stacked on top of one another – perhaps as a hard drive cluster with combined liquid cooling throughout? We imagine there are other scenarios where multiple components can be stacked to work together, to form one all-powerful PC.
It's an impressive combination of units, with the smaller ITX-like cases costing in the region and the bigger mid-tower case.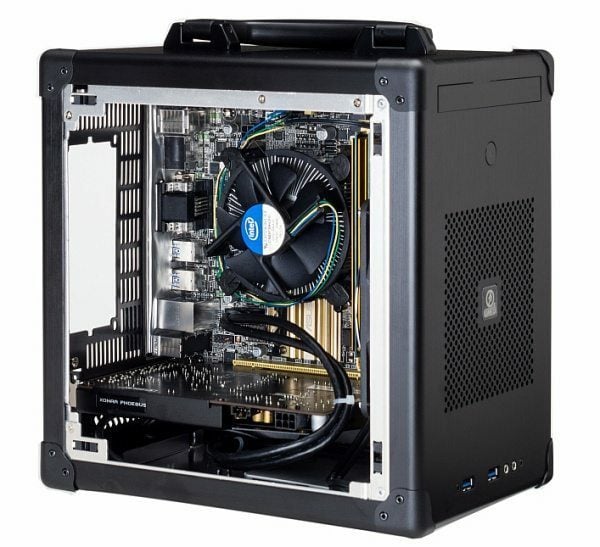 Lian Li has quite a catalogue of 'different' looking PC cases and chassis, one of which is the PC-TU100.
On the face of it, the PC-Tu100 looks more like one of those cases pop stars carry their make-up kits around in. However, the 120mm front fan, behind the aluminium mesh, is capable of keeping the contents of this mini-tower case cool enough for the user.Not only is it quite stylish looking, but it's also portable with a large carry handle that folds up when not in use. The interior of the case too is functional and contains many clips and other stability extras to help make sure nothing is too disturbed if you do decide to carry your PC around with you.There's not a huge amount of room inside; you'll easily fit a mini-ITX motherboard and a low-profile graphics card within its diminutive interior proportions, though, and maybe a couple of 2.5" SSDs. Amazingly, it's quite expensive for such a minimalist approach, regardless of the style and amount of brushed aluminium used throughout. The case can be had for around £85, with its younger sibling, the PC-TU200B costing nearly twice that amount for more or less the same style and setup.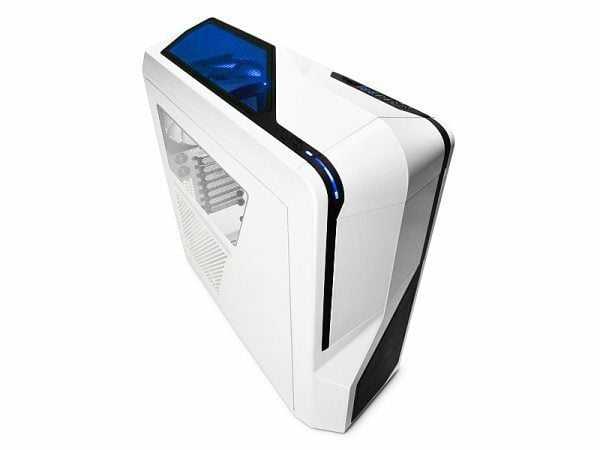 We recently had the pleasure of testing a gaming system that was housed inside an NZXT Phantom 410 case. It was brilliant white in this instance and from Computer orBIT inside the Orbit Indominus.
This multifaceted mid-tower case looks pretty spectacular. The angled surface is neatly blended and the sudden triangular rise at the top of the case, which leads to a similarly angled windows, gives the impression that the Phantom would most likely be completely invisible to conventional radar systems.Again there's plenty of room inside and support for multiple cooling solutions, be they liquid or air based. The Phantom 410 we had to test featured a row of many-coloured LEDs, with a remote, which when activated lit up the inside of the case with an amazing effect.If you want something to turn heads (if you're a system builder, for example), then the NZXT Phantom is one to check out. You can pick one up for as little as £70 depending on where you shop.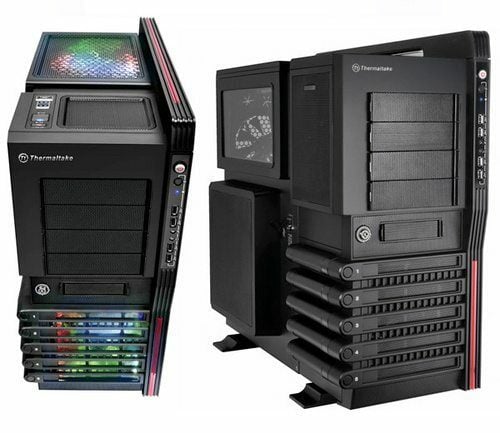 We're beginning to stray into the world of the extreme with the Thermaltake Level 10 GT case. It was launched a couple of years ago, but it's still one of the most visually astounding chassis to appear on the market before designs start to become a little esoteric.This is a monster full-tower case that comes in a box that Haf?ór Júlíus 'Thor' Björnsson would probably struggle to lift. Once out of its box, though, the striking aesthetics of the front five protruding hot-swap drive bays, the grill black plastic optical bays and top front placed LED and fan control buttons are enough to make the extreme system builder's mouth water.There's more mesh at the top-rear of the case, with a large single carry handle running down the complete length of one side. And a dominating features is a large protruding area that has a sliding mesh filter in place, behind which is a large 200mm LED fan that can either blow air directly onto the PCIe components or pull hot air out.Moreover, there are other smaller extras, like a gaming headset hanger, rubberised cable pass-throughs, cable tidies, external PCIe screw mounts and countless other cool features.Needless to say, the Thermaltake Level 10 GT looks pretty amazing, but for £180 on average it may be a little extreme for most users.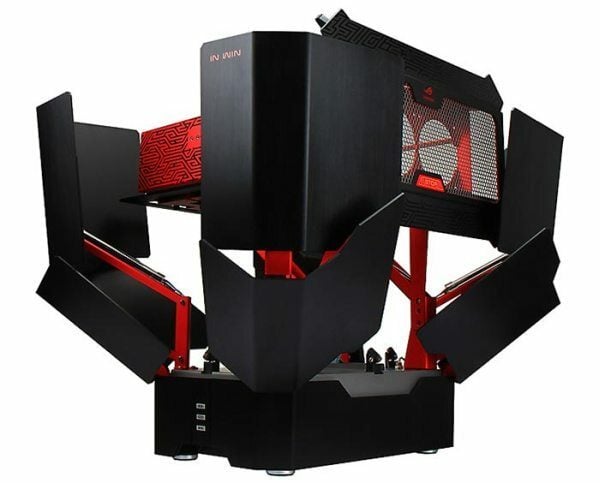 Since we've already started to move into the extraordinary PC case design world, it's fair to say that one of the most highly regarded of these extreme cases is the In Win H-Tower.On the face of it, the H-Tower already looks pretty amazing. The brushed steel effect case, which appears to be constructed in connected sections with an eerie glow of internal LEDs emitting from the joints, is like something from a sci-fi movie.However, at a touch of a button the In Win H-Tower goes well and truly beyond anything we've previously thought possible for a PC case: it transforms.The case will fold away from a central point, pushing the lower panels out, the rear panel extending beyond, and the motherboard panel is raised from a vertical to a horizontal plane. Each of the panels are mounted on motorised arms that pull together or separate the parts, allowing the user to get to the interior of the case easily. The only thing it doesn't do is walk off and start a barrage of Michael Bay explosions.There's plenty of room inside for large cards and other bigger hardware, as well as different kinds of cooling solutions – although you may need to be careful when fitting everything, as it could get damaged during the transformation. Incidentally, the transformation and LED colour effects can be controlled via a handy app, so all you need to do is tap away at your phone or tablet, and the case will respond accordingly.It's a concept taken to the extreme, but in some ways it's really quite handy – although to be fair, we'll probably spend more time making it transform than actually doing any work with the hardware inside.The In Win H-Tower will be available by the end of the month (according to Guru3D) and will likely cost in the region of £350.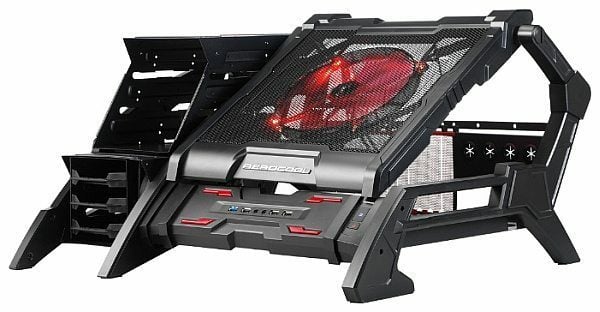 Compared to the above H-Tower, the open case AeroCool Strike X Air looks positively normal. But if we were to stand it next to a more traditional case, then obviously its design would stand out.As you can summarise from the title, this is an open frame PC case, allowing you access all the internal components easily and to keep things cooler than when enclosed.Most open frame cases are used by the likes of overclockers, system testers and reviewers who require a quick and easy solution to fitting a new component without having to take a case apart whenever needed. In theory they work well, but it have a few problems with dust and the fact that open frame chassis are usually pretty ugly.The AeroCool Strike X Air, though, isn't ugly. In fact, it looks quite amazing. There's the usual front port selection of mixed USB types, headphone ports, power and reset, but the dominant feature at the front is a large, hinged mesh lid behind which a 200mm fan resides.The mesh lid can flip up and allow you access to the horizontally mounted motherboard area. You can extend a jack and hold the mesh section so it's directly above the motherboard rather than angled down toward it.The right-hand of the Stike X Air is where you'll mount the drives, and this section can be completely removed and slides out of the frame to allow easier fitting. The cables are run from the drive section down to the PSU area that again is meshed at the base and has various holes and rubberised pass-throughs to the motherboard section for better cable management.Obviously drinks aren't allowed within half a mile of the case, and neither is the cat. Dust is a pain, and if left without regular cleaning or stuffed under a desk on a carpet, then you'll get even more of a potential clogging issue than with a standard case.It's designed to be bench or desk mounted, for testing purposes mainly. But as a showcase chassis, displaying the designed interior and components, it looks amazing.The AeroCool Strike X Air is available now and costs in the region of £75 depending on where you shop.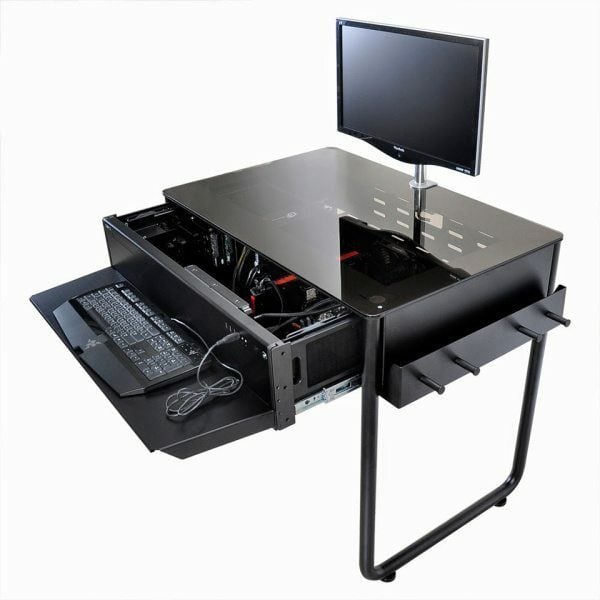 We're back with Lian Li again, but this time with something a little different to its previous chassis.The DK-Q1 is actually an all-in-one case and desk. It's one the company's smaller models, but the design is quite intriguing in that all the PC internals are housed within a pull-out drawer.It's really quite simple. The drawer itself is pulled out, revealing a horizontal motherboard area complete with the necessary PCI expansion ports, fans, vents and cable management system. You populate the drawer with your PC hardware and hook up the usual front power, LEDs and so on to an area toward the right of the front of the drawer. Here you'll find power, reset, HDD LEDs and numerous USB ports, there's even a key to lock the drawer in place so you don't accidentally pull it out if you were to stand up and walk away from the desk. There's even another slide-out tray for the keyboard and mouse under the drawer.The top of the desk is made from a sheet of tempered glass, allowing you to place a monitor weighing up to 80kg on its surface. The glass pane can be removed for cleaning or to gain access to the inside without having to pull the drawer out.It's an interesting idea, having your PC built directly into your desk. There's plenty of room inside the drawer for more elaborate cooling options, as well as multiple drive bays and even full-sized expansion and graphics cards. The vents at the rear appear to do a reasonably good job; there are a couple of 120mm fans at the rear, with a further three 120mm fans to one side where the drives and PSU will sit.Although it's a decent enough idea, the cost might make you reconsider. For around £800 you could the be proud owner of a glass topped computer desk chassis. However, after spending that amount you might not have enough to actually fill it.As you would expect, these are just a handful of examples we've come across. There are hundreds of more extreme, strange and ultimately weird PC cases available for those who require such things.One thing we haven't looked at are case mods, since they generally tend to be one-offs rather than being built for sale and mass produced. A case mod can turn an ordinary PC case into something remarkable and totally out of this world. If you're not familiar with some of the fine examples we've had in Micro Mart in the past, then we recommend you do a quick search for some of the more outlandish examples.Although these cases may look a little extreme, they do offer a better than average level of cooling, silent running and space for expansion. So rather than opting for a regular case come your next upgrade, how about splashing out a little more and going for a PC case that's a bit beyond the norm.