The cream of the Microsoft Store
1 Adobe Photoshop Express
http://bit.ly/photxpress
A slimmed-down version of Adobe's industry-leading photo editor, Photoshop Express is ideal for touchscreens, letting you optimise your photos with just a few taps and slides of a finger – and it's completely free!
There's a selection of 'Looks' to choose from. These are similar to Instagram filters, but offer much
Photoshop Express is a brilliant-and free – photo editor from Adobe.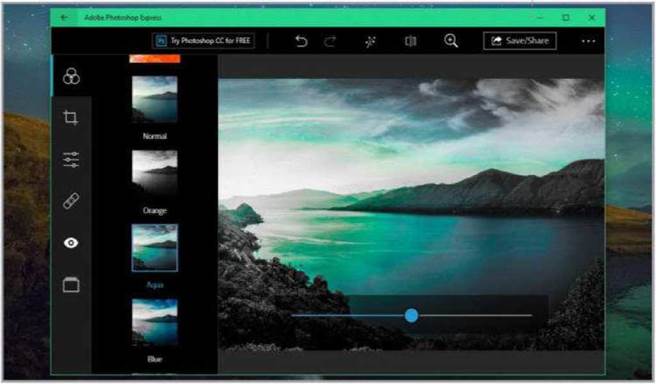 more choice, as well as options designed for specific types of image. For example, there are skin-smoothing filters made for portraits, and others designed to bring out the blues and greens of landscapes. You can crop, flip and straighten your images, adjust exposure and colour, apply vignettes, heal blemishes, and correct red-eye. There's even an Auto Enhance tool.
No features are hidden away behind paywalls, but you'll be prompted to sign in by creating an Adobe ID, or logging in with a Facebook or Google account.
RATING 5/5
2 VLC
www.microsoft.com/en-gb/p/vlc/9nblggh4vvnh
VLC is an open source media player that's available for any Microsoft device you care to name, including PCs, mobile devices, Xbox and HoloLens. It's also compatible with pretty much every media file type there is, without the need to download any additional plug-ins or codecs.
When you first launch VLC Media Player, it will automatically detect any connected storage VLC plays almost any kind of media file – no additional codecs required.
devices and offer to use them to either store your media library, or copy media from there to your Windows 10 device's own internal storage.
From there, the controls are wonderfully simple, and it's even possible to lock them so you don't skip a scene through clumsy accidental tapping.
The version of VLC in the Microsoft Store doesn't support DVD and Blu-ray playback – for that, you'll need the full desktop software – but for everything else the Universal Windows app is a fantastic choice.
RATING 4/5
3 Microsoft To-Do
www.microsoft.com/en-gb/p/microsoft-to-do/9nblggh5r558?
There's no shortage of task management apps on the Microsoft Store, but Microsoft's own is hard to beat. To-Do is very simple to use – just create a master list of tasks – complete with deadlines – then choose which ones you want to get done today. The current day's tasks will appear under 'My day', and can be
If getting things done is on top of your task list, you can't go wrong with To-Do.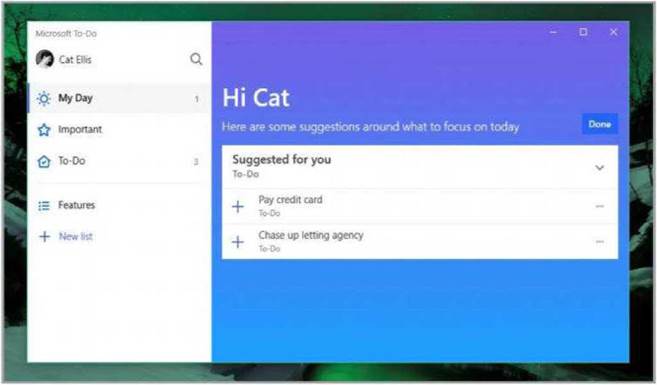 set to disappear once you have marked them marked as complete.
To-Do is far simpler than rival tools such as Trello (https://trello. com/), which enables you to assign work to different people and hold conversations about jobs, but that's by design – To-Do is designed to be used more for everyday tasks like posting birthday cards and buying milk than serious project management. Having said that, To-Do also enables you to share your list with other people in your family or household – like when it's someone else's turn to take out the rubbish, for example.
RATING 4/5
4 Hotspot Shield Free VPN
www.microsoft.com/en-gb/p/hotspot-shield-free-vpn/9wzdncrdfng7
There are relatively few VPN options available in the Microsoft Store, and Hotspot Shield is one of the most trusted names. When you first launch the app, you'll be prompted to either pay for a premium subscription or start a seven-day free trial, but if you
Hotspot Shield Free VPN keeps your web browsing sessions private and secure.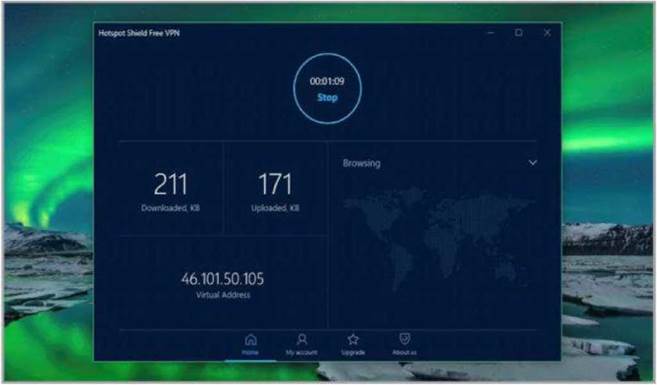 tap the back arrow in the top left, you can proceed to use the free VPN. Tap 'Connect' and you'll be assigned a virtual IP address.
Hotspot Shield Free VPN is very simple to use, and can be handy for quickly accessing region- restricted content and for circumnavigating censorship However, there are caveats: One is that the free version isn't much good for streaming, and has a 500MB daily download limit; the second is that Hotspot Shield has come under criticism for using browsing data to target ads – a claim that its developer denies.
RATING 3.5/5