DS418j Review – IT'S BEEN A couple of years since Synology revamped its entry-level four-bay NAS, but we now have the DiskStation DS418j.
Designed for users that want a lot of storage at a more reasonable price, this is a NAS for busy households with big media libraries.
Table of contents
SYNOLOGY DiskStation DS418j Review
Tonnes of expansion space, lots of expansion options and great performance make this a brilliant NAS
PROS
Affordable
Speedy performance
Wide range of capabilities
CONS
Design isn't overly inspiring
Add your review
|
Read reviews and comments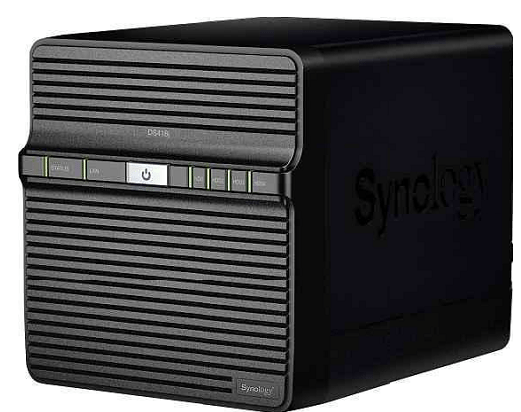 From the outside, the DS418j looks like its predecessor, the DS416j. A rather plainlooking cube, the DS418j isn't going to win any design awards, but as you're likely to tuck the NAS away under a desk or in a cupboard, looks don't matter so much.
DS418j Review: DISK-OVERY CHANNEL
As with other Synology products, the DS418j is a barebones NAS, which means that you need to add your disks to it. By default, the NAS takes 3.5in hard disks, but you can buy adapters if you'd rather fit 2.5in hard disks or SSDs. Given the value of 3.5in hard disks, we recommend sticking with mechanical storage.
Access to the drive bays is via removing the two thumbscrews at the back, opening the rear panel and then pulling the main case off. Drives are simply screwed into the disk caddies and slipped into the case.
The DS418j can take up to 40TB of storage, by way of up to four 10TB hard disks. You only get the maximum capacity of your four hard disks if you don't have any data protection.
We don't recommend doing this, as a single disk failing will wipe out all your data.
Instead, we recommend using Synology Hybrid RAID, which gives you built-in data protection. You get the option of losing one disk's worth of storage, with the ability to weather a single disk failure, or losing two disks' worth, with the ability to withstand up to two disk failures. With 10TB hard disks, the first option would give you 30TB of storage space; the second would give you 20TB.
Using the single-disk option will be the best combination for most people, but if you're storing critical documents, you should go for the two-disk protection option.
The NAS also has dual USB3 ports for sharing hard disks or printers.
Once the disks are installed and the DS418j is powered up, it needs to be configured.
The simplest way to do this is by firing up a web browser and going to findsynology.com or diskstation:5000; if you can't find your NAS, the free Synology Assistant (available online) will scan your network looking for devices to connect to.
DS418j Review: 

WIZARD OF OS
Once you're connected to the NAS via your web browser, you're taken through installing the latest operating system (DSM 6 in this case). Smartly, if you insert hard disks that were previously installed in a different DiskStation, you're asked if you want to convert the drives to work with the new hardware, preserving your files and settings. That's great news for anyone either transferring from an older four-bay NAS or perhaps upgrading from a two-bay NAS.
Conversion of the hard disks is quite a lengthy experience, as we found out when the DS418j recognised disks from our old two-bay model. However, once the job was completed, our NAS was running with all the settings we'd previously configured. Our only real job was to increase the size of the storage volume by adding in the two additional disks.
Synology's real power lies in its desktop- style interface, which is beautifully simple to use for creating and managing storage, users and shared folders. Beyond simple NAS controls, the excellent Synology operating system has Package Center, which expands what your NAS can do.
There are some powerful options in there, including Cloud Sync, which lets you save your cloud storage (Dropbox, Google Drive and more) directly to your NAS; DLNA and Plex media servers; a web server; and an email server. Being able to expand your NAS to do more than just serve files makes Synology stand out from the competition.
Synology has fitted the DiskStation DS418j with 1GB of RAM (up from 512MB on the DS416j), and there's a 1.4GHz dual-core 64-bit Realtek TRD1293 processor, too. The combination is potent, and the web interface runs really smoothly.
DS418j Review: 

TRANSFER WINDOW
More importantly, file transfers are very quick. To test actual throughputs, we fitted the NAS with four Seagate Constellation ES.3 2TB hard disks, configured in Synology Hybrid RAID for one-disk fault tolerance. Starting with the Shopper benchmarks, we saw huge file read speeds of 110.43MB/s and write speeds of 108.06MB/s; large files came in at a similar 108.54MB/s read and 106.2MB/s write. Given that Gigabit Ethernet has a maximum throughput of 125MB/s, these speeds aren't far off maxing out the network connection.
Our small files test really pushes devices, with plenty of file operations often slowing things down. Impressively, the DS418j managed write speeds of 73.82MB/s and read speeds of 77.05MB/s. That's 31% and 12% faster respectively than the two-bay DS216j.
Switching to the CrystalDiskMark benchmark, we saw the sequential test complete with excellent read speeds of 117.8MB/s and 116.6MB/s. The random 4K file read/write test managed 7.10MB/s read speeds and impressive 20.41MB/s write speeds. That's good going, with the read speed 40% faster than on the DS216j.
For a great combination of features and performance, the Synology DiskStation DS418j is well priced for what you get. For those after plenty of storage, it's a great choice.
David Ludlow
DS418j Review: Specifications
CAPACITY 40TB max • 3.5in HARD DISK BAYS (FREE) Four (four) • NETWORKING 1x 10/100/1,000 • DLNA MEDIA SERVER Yes • PRINT SERVER Yes • DIMENSIONS 184x168x230mm • WEIGHT 2.21kg • WARRANTY Two years RTB • PART CODE DS418J
DS418j Review: Verdict
Tonnes of expansion space, lots of expansion options and great performance make this a brilliant NAS