SYNOLOGY DS118 Review – A SINGLE BAY. ARM BASED NAS WITH THE USUAL QUALITY AS EXPECTED FROM SYNOLOGY

The DS118 is a mid-range ARM based NAS, which means it's cheaper to make, uses less electricity (a meagre 9.4W when accessed, 4.22W when idle) and generates less heat, but is generally less powerful than an Intel CPU based NAS and has a slightly smaller selection of apps. For most people, this isn't an issue, but if you have a specific app in mind to run on your NAS (i.e: Plex Media Server), check there's an ARM version before you take the plunge.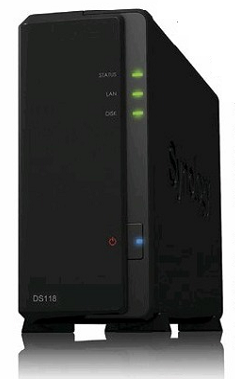 Despite it only has a single drive bay, the US118 is like virtually every other Synology NAS out there. It runs the latest version of Synology's class- leading DiskStation Manager operating system and is full featured, again, except for the bits that don't work on ARM (i.e: BTRFS support). There's two USB 3.0 ports, for plugging in additional hard drives to ingest new files, or even buck up the contents of the NAS and a single Gigabit Ethernet port.
Even though it has an ARM CPU, performance is more than adequate with the DS118 fully saturating a Gigabit Ethernet connection when copying files to and from a desktop computer. 1GB of DDR4 RAM also means there's a bit of headroom for running a couple of apps (Synology calls them packages) in the background.
One of the DS118's party tricks is the ability to do hardware transcoding of video (4K @ 60fps, 10-bit H.265 and below), so even if your playback device (e.g: a smartphone) doesn't support the video file format, you'll be able to watch the content perfectly when using Synology's Video Station app.
If you're familiar with Synology NAS units, the DS118 pulls no surprises with the brilliant and familiar DiskStation Manager.
It's a perfect single bay device for someone without huge storage needs, but wants a cheap, reliable and easy to use storage device, that will also handle a lew simple home server duties.
ANTHONY AGIUS
SYNOLOGY DS118 Review: KEY SPECS
Realtek RTD1296 64-bit quad core 1.4 GHz CPU • 1GB DDR4 RAM • 1x combo 3.5in/2.5in drive bay • max 12TB capacity • 1x Gigabit Ethernet • 2x USB 3.0