THE FIRST NAS WITH THUNDERBOLT 3 IS A SPEED DEMON
NAP's latest 4-bay NAS is best described as the hot rod of the NAS market. There's an insane amount of I/O bandwidth on the TS-453BT3, as it packs dual Thunderbolt 3 ports, space for two M.2 SATA SSDs and a 10 Gigabit Ethernet port in one little package. Interestingly, the Intel J3455 CPU included in the TS-453BT3 is rather mid-range, considering the crazy amount of I/O and the 8GB of RAM (2x DDR3-L SO-DIMMs).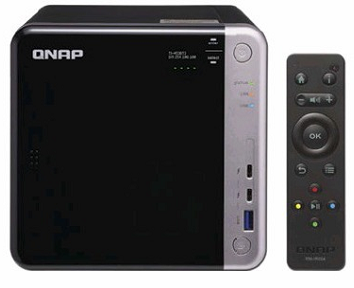 The ideal scenario for the TS-453BT3 is in a video production workflow. Those Thunderbolt 3 ports on the front are there so the NAS act in practice as a big & fast external HDD for the computer connected to it. With up to 40 Gbps of bandwidth, no matter which disks you install in the NAS, you'll have the ability to use their full speed.
If you're using a Mac, thanks to the built-in Thunderbolt-to-Ethernet converter, you can oven um the TS-453BT3 as a 10GbE network interface and access the rest of your 10GbE network without requiring a dedicated 10GbE network card for the Mac.
Like many other QNAP NAS units, the TS-453BT3 has a HDMI port and remote control, so you can do things like watch your surveillance cameras via Surveillance Station, or even simply watch media stored on the NAS directly on a TV. Being an Intel based NAS, it supports QNAP's Virtualisation Station, to run Windows, Linux and other
OS virtual machines, as well as Container Station, for the plethora of Docker containers that exist on the internet or via Docker Hub.
The TS-4S3BT3 is not a cheap unit. You really need to justify the M.2 slots and Thunderbolt ports. If all you need is a 10GbE, QNAP sells the ARM based TS-531X NAS for almost half the price. But if you're a video pro with lots of content to ingest, or plan to run server apps on your NAS that require fast disk speeds, this won't leave you short on I/O bandwidth.
ANTHONY AGIUS
KEY SPECS
Intel J3455 64-bit quad core 1.5 GHz CPU • 8GB DDR3L SO-DIMM RAM • 4x combo 3.5in/2.5in drive bay • 2x Gigabit Ethernet • 1x 10GBASE-T • 2x M.2 SATA SSD slots • 2x Thunderbolt 3 • 5x USB 3.0 • 2x HDMI 1.4b