SteelSeries revisits the Siberia V2 for a colourful refresh
SteelSeries have been through quite a number of iterations of its Siberia headphones. There are currently six different models, from the 'cheap and cheerful' Siberia 100, to the bank-account-bashing Siberia 800's. Over the years it's come up with some classic designs, The Siberia V2 is hailed as the best-selling gaming headset of all time, but the V3 wasn't quite as popular in some quarters. Indeed, many people asserted that they would have opted for the V2 had they not been taken out of production.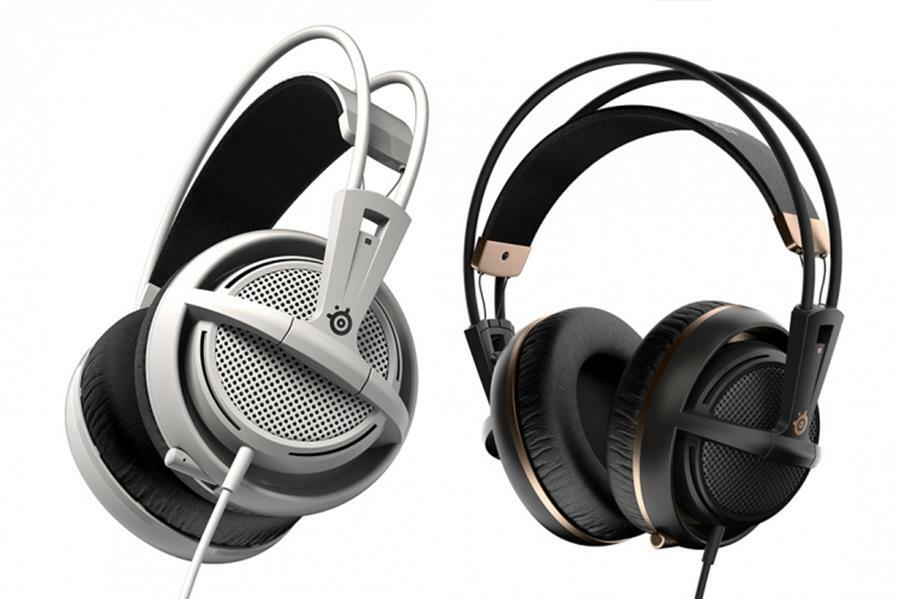 SteelSeries has now given into those demands, and the Siberia 200 Series is the result. These headphones aren't just the V2 as before, but a retooled and enhanced version that is now available in seven funky colours. For those who never tried the design previously, these are light and comfortable cans for people who can spend an entire day (and night, possibly) playing their favourite title, with barely a comfort break. However, because they don't exclusively use USB or any console specific connection, they will work equally happily with any audio output to a 3.5mm jack.
The only accessory included in the box is a small adapter that converts the two 3.5mm jacks that handle sound input and microphone output into a 3.5mm four-conductor TRRS phone connector. Most PC owners, however, will only need to put the two standard jacks into the appropriately coloured sockets in order to be ready to rock. With a cable length of 1.8m included, there should be sufficient slack for the majority of PC and player orientations – though you can buy extension cables for just a few pounds.
Towards the headphone end of the cable is a small volume controller, mute and a microphone toggles. While nothing special, this reviewer prefers the cable control than those headsets that insist on mounting them on the earpieces where you can't easily see them.
Comparing them to a pair of the Siberia V2's that I still own, the 200 series does share a few parts, but the earcushion elements have been redesigned to allow more airflow. I'd accept that the original V2s were probably more robustly constructed than the 200s, but they also cost more than SteelSeries is asking for these.
Critically, headphones are really about sound quality, and the 50mm Neodymium drivers in the Siberia 200 are some of the best this reviewer has ever tried. Officially they have a frequency response of 10-28000Hz and a sensitivity of 112dB, though these are just numbers until you send actual sounds through them.
If you thought the V2 were good then these will live up to your expectations, though maybe not exceed them. I found them especially good representing audio with excessive bass elements (explosions), though they're also proficient at handling high frequencies too. They also retain the signature separation, allowing you to easily detect the direction of threat when your title supports spatial audio.
While obviously gamerpleasing, they also sound excellent for music, have a rich and extensive audio topology that includes a very clean high frequency range.
I'm sure someone will write to me and say that they're weak in some frequency range or they clip below some Hz, but subjectively my tired old ears really liked what came out of them. If I'm entirely, equally honest, the microphone is more workmanlike than spectacular, though it's better than the one in the V2 that many thought rather undermined that particular design.
If you want the very best microphone audio you need to consider the quality of the analogue to digital conversion on your motherboard or sound card, as it plays a big part. The mic in here is fine, but could be made better with additional hardware.
Looking at the Siberia range as a whole, it is interesting to note that SteelSeries only now offer USB version of the Siberia V3 Prism, making the 200 series its flagship analogue cans – unless you punt for the super-expensive noise-suppressing Siberia 650s, that is.
It does make the cheaper USB Siberia 150 and bargain basement analogue Siberia 100 both with 40mm drivers, but for this gamer the 200 series with 50mm drivers are definitely the ones to want. They offer the comfort required for prolonged gaming, excellent sound quality and a reasonable build specification. All at a highly affordable price.
The only real choice here is if you're going to go with original black or white, or be tempted by 'Forged Red', 'Gaia Green', 'Proton Yellow', 'Sakura Purple' or 'Alchemy Gold'? Myself, I'm old-school, though the yellow ones do have a certain zing to them. Mark Pickavance
Great gaming headphones that have wider applications.
Features• Closed ear headphones• Pull-out microphone• Crystal clear high, low and mid-tones• 50mm driver units• Lightweight suspension construction• Integrated volume control located on the cord• Weight 254g.
SteelSeries Siberia 200 Headphones Review
Great gaming headphones that have wider applications.
Add your review