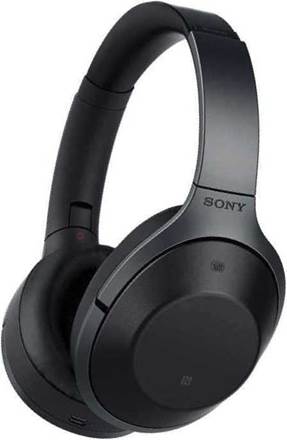 Sony mdr-1000x review – Noise-cancelling over-ear headphones – Recommended – 5/5
VERDICT
These headphones don't have the best ANC tech, but their sound quality is peerless
SONY'S OVER-EAR headphone range stretches from the MDR-ZX310 right up to the ludicrously expensive Sony MDR-Z1R. The MDR-1000X Bluetooth headphones, which have active noise cancellation (ANC), aren't quite that expensive, but at they're still pricey.
Can these beat the Bose QuietComfort 35, which cost about the same?
The Bose headphones are not the MDR-1000X's only competition, either. There's also the Sennheiser Momentum 2 Around-Ear headphones, while the FIIL Diva provides a more portable alternative for less cash, although Sony's headphones remain cheaper than the majority of its close rivals.
Inside the MDR-1000X box, along with the headphones themselves, you'll find a hard carrying case, a Micro USB-to-USB charging cable, an auxiliary 3.5mm cable and an aeroplane adaptor.
HEAD CASE
Build quality and design are impressive. The headphone cups swivel, pivot and rotate, making them easy to carry around, and the adjustable metal headband will fit a wide range of sizes. The headphones are relatively lightweight, at 275g without a cable; they connect through Bluetooth 4.2, and have a range of over 15m, even through walls.
The padding around the earcups makes these headphones perfectly comfortable to wear for long listening sessions. However, the headband has a relatively weak clamping force; they sit loosely on the head, which means these headphones aren't ideal for wearing while exercising. By contrast, the QuietComfort 35 sit much more tightly and firmly, and didn't fall off even when we wore them out jogging.
The left headphone cup houses all the buttons: there's an on/off button, plus controls for ANC and Ambient Sound, which reside by the 3.5mm input jack. There's also an NFC tag that's used for fast pairing.
The right-side cup, meanwhile, provides touch controls. Swiping left and right changes the song, up and down increases and decreases the volume, and tapping once pauses your music.
You can also place your palm over the cup to temporarily silence your music and ramp up the ambient sound around you, so that you can quickly reconnect with the outside world. It's a very effective feature for when you want to talk to someone briefly, or cross the road in safety.
The right-side cup also hosts a Micro USB socket for charging. The battery lasts for around 20 hours, and it takes around four hours to fully charge from zero.
ALONE TIME
Active noise cancellation is, of course, the headline feature. ANC technology works by analyzing the ambient sound around you and overlaying an inverse waveform on to the sound you hear – effectively neutralizing external noise.
In addition to regular noise cancelling, you also get two Ambient Sound modes. Normal mode lets some external sounds filter into your music, so you're not completely isolated from what's going on around you. Voice mode works similarly but emphasizes the frequencies used in speech, so announcements and conversations come through clearly, while other distracting noises are reduced.
It all works fantastically well: the blissful silence you hear when you put on the headphones is incredible. We found that the MDR-1000X wasn't quite as effective as the Bose QuietComfort 35 at blocking out higher frequencies, but it's still some of the best sound-isolation and ANC technology found on the market.
Sony's signature sound is adored by many, and for good reason, delivering accurate mid-range reproduction, crisp highs and a lean bass response. The MDR-1000X headphones don't disappoint in any department: in fact, to our ears they're the best-sounding Bluetooth headphones out there, easily outclassing the QuietComfort 35.
That starts with the bass: these headphones have an excellent low-end rumble. In songs such as Young Thug and Travis Scott's Pick Up the Phone, you can really feel the sub-bass frequencies, while the mid-bass response remains clean and controlled. By comparison, the Bose QuietComfort 35 seems to cut off the sub-bass frequencies and provides a somewhat uncontrolled mid-bass response.
Treble, meanwhile is nice and prominent, but not harsh, with a good extension at the top-end that provides sparkle. This helps vocals come to the foreground, rather than being pushed back as they can sometimes sound with the QuietComfort 35. If you listen to a lot of vocal songs or podcasts, you'll definitely appreciate the MDR-1000X.
ACTIVE LIFESTYLE
Finally, the soundstage has a good sense of depth and width, although it could do with better instrument separation: for example, in Tuxedo's The Right Time, we felt the individual percussion instruments could have been better brought out.
The Sony MDR-1000X sets a new high bar for Bluetooth ANC headphones. They might not quite match the QuietComfort 35 when it comes to high-end noise cancellation, nor for staying on your head – but when it comes to sound quality, they're unbeatable.
In short, these are the finest overall Bluetooth ANC headphones that money can buy. If you want to get the best from your music, and you've got the money to spend, get the Sony MDR-1000X.
Christopher Minasians
SPECIFICATIONS
HEADPHONES SUBTYPE Over-earheadset • PLUG TYPE 3.5mm headset jack plug (optional) • WEIGHT 275g • CABLE LENGTH 1.5m • WARRANTY One year RTB