I have never been a fan of headphones, no matter how great or how comfortable they are on the ears. The fact that the strap actually goes over your head is enough to turn me off because it completely messes with my hair (yes, I'm that vain). However, I have heard some pretty interesting details about the Bose QuietComfort 35 (QC 35) and how its noise-cancelling technology is so advanced, you won't be able to even hear yourself think, let alone hear anything else.
EASY ON THE EYES AND EARS
Another aspect that turns me off from headphones generally is the design. Most adopt the similar body and aesthetics, making it look plain and boring. The only headphones that ever stood out for me were the Beats by Dre, only because of its tacky colourways and ridiculously horrible audio quality.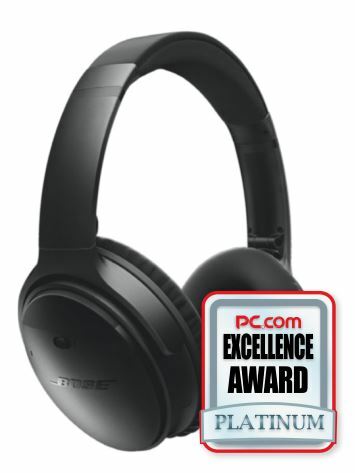 The QC 35 did change my mind though. At first glance, it does look eerily similar to its predecessor. This particular model now comes with an all-black matte finish, giving it a sturdier look and feel.
Comfort is a word that describes these Bose headphones very well. The plush earcups and headband provide great support and comfort for both your ears and head. Although I still cared about how my hair looked, I had no qualms about putting the QC 35 to good use on my daily commute to and from work.
AUDIO ON-THE-GO
Thanks to the wireless Bluetooth and NFC one-touch pairing, I don't have to worry about any wires getting in the way. All I had to do was tap my smartphone to the headphones and it would connect easily.
Controlling your music levels is fairly simple as the right earcup also houses the controls, allowing you to adjust your music levels and even play/pause your music. At least I don't have to constantly take my phone out of my pocket to change the track.
To know just how well the audio quality on the QC 35 is, I played it through my goto track for any headphones – Bohemian Rhapsody by Queen and even the ever-pleasant THX audio test you would normally hear in movies.
Safe to say the QC 35 passed both obstacles rather easily, proving my point of it being one of the best headphones my ears has ever rested upon.
NEXT LEVEL NOISE-CANCELLING
I can attest to how great the noise cancelling feature on the QC 35 really is. My first test was done in the office, where listening to your music too loud is considered a sin punishable by death.
It was too good for me to not tease the Devil so that is exactly what I did. What followed was having my name shouted across the room about three times before a stress ball flew straight to my face.
Having passed the first test with flying colors, I brought the QC 35 to the LRT station and got on the train to get to my destination. As it was only two stops away, I didn't think I'd miss my stop but lo-and-behold, I actually did miss my stop by four stations. I couldn't even hear the group of girls next to me, so actually catching the announcement on the intercom was highly unlikely.
AMAZING BATTERY LIFE
With the QC 35 connected to my smartphone, its battery actually lasted a lot longer compared to my smartphone. Granted, I was running Spotify and other social media apps simultaneously. But, the battery life on the QC 35 is remarkable with the ability to last up to 20 hours on a single charge. If you don't want it to be wireless, the QC 35 also comes with a cable that allows you to connect the headphones to your device. Even with the cable, the QC 35 is said to lasts an astounding 30+ hours.
SPECS
DIMENSIONS (HXWXD): 7.1 x 6.7 x 3.2mm
WEIGHT: 234g
CONNECTIVITY: Bluetooth, NFC
Verdict
Great value for money from Bose