Portability without compromise on sound or build quality. Read our Sennheiser Momentum 2 Review.
Now that the smartphone is ubiquitous and you always have your music library with you, headphones have moved from afterthought to big business.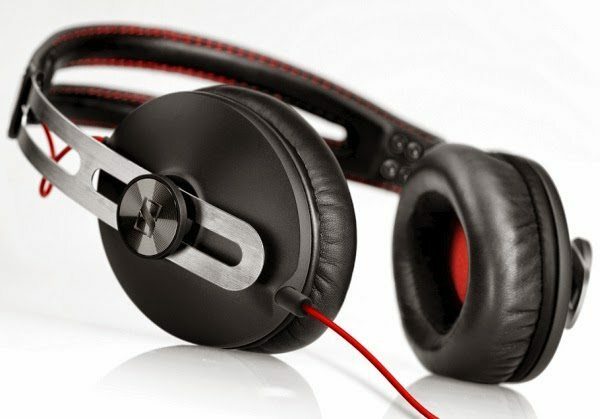 The advantage of using bigger cans rather than earbuds is that, in general, they offer a more accurate and detailed sound reproduction thanks to their far larger diaphragms. A larger surface area means fewer compromises and tricks are required to generate a solid bass end. They're also arguably less damaging to your hearing as they don't fire sound right into your ear canals. Sennheiser has an excellent track record both in the pro and consumer audio worlds, and makes a wide range of headphones to suit different budgets.
These new Momentum 2 headphones sit at the upper end of the scale, an over-ear model designed both for listening at home and on the move. Over-ear headphones are slightly larger than on-ear ones but can be more comfortable to wear because they place less pressure on the sides of your head. They also usually have the advantage of isolating external noise and leakage from inside, as they completely enclose your ears.Beautifully packaged and with a bundled carrying case, these headphones are surprisingly lightweight despite being very well built. Robust build without extra weight can be tricky to get right but it feels like Sennheiser has nailed it here. The finish is very good too, with stainless steel and leather featuring extensively, and soft ear pads. The two cups can actually be folded in to make the whole thing easier to transport and less prone to damage, and the hinges and cup adjustment sliders are reassuringly sturdy.
The headphones are very comfortable to wear, even for long periods, thanks to their light weight and the fact that they don't press down hard on your ears yet still remain firmly in place.
The cable is detachable and comes with a remote control featuring play/pause controls, volume buttons and a microphone. It's a little high up and near to your face so the mic can more easily pick up your voice for phone calls, so you'll probably end up using it by touch rather than by sight.
The remote supports Android as well as Apple's iOS devices, and the headphones can of course be plugged into anything with a mini jack output – though there's no adaptor provided for connecting to the larger quarter-inch sockets.
The sound quality of the Momentums is excellent, possibly more so when connected to an iOS device than a Mac's headphone out since iOS devices tend to be able to drive levels a little harder. Tested with an iPhone 6, they offered a very clear and detailed soundstage with a rich but not overpowering bass end and were as adept with gentler folk tunes as with thundering electronic music. Where a track had a very prominent mid range, usually meaning vocals mixed quite high, they did become slightly bright at the highest volumes. This is with the iOS EQ control switched off (as it always is here), so you could perhaps tweak this if you found it to be an issue.Listening to that thundering electronica also showed that there was very little leakage of sound either in from outside or out from inside even at high volumes, which is good news for the people sitting next to you on the tube or your colleagues at work.The bottom line is that these are great headphones, but at a shade they have some strong competition at that price point. It's worth comparing with other sets before you buy.
Hollin Jones
Momentum 2 Review: Verdict
Great sounding and beautifully engineered headphones, though there is competition at this price.
Very comfortable and portable