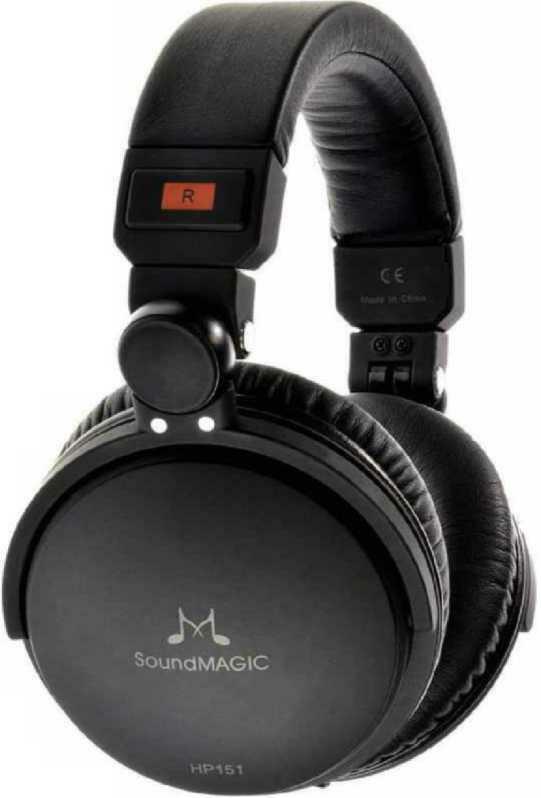 VERDICT
You'll want to keep them indoors, but the HP151 is a sensational set of headphones
SOUNDMAGIC IS RENOWNED for its budget E10 earphones, but the company makes more than just in-ears. In fact, it produces a less well-known yet surprisingly rounded range of external headphones that spans from this new SoundMagic HP151 up to the open-back HP200.
The SoundMagic HP151 is an update to the SoundMagic HP150 and shares a lot of the same characteristics as the older model, albeit with a nicer finish and a more durable folding mechanism. These two design changes address the build-quality issues many HP150 owners picked up on.
The over-the-ear headphones are better suited for home rather than on-the-go use. The large frame houses 53mm drivers and connects via a 2.5m-long cable.
LONG STORY
There's little to dislike about the HP151; it's comfortable, has a removable cable and, most importantly, produces an impressive sound. It's hard to think why anyone would buy anything other than the HP151 unless you need a pair to regularly take out of the house.
In the box you'll find a hard carrying case, a 6.3mm adaptor, an aeroplane adaptor and a 2.5m-long removable cable that's terminated by gold-plated 3.5mm plugs. The only thing missing is a shorter 1.2m mobile cable.
The HP151's build quality is impressive. Anyone who complained about the HP150's earcup hinges will be pleased to know that the HP151 feels sturdy and robust. The mechanism allows you to fold the earcups, and its headband assembly allows you to adjust the size of the headphones and to rotate the cups by 180 degrees; they also pivot a few degrees, but cannot be stored flat.
The removable cable design is well thought out, with a clever locking mechanism on the left cup that's designed to prevent the cable being yanked free of its moorings by accident. Clear right and left indicators can be found on the side of the headband in red and blue.
Best of all, the HP151 is very comfortable to wear. It's light, and the PU leather material in the headband provides sufficient padding for your head, allowing you to wear the HP151 for long periods of time without worrying about it
There's little to dislike about the HP151; it's comfortable, has a removable cable and produces an impressive sound
digging in. The ear pads are large enough to fit around most ears, even large lugholes, and they're soft and comfortable.
The HP151's 53mm neodymium dynamic drivers have an impedance of 32 ohms. This means they can be driven by a smartphone but will sound quieter at equivalent volume settings than in-ear models, which typically have lower impedance.
HEAR CLEAR
This headphone set's most notable trait is its wide soundstage and impressive instrument separation, which make them perfect for all types of music and film. The sound is rich and accurate, so that the HP151 sounds more like open-back than closed headphones. Compared with the Audio-Technica ATH-M50X and Creative Sound BlasterX H5, the HP151 has a wider, deeper soundstage that isn't as muddled by different audio frequencies. Its tonality is pleasant and imaging is accurate, too.
A lot of headphones under £ overemphasise the mid-bass frequencies or have a flabby sound; not the SoundMagic HP151.
A good comparison is the Skullcandy Crusher, which has an overpowering mid-bass that lacks control. In rap and hip-hop tracks, for instance, we found the HP151 is able to cope with the amount of bass thrown at it, providing a precise, clean reproduction, while also providing crystal-clear vocals.
By comparison, the Skullcandy Crusher overshadows the mid-range and dampens the listening experience.
Surprisingly, the HP151 is no slouch in the sub-bass region either, producing a deep rumble that's perfect for listening to house music, electronic dance music or anything that requires a deep, pronounced bass response.
Despite this, the mid-range is not overly recessed; instead, it drives the music forward with a big, bold quality and plenty of detail in complex tracks. It's not quite as eager, perhaps, as the Sony MDR-1A, but we prefer the character of the HP151 overall.
Finally, the highs provide a detailed sparkle that isn't too rolled off at the top end.
Cymbals sound natural, which helps preserve the toe-tapping fun of upbeat songs.
A KIND OF MAGIC
Perhaps the only type of music that doesn't fare well with these headphones is hard- driving heavy metal – there's not quite the texture and richness in the mid-bass to fill things out properly, with the result that tracks can sound flat and harsh.
Other than that, and the HP151's long, snakelike cable that makes it best suited to home use by far, this is an excellent pair of headphones. As it's a removable cable, you can change it, but we'd still have preferred an alternative cable to be provided in the box.
Though, you do get a lot of headphone for your money. Build quality has been improved, sound quality is fantastic and, if you're looking for a set to use at home with an AV receiver, computer, smartphone or even to play games, the SoundMagic HP151 should be your first point of call. It's a sensational pair of headphones and a deserving Best Buy winner.
Christopher Minasians
SPECIFICATIONS
HEADPHONES SUBTYPE Over-ear • PLUG TYPE 3.5mm headset jack plug • WEIGHT 288g • CABLE LENGTH 2.5m • WARRANTY One year RTB • DETAILS www. soundmagicheadphones.com • PARTCODE HP151-BK