Editor choice
SERIF PagePlus X8 Review
SERIF PagePlus X8 Review – Creating a worthwhile update to the excellent PagePlus X7 must have been no easy task, but SERIF PagePlus X8 has many new features and has addressed PagePlus X7's most notable omission: its lack of a baseline grid for lining up text elements across columns.
SERIF PagePlus X8 also has improved photo editing, better support for electronic publishing and the ability to insert an existing PDF into your own publication and preserve its appearance.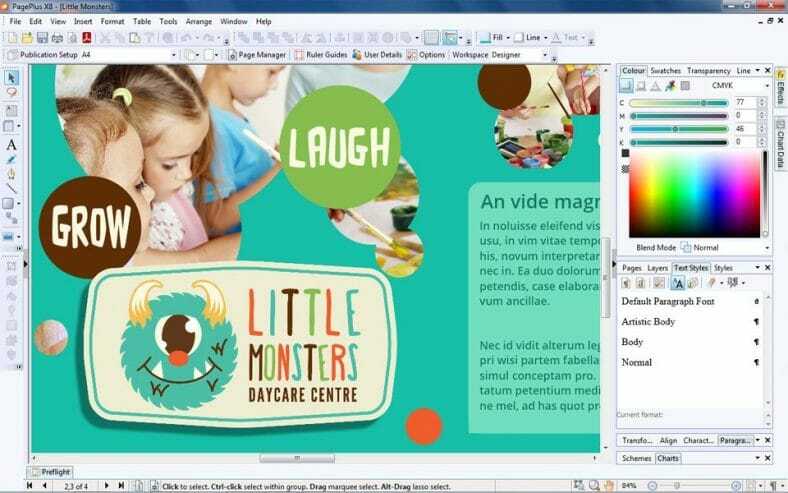 See also:
Thanks no doubt to its generous asset packs, SERIF PagePlus X8 consumed around three times more space on our 64-bit Windows 8 computer than the 510MB minimum requirement, but its needs are otherwise modest. While we'd recommend a large and reasonably high-resolution screen, the PagePlus interface is flexible, letting you declutter to make the most of a smaller workspace. We like being able to show or hide the 22 available editing tabs, and dock them to any of the screen edges. You can save a layout that makes sense to you, open one of several pre-defined options, or create your custom workspaces for different job types. New to this version is support for high-DPI displays, with the automatic selection of appropriately scaled buttons, controls and menus. We'd still like to zoom in on the Pages tab to get a better look at the icons, though.
Like its predecessor, SERIF PagePlus X8 Review opens with the friendly Startup Assistant, which among other things provides a quick link to Serif's excellent tutorial videos and its useful community pages. From here, you can choose a blank publication, or browse and search the supplied templates. Each of these comprises a theme that spans publication types including brochures, flyers, newsletters, posters and ePublications. Most make a decent starting point, and can be easily adapted or updated with your own photos, graphics and text.
Although this version has templates for ePublications, the help file advises that starting from scratch generally yields the best results. The Preflight tab lets you check a publication for compatibility with EPUB, PDF and HTML standards as you work, while the new document intent feature lets you specify from the outset whether you want to optimize layout and colors for screen or print. This option changes how text is rendered so it appears more like it will onscreen or in print. If you're publishing an eBook, there are profiles for generic eReaders, Kindle and Apple iBooks.
To test the new baseline feature, we opened a publication template containing two unaligned text frames, with the aim of using the baseline to match them up. Adding a grid involves a quick trip into the options, where you can configure the grid spacing and specify its alignment relative to the page top or top margin. You can set a zoom level below which the grid is hidden, or hide it altogether. As with the excellent dynamic guidelines, a baseline is still active when hidden, but becomes visible when you're moving page elements nearby.
The content in existing frames doesn't automatically align to a new baseline. Instead, you must apply the alignment to each paragraph of text manually using its properties; this is a bit fiddly, as there's no option to align a text frame's entire contents. Once the baseline is enabled, new text paragraphs align automatically unless you tell them not to.
The Chart tab, which was introduced in PagePlus X7, has received a few tweaks, such as a new gallery for quickly applying styles to tables and calendars. There are more styles available, or you can create and save your own.
SERIF PagePlus X8 is little changed from its predecessor, but then no great changes were needed. There's little to justify an upgrade if you have X7, but X8 is ideal for anyone looking for a great DTP package. Comprehensive, stable and with generally excellent help material, PagePlus X8 Review wins the Best Buy award. Simon Handby
SERIF PagePlus X8 Review: VERDICT
SERIF PagePlus X8 Review is a fantastic and comprehensive DTP package for new users, but existing users should wait to upgrade.