The powerful drawing program Autodesk SketchBook is now completely free. Should you rush to install it, or are there better tools for creating digital art on your PC? Jane Hoskyn finds out
Autodesk SketchBook Review | sketchbook.com | 5/5
FEATURES 5/5, PERFORMANCE 5/5, EASE OF USE 5/5
What we liked:
SketchBook perfectly balances ease-of-use with sophistication: the newly free program is welcoming for beginners (launch it, click it, doodle) while offering enough tools, power and precision to satisfy professionals. And it includes creative extras (GIF animation; image adjustment) without cramming in so many that everything slows down.
The program launches fast on a clean, inviting drawing space that hasn't fallen victim to the current dark-theme trend. Unobtrusive toolbars contain all the essentials: customisable preset brushes (and pens, erasers and spray cans, plus custom sets such as oil painting and Manga), a colour-picker with dropper, layers with blending modes, transform tools, gradients, text, textures and more.
But not too much more. SketchBook is not a photo editor. Multiple image formats are supported, including layered Photoshop PSP, but SketchBook is much faster and less cluttered than Photoshop. For maximum space, you can switch the colour and brush toolbars for two clickable 'pucks', or ditch those too and access all the tools from a 'lagoon' wheel in the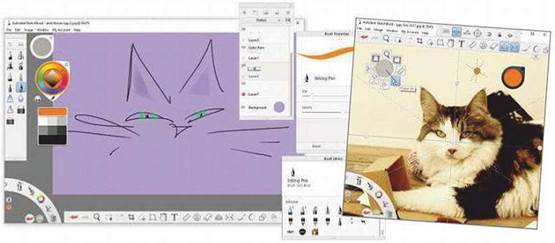 corner of the screen.
Drawing with your mouse is never fun, so all our featured programs let you connect a graphics tablet (such as a Wacom device) to "draw" with a stylus or finger. But unlike our Silver and Bronze choices, SketchBook also has a mobile app (sketchbook.com/mobile), so you can draw and paint on your iPad or Android tablet (and phone, presumably using a toothpick), then sync your work between your devices.
How it can be improved:
You're forced to create an account to use SketchBook (you can opt out for the first seven days) and the setup process sucks you into Autodesk's confusing online ecosystem – we found its YouTube channel (bit.ly/sketchtube462) much more helpful. But even that couldn't find the two missing features: a 'move' tool for easy repositioning; and a speed adjuster in the Flipboard animator. These were small but noticeable omissions.
OUR VERDICT
Autodesk SketchBook is hard to fault. Even the annoying sign-up process gives you freedom to use any device, then sync your work – all for free. Fast, easy and powerful – you'll be on it for hours.
Krita Review | krita.org | 4/5
FEATURES 5/5, PERFORMANCE 4/5, EASE OF USE 4/5
What we liked:
Krita was created 20 years ago by artists who wanted powerful  illustration software  without a crippling price tag. Its rich open-source history is evident from Krita's website, which is packed with tutorials, message boards and a gallery of inspirational artwork created by its users.
What Krita's interface lacks in click-and-draw simplicity, it makes up for with a wealth of at-a-glance tools – as many of them in view as possible.
It's like a full but well-organised artist's bench, which is ideal if you have a large monitor and want to use lots of brushes and options without hunting through menus to find them. For example, you can see dozens of brush presets at once, including paintable textures, effects and pixel art, then right-click to customise each one. All the palettes can be configured to suit you.
The main menus open advanced options such as customisable filters, scripting tools, powerful layered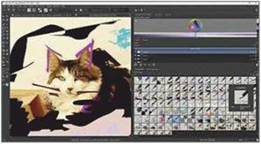 animation and the ability to create your own templates.
How it can be improved:
Krita is determined to do everything, which can drag its speed down to Photoshop-level sluggishness. That's fine if you have a fast computer and big ambitions, but frustrating if you don't.
OUR VERDICT:
Krita is made by and for pros, and doesn't blunt its tools to appeal to beginners. With patience and some help from its superb community, this feature-packed program will make a digital artist of anyone.
FireAlpaca Review | firealpaca.com | 4/5
FEATURES 4/5, PERFORMANCE 4/5, EASE OF USE 4/5
What we liked:
Budding comic-book artists need look no further because FireAlpaca offers a brilliant range of templates and an Edge Pen tool that writes in white with a black outline – perfect for creating comic borders.
There's more to this nimble program than DIY superheroes, though. Draw, paint, pattern, warp, fill or do whatever else on your blank page or imported photo, using the open palettes to pick your brush type and size, special effect and colour. Along with now- familiar options such as layers and Wacom support, FireAlpaca also offers perspective and 3D guidelines to make geometry fun.
FireAlpaca's sister animation tool, FireAlpaca Douga, isn't built-in but instead works online (bit.ly/douga462), so it can be improved continually without slowing down the program.
We also like that you can download an older version for Windows XP.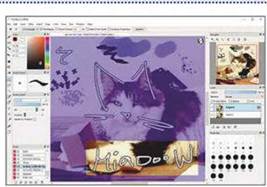 How it can be improved:
The site is (often badly) translated from Chinese, and you're left to blindly guess your way around the program. The gaudy layout is occasionally echoed in ads that litter the program window on launch, but at least they stay away when you close them.
OUR VERDICT
FireAlpaca is a fast and easy-to-use program. It lacks the sophistication of SketchBook and Krita, but it's far more than a doodle toy and could land you a career in comic art!
BEST OF THE REST
GIMP Review
It was a toss-up between this open-source powerhouse – which includes Photoshop-level image-editing tools as well as painting tools – and the smaller, faster MyPaint (mypaint.org). But the latter hasn't been updated in two years, while GIMP is a constant source of innovation. The latest stable release, v2.10, adds canvas rotation, symmetry painting and a brush lock option (bit.ly/gimpnew462).
Drawpile Review
Collaborate with other artists and record your drawing sessions using this innovative open- source program.
Its dedicated server lets you work securely with others in real time – great for getting feedback or playing drawing games – and you can use the one-click Record tool to capture a screencast. Drawpile supports the OpenRaster image file format that works in Krita and Gimp.
Verve Review
Portable program Verve somehow makes drawing and painting with your mouse a pleasure. In all the other programs we tested, we struggled to draw with our mouse and were desperate for a drawing tablet. But then we tried Verve's crayon-like default brush and were amazed by the control it gave us. It's still in beta and the developer warns of bugs, but we didn't encounter any problems.
See also: Stop Using Free Softwares