SERIF Affinity Designer Review
THERE ARE FEW really good vector drawing packages for the Mac, partly because Adobe's Illustrator rules the roost, but Affinity Designer – Serifs first foray into Mac software – looks as if it could shake things up.
It's clear from the start that Affinity Designer has big ambitions. You can set up documents for print, press-ready print for commercial production, photo and the web. A devices preset includes settings for iPads and iPhones, a couple of Nexus models, two sizes of Kindle Fire and the Galaxy S5, or you can set up your own custom dimensions.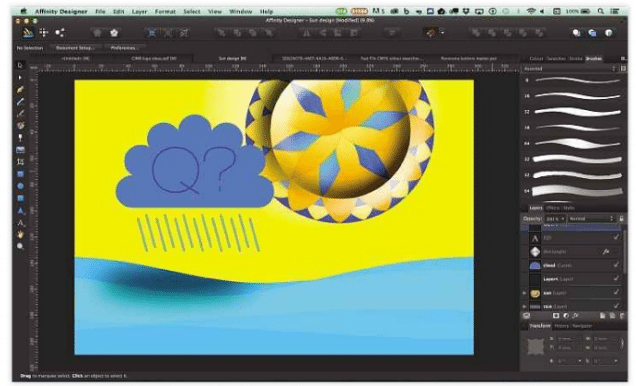 Affinity Designer has three Personas – one for drawing and shape creating, one for pixel-orientated painting and one for exporting, with features for creating sliced parts of designs and generating images at different resolutions. These enable you to work on different parts of a project without having to rearrange windows or toolbars manually.
In a nod to Apple's latest high-resolution Mac screens, the program offers a Retina Pixel View mode, which doubles the pixel pitch of the regular Pixel View mode. If you're making print graphics, leave this switched off and objects appear sharp at all zoom scales. Turn on one of the pixel-based view modes and you'll see exactly how the work will appear as a bitmap at the document's resolution setting.
Affinity Designer is surprisingly feature packed. The shape drawing tools have 18 custom types on top of the basic rectangle, oval and rounded rectangle objects, each with a broad range of customisation options. Draw a cog object, for example, and you can adjust the number of teeth as well as their width, depth and angle of cut. You can keep these as customisable 'smart' shapes or convert them to regular curves and work on them with the Node tool – the equivalent of Illustrator's Direct Selection tool. As well as regular colour fills, you can apply transparency and gradient fills to objects, customise them and save the appearance of objects as styles.
BRUSH WITH GENIUS
The brush tool has a number of tricks, too. As well as standard brush styles there are brushes that apply translucent chalk or marker pen-like textures, and also brushes that create a chain link path and a tatty rope. Many brush styles include options for width and opacity, but a pressure-sensitive pen and tablet are required to get the most from these. It's possible to vary the opacity and stroke width by moving your mouse faster, but we had to move so fast to see changes that it was hard to have any control.
The Layers panel shows every object in a document and can be used to group items. Switching to the Pixel Persona and using tools such as Smudge, Dodge and Burn converts the affected object to a pixel version at the document's resolution. Styles and effects (such as emboss, shadow and so on) are preserved, but it's a one-way process, as they're no longer editable vector shapes.
Affinity Designer can open a wide range of file types, from JPEGs and TIFFs to PDFs and even native Illustrator and Photoshop documents, complete with layers. Opening a PDF presents the page elements as editable objects, and multiple pages are managed as different layer sets – quirky, but it works well.
While Affinity Designer is a vector-based drawing tool rather than a bitmap photo editor, its Photoshop-style effects and resolution-aware rendering are impressive. It's more a bitmap-aware drawing tool with some Photoshop-style abilities than an image editor, but if you use Photoshop to make web graphics such as buttons and banners, you'll really like what Affinity Designer can do.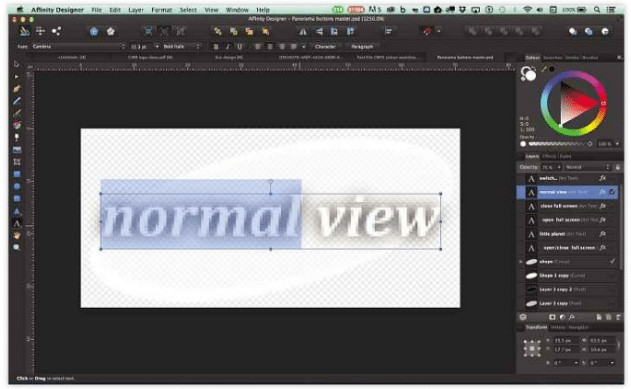 There are features in Adobe Illustrator that Affinity Designer lacks, such as tools for creating text on a path, making 3D shapes and auto-tracing images. But there's so much it does have, and it's presented in such a logical way, that it's already our preferred tool for making quick graphics. It's effective and fun to use, encouraging experimentation and helping users get more from their ideas. Even better, a full copy of Affinity Designer costs less than a month's subscription to Adobe's Creative Cloud. We've been wondering when a serious challenger would appear, and Serif has thrown down the gauntlet.
SPECIFICATIONS
OS SUPPORT Mac OS X 10.7.5 or later
MINIMUM CPU Core 2 Duo (64-bit)
MINIMUM GPU Intel HD graphics
MINIMUM RAM 1GB
HARD DISK SPACE 325MB
VERDICT
A powerful, flexible graphics tool for pros or those who just want to have fun.
See also: