Let's deal with the name first. It's capital X, small-capital S. But how do you write that using normal fonts? In Apple's first press release, it was Xs (lower-case s). Read our Apple iPhone Xs & Xs Max Review.
Within a day, that was corrected to XS (upper-case S). And in case you were wondering, it's pronounced 'S'. The X is still pronounced 'ten'. In a New Zealand accent, by our reckoning, that makes this the iPhone Tennis.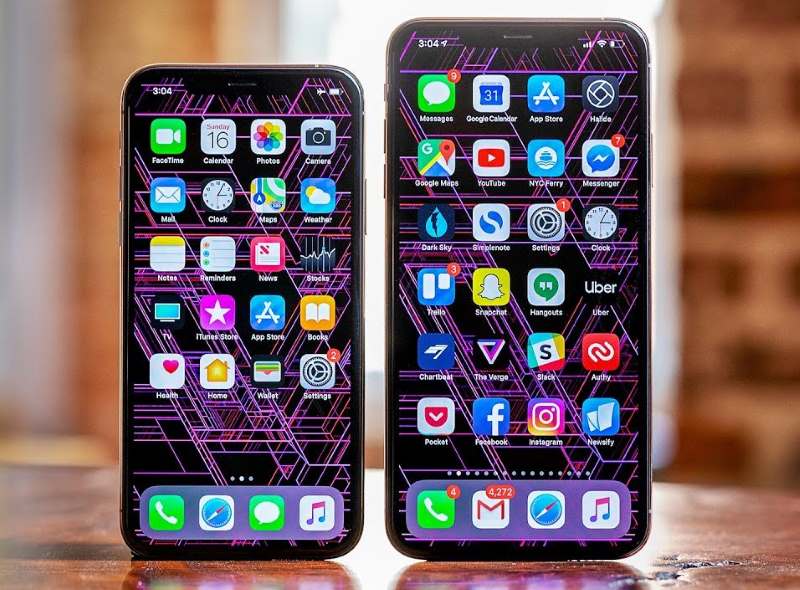 The rest of us will still think of it as the iPhone Excess. At least it's no pricier than last year's iPhone X, which, having been discontinued, is now the iPhone Ex. But then this is basically the same phone, with the tall 5.8in screen and the 'notch' at the top containing the front camera and the TrueDepth sensors, which allow it to unlock when it sees your face.
No big leap forward, but improved speed, camera and battery
So what's new? Well, it's even more waterproof, and – we're told – a little tougher. It comes in Gold as well as Silver (with a white back) and Space Grey. There's an even faster A12 processor inside – so fast that on some measures it beats a Mac Pro desktop computer. So you see, the iPhone XS is actually cheap! Not really.
Nobody needs a processor this fast in a phone.
We'd be more persuaded by the further improved rear dual cameras (pictured left).
Both are optically stabilised, and they take absolutely lovely pictures and 4K video. The front camera now has stabilisation too, and uses TrueDepth to enhance the adjustable blurred-background 'portrait' effect. All these features match the larger XS Max, so for the first time you can choose your iPhone purely on the basis of size, not options.
The 6.5in Max is almost a tablet, but its narrow shape is manageable, and you get longer battery life. The XS lasted 12 hours 45 minutes in our video-playback test, and the Max 14 hours 20 minutes. Not the best around, but better than previous iPhones. Both have equally ultra-sharp HDR AMOLED screens, which look fantastic.
To avoid pricey network contracts, Apple offers 20 months' credit, or if you add AppleCare+ for ££ you can opt for the Upgrade Programme, giving you next year's new model when it appears, all at 0 percent interest. But however you pay, it's a lot of money.
Apple iPhone Xs & Xs Max SPECIFICATIONS
5.8in 2436×1125/6.5in 2688xl242-pixel screen
2x 12-megapixel rear cameras
7-megapixel front camera
64GB flash storage
802.11ac Wi-Fi
Bluetooth 5.0
iOS 12
144x71x7.7 / 158x77x7.7 mm (HxWxD)
177 / 208g
Apple iPhone Xs & Xs Max VERDICT
Apple iPhone Xs & Xs Max ALTERNATIVE
iPhone XR
This cheaper option has a lower-resolution screen and single camera. We'll test it in our next issue