Nobody knows what the 'R' stands for. Maybe it's just 'right'. This is the phone we wanted from Apple last year: beautiful, powerful, futuristic. It's not cheap, and unlike Android phones it won't be discounted. But with all the networks carrying it, there's a wide choice of contracts, and Apple itself offers interest-free credit to spread the cost of buying it outright. The point is, the iPhone XR is actually worth it.
Justifies price tag with uncompromising features and performance
Finished in a toughened glass front and back, in six colours, it's a slim, rounded slab that feels lovely to hold. The sides are matt aluminium rather than the X's shiny steel, and there's only one camera on the back. That distinguishes it from the iPhone XS. It's also not quite as waterproof and lacks the ultra-fast Wi-Fi chip, although few of us will have fast enough Wi-Fi to tell.
In terms of screen and battery size it sits between the XS and the XS Max. The XR lasted a reasonable 13 hours 30 minutes in our video-playback test. And it has the same A12 processor, giving unrivalled performance for general and creative tasks and 3D games, including augmented reality.
The tall screen, with the now-familiar notch at the top, uses IPS rather than the OLED technology that gives the other 'X' phones their vivid displays. It's also slightly less sharp, but we found it produced excellent brightness, contrast and colour accuracy, and HDR10 and Dolby Vision are supported for high-colour reproduction on content such as Netflix.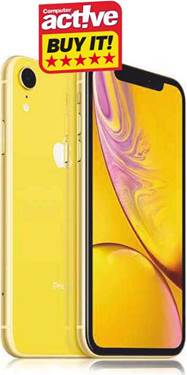 So where's the compromise? Well, the missing second camera means you don't get 2x optical zoom, and the wider angle makes portrait shots arguably less flattering. But the primary camera is as good as any phone you can buy for both photos and video, while the front has the same True Depth array that not only enables Face ID login (there's no fingerprint reader on these devices) but creates superb selfies with adjustable depth-of-field simulation.
We're wary of falling for the oldest sales trick in the book: adding a crazily expensive option to make the regular option look good value. But there's no denying that the iPhone XR is good value. With Apple's iOS 12 software confirming the elegance, stability and choice of apps that Android still can't quite match, this is the best phone you can buy without feeling like you've been robbed.
SPECIFICATIONS
6.1in 1792×828-pixel screen • 12-megapixel rear camera • 7-megapixel front camera • 64GB flash storage • 802.11ac Wi-Fi • Bluetooth 5.0 • iOS 12 • 151 x 76 x 8.3 mm (HxWxD) • 194g
VERDICT
Best Apple iPhone XR prices ?
£

267.01
3 new from £267.01
in stock

MORE DEALS

ALTERNATIVE
iPhone 7 Plus
Still a great phone, but the 32GB of storage could be limiting; iPhones have no microSD expansion