SINCE LAUNCHING IN 2015, the Samsung UE48JS8500 has enjoyed a hefty price cut. It's the entry-level set in Samsung's premium SUHD series, so you get a quantum-dot display instead of regular LCD as well as High Dynamic Range (HDR) support, giving it some much-needed future proofing for the influx of 4K HDR content – including Ultra HD Blu-rays – about to hit the market.
While the UE48jS8500 has to make do with one of Samsung's One Connect Mini boxes to provide the bulk of its ports, between this and the ports on the TV itself you've got all the modern connections you'll need. This includes four HDCP 2.2-compatible HDMI 2.0 inputs, an optical S/PDIF output and two USB2 ports, plus component and composite inputs, a 3.5mm headphone jack, an Ethernet port, ports for your aerial and satellite and a single USB3 port. It's a shame the USB3 port isn't on the Connect box, but it's a pretty minor quibble overall.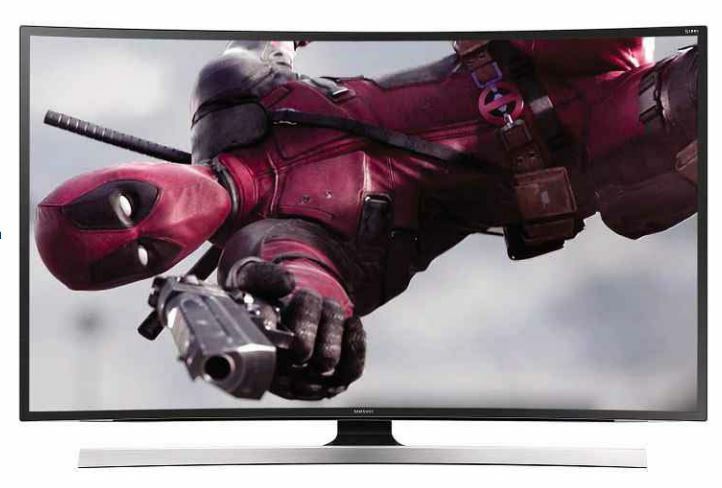 PRECEDING HAIRLINE
The TV itself looks stunning. Available in 48in (the model we tested), 55in and 65in screen sizes, its curved base and slim bezels have a hairline metallic finish, and the recessed stand that sticks out at the back almost makes it look like the TV is floating. Minimal branding and a subtle, 3,000mm curvature radius only add to its elegant design.
The 'quantum-dot' panel can supposedly produce much brighter, more vibrant colors than standard LCD.
This certainly seemed to be the case in our calibration tests, as the default Movie settings produced an incredible black level of 0.05cd/m2 and its sRGB color gamut coverage hit a full 100%. Admittedly, Movie mode can't hit the same brightness levels as other Samsung picture presets, such as Standard or Dynamic, but it definitely had the most accurate colors.
With the backlight turned up to maximum, the UE48JS8500 achieved a respectable 258.53cd/m2 in Movie mode but this also increased the black level to 0.11cd/m2. Still, its contrast ratio of 2,434:1 is incredibly impressive, and this superb picture quality translates into some brilliant-looking film footage.
The UE48)S8500's 120Hz panel also handles fast-moving objects incredibly well, showing few signs of any obvious judder. However, for those who like their camera pans to be silky smooth, then Samsung's Auto Motion Plus settings do an excellent job of eliminating any jerky movement. While it has a couple of preset modes available, the best option is Custom, which allows you to set the blur and judder reduction manually.
With a native resolution of 3,840×2,160, the UE48JS8500 looks best when viewing 4K content. Even though the just-released Ultra HD Blu-ray players will give the ultimate picture quality, our test clips looked as lovely as ever, and HDR clips provided a noticeable boost in brightness, making everything feel all the more impressive and immersive.
The only slight hitch is that the curved panel's viewing angles tend to peter out slightly when you don't sit slap-bang in the center. Viewing from the sides, colors 1 definitely lose some of their vibrancy, which might not be ideal if you're planning to put it in a large living room.
The downward-firing 40W speakers also leave something to be desired, as voices in particular seemed to be rather muffled compared to the rest of our film soundtracks. They're fine for general TV, but you'll probably want to consider a sound bar or dedicated sound system.
One thing you don't need to worry about is the UE48JS8500's upscaling capabilities. Blu-ray discs looked great on its 4K panel, and HD TV channels had a surprisingly good level of detail present, too. You'll probably need to enable the MPEG noise reduction and Digital Clean View settings for standard definition channels, but this is pretty standard practice on all modern, big-screen TVs.
PLAYING CATCH-UP
Aside from its excellent picture quality, the other reason to consider the UE48JS8500 is its superb line-up of catch-up services. BBC ¡Player, ITV Hub, All 4, Demand 5, Netflix, Amazon Instant Video, TalkTalk TV (formerly Blinkbox), Wuaki, Plex, Vimeo, YouTube, Dailymotion and Tuneln radio are all included as individual apps, as are BFI Player and TED. The only noticeable omission is Sky's Now TV, but when a separate Now TV box costs just £15, it's a small sacrifice. Samsung's Tizen interface is a pleasure to use, as well.
The Samsung UE48JS8500 is a stunning TV. Its picture quality is superb and its excellent suite of catch-up apps means you've always got something to watch. We're not convinced its curved screen adds anything to your overall viewing experience – in which case, you might want to opt for the flat but otherwise identical ]S8000 model – but if you're after a great-looking 4K TV, the UE48jS8500 is a great choice. It wins a Recommended award.
Katharine Byrne
VERDICT
With excellent picture quality and a full lineup of catch-up services, this is a great choice

Last update was on: 2021-10-28 3:00 pm