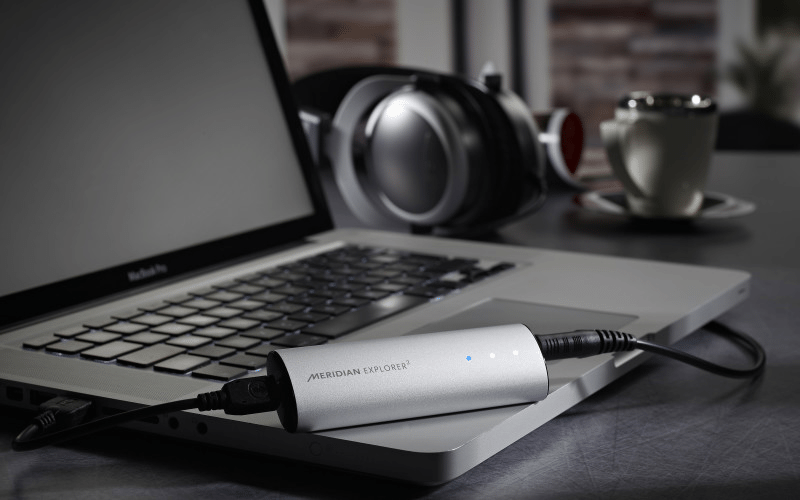 Meridian has just brought improved sonics and MQA functionality to the Explorer DAC's sleek alloy chassis, says David Price
Meridian's original Explorer DAC, was a little out of the ordinary (not least because it was a new market sector for a traditionally high-end brand), but didn't quite set the world alight. Perhaps its successor might have more luck.
The Explorer2 could be the product that Meridian always intended the original to be – because it now supports the new MQA format. Master Quality Authenticated is essentially a way of packing hi-res files into a 'container' the size of a standard CD file. Effectively, it lets you have hi-res 'for free', as far as storage is concerned. It's more than just another data compaction algorithm though, because it's focused on preserving the correct time-domain information of the music – which recent neuro scientific research has shown to be paramount for serious sound quality. The MQA recording format uses intelligent encoding, which is then specially decoded by a DAC with MQA support, such as the Explorer2. It will, it's important to point out, also play back standard, non-MQA digital files in PCM format, although not DSD.
As a product, the Explorer2 is lovely to look at and use. Being a portable, it's intended for use with a computer via its USB input. It sports an internal headphone amplifier, so it effectively transforms a laptop into a hi-res digital playback system. It has the same svelte-feeling aluminium case of its predecessor, so is just about practical for mobile music use too. There's a mini USB input at one end, and a 3.5mm headphone socket and a 3.5mm line output on the other. It's a shame it doesn't have S/PDIF digital inputs because it limits the way that it can be used.
Inside that sleek, space-age casework there are two USB master clocks, one of which works for 44.1, 88.2 and 176.4kHz sampling frequencies, and the other for 48, 96 and 192kHz. Because there are two clocks, running at multiples of either 44.1 or 48kHz, there's no need for jitter-inducing, power-hungry sample rate conversion. All digital data is upsampled, however, to the highest multiple of the input signal. The Meridian's USB audio class 2.0 protocol allows full native playback of high-resolution 192kHz sample rates, whereas some rivals have to downconvert this to 96kHz. This is all done on the complex six-layer PCB. Meridian won't say what DAC chip is used, but points out that the digital filtering is implemented within the proprietary software.
Getting going is simply a case of plugging it into your computer at one end, and plugging headphones or hi-fi into the other. As ever, Windows users have to install a driver. Then select it as the audio output device on their computer, to start playing music. Three LEDs light up to show sample rate; the first means 44.1 or 48kHz, the second 88.2 and 96kHz and three lights mean 176.4 or 192kHz. Oddly, there's no pilot light to show that MQA is being decoded.
To my ears the ideal headphone partner for the Meridian Explorer2 is the JAYS v-JAYS, a £40 portable that sounds better than a good many full-size designs. So with my well-used pair duly entrusted to the task, I started the burn-in process of my review sample from Meridian.
Sound quality
I begin listening with relatively low quality music, via Radioplayer and iTunes podcasts, and find this dinky little headphone amp to have an even and balanced sound. The JAYS are very transparent and don't shout or scream when being powered by the Explorer2, even on low bitrate audio at fairly high volume levels.
With CD-quality, I am finally able to get the mettle of the Meridian. From a MacBook Pro, my dBpoweramp CD rip of The Smiths' Death Of A Disco Dancer – great song that it is – doesn't sound anything special. Indeed, it is rather hard and steely, with a general coldness that reminds me just how mediocre Smiths recordings can be, even by the standards of the day. I then click on to another track from a couple of years earlier, Frankie Goes To Hollywood's San Jose, and am gobsmacked by the difference in sound. Suddenly things warm up, grow in scale and begin to bounce along with real rhythmic aplomb. Normally, via relatively inexpensive DAC/headphone stages, the difference between good and bad recordings is less pronounced, but here it is as plain as day.
Fascinated, I decide to up the ante and move to the 24/96 hi-res version, and it is like switching from AM to FM stereo. There is another step change in the sonics, with a wider and more three-dimensional soundstage, a punchier and more fluid bass and some beautiful filigree detailing to the hi-hat cymbal work. I am struck by the warmth and intimacy of the lead vocal track too, as well as the general sense of atmosphere to the recording. All of which shows that when given high-quality source material, the Explorer2 is capable of flying.
Moving back to CD-quality FLAC for a moment, I select The Specials' Gangsters. This isn't exactly audiophile-grade as recordings go, but the Meridian really gets into the groove all the same. Despite being tonally slightly thin, this track is well able to induce some serious foot-tapping. Indeed, used as a DAC/headphone amp, it offers a pleasing combination of transparency and detail, allied to real rhythmic alacrity.
Used via its line output, the Meridian gives more of the same. Cafe Regio's from Isaac Hayes' Shaft: Original Soundtrack is a stunningly well recorded song, with oodles of scale and warmth, and some of the best Memphis soul session men alive at the time. My 24/192 version is unalloyed joy via the Explorer2, which proves utterly at ease with such a superlative recording, glistening with detailing, blushing with warmth, and displaying an almost mineral clarity. The music flows superbly, and the Meridian proves well able to signpost all of those subtle dynamic inflections. A veritable treat for the ears, I almost have to pinch myself in order to remember that I am listening to a portable DAC.
From this we can deduce that it does not need MQA to sound superb – bog-standard FLAC will do the job just fine. But what of this dinky DAC's special party trick? I am highly impressed with the sound of the adagio from Beethoven's Piano Concerto No.5, Op73. There is a wonderful sense of texture and body to the strings, and the space in the concert hall makes things highly atmospheric. The music pushes along in a compellingly rhythmic way, sounding dynamic and expressive. This little digital converter proves best with dyed-in-the-wool audiophile source material, where its lavish detailing and natural transparency allows it to step aside and let the music flow.
If there's any criticism to be made, it is that some will not warm to its unerring, unrelenting desire to give you the recording, warts and all. It's not the DAC equivalent of a loudness button that simply puffs up the bass and titivates the treble, creating a hugely sumptuous sound for your background listening pleasure. Instead, it's quite matter-of-fact and doesn't skirt around the issue of poor recordings. Interestingly though, the huge difference in sound between poorly and well-recorded music shows just how great its real ability is.
Conclusion
At the price, I have not heard a better portable DAC/headphone amplifier than the Meridian Explorer2. You'll need to spend on the Chord Mojo for any meaningful improvement, and even then the Hugo is really the next big step up. The Meridian is beautifully packaged, superbly made and works extremely well. Its small size makes it great when you're out and about, too. For me, MQA is a nice feature to have, although for most people it won't be the star attraction, just yet. Highly recommended.
FEATURES
24-bit/384kHz DAC chip Meridian apodising filter; 4x upsampling? PCM up to 24/192, MQA playback? Connections: 3.5mm headphone jack; 3.5mm line output; mini-USB B input
DIMENSIONS (WxHxD) 102 x 18 x 32mm.
David Price, from April 2016 HiFi Choice magazine.

Extended-range 0-100dB volume control that allows for finer adjustments
Increased DSP power
Trademark apodizing filter
Combination USB DAC, preamplifier, and headphone amplifier with exceptional 24-bit/192kHz resolution
Last update was on: 2021-10-28 3:00 am
Extended-range 0-100dB volume control that allows for finer adjustments
Increased DSP power
Trademark apodizing filter
Combination USB DAC, preamplifier, and headphone amplifier with exceptional 24-bit/192kHz resolution
Asynchronous USB, a six-layer circuit board with audiophile-grade components, an auto-sensing headphone input, and 192kHz-derived analog outputs