Plustek OpticFilm 135 Review – With the rise of do-it-all printer/scanner/toaster/hoovers, you don't often see separate scanners these days. Something you can't usually do with those you find on multi-function devices, however, is scan 35mm slides. This requires three special features: a way of getting the slides in accurately and efficiently; the ability to shine light through them (known in the trade as 'transmissive' rather than 'reflective' scanning); and a very high resolution, because you're going to want to view and print the resulting digital images much bigger than the postagestamp originals.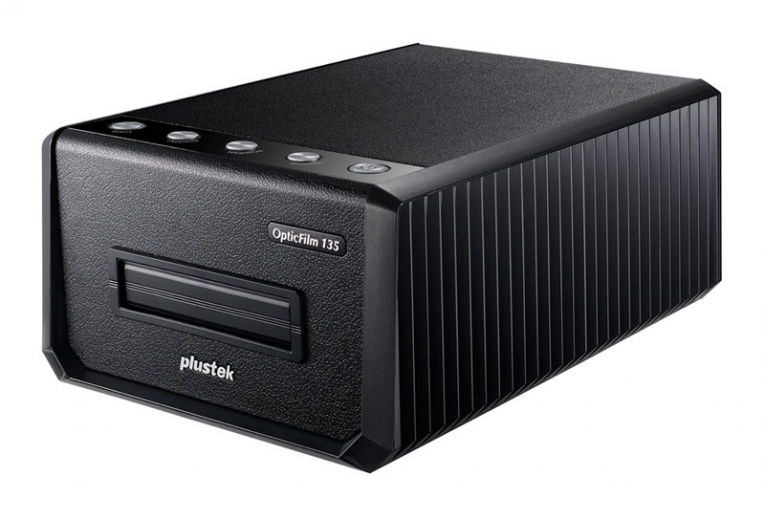 The OpticFilm 135 is one of various compact slide scanners that are built for this task. It's about the size of a small loaf, and unlike other models that stand up vertically and feed slides through from side to side, it sits flat on your desk and rolls a little tray out of the front to collect your originals. Two trays are included: one that takes four mounted transparencies, while the other accommodates up to six frames of film, which you'll need to cut from the roll. The trays are robust, with magnetic clasps rather than fiddly plastic clips, but there are no nubbins for the sprocket holes, so we found it tricky to get negatives positioned accurately.
Because no driver software is provided to use with image-editing programs, you have to use Plustek's supplied Page Scan Plus app, which works in Windows and on Macs. This is neatly presented, but always scans the whole area, taking four minutes at the full 3600dpi resolution, even if you only have one slide. You can choose from the usual range of image formats for output, but if you pick JPEG a default level of compression is applied, visibly reducing quality, and there doesn't seem to be any way to change this.
Unlike pricier scanners from Plustek and other companies, the OpticFilm 135 has no dust-removal or noise-reduction features, so unless your slides are pristine you'll be left trying to clean up the results in other software, inevitably with limited success. We don't expect miracles at this price, but it's hard to see why you wouldn't be better off with a good general-purpose flatbed scanner that includes film capability.

Plustek OpticFilm 135 Review: VERDICT
It's an attractively simple machine, but the OpticFilm 135 disappointed us with its inflexibility.

Plustek OpticFilm 135 Review: SPECIFICATIONS
3600dpi scanner • 48-bit colour depth • Requires Windows 7, 8 or 10 or OS X 10.8 or later • 04x175x259mm (HxWxD) • 1.6kg • One-year warranty