SAMSUNG QE55Q7F review – Samsung's most affordable QLED TV has to compete with similarly priced OLED sets and the brand's own step-down LED models. But it has a secret weapon, reckons John Archer
AV INFO
4K LED TV with edge lighting, local dimming and QLED technology
Entry-level QLED TV from Samsung
Peers
Samsung UE55MU9000; LG OLED55B7
SAMSUNG'S FIRST WAVES of QLED TVs haven't proved quite the all-conquering heroes I'd hoped for.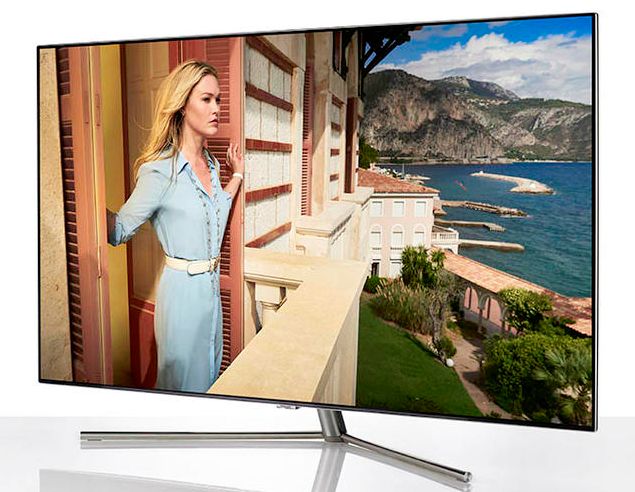 Their pre-launch promise of OLED-challenging viewing angles didn't ultimately come to pass, and the lack of any models with direct backlighting has increasingly looked like a flat-out mistake.
The 55in QE55Q7F, though, is a welcome reminder ahead of the arrival of Samsung's 2018 screens of why the brand has worked so hard to make QLED happen.
SAMSUNG QE55Q7F review: 360-degree design
This is a divine-looking TV. Its screen is surrounded by the trimmest of silvery frames, and the rear panel's ultra-minimalist, smooth finish delivers a classic '360-degree' design. It all feels beautifully built, and the clean lines aren't spoiled by cabling thanks to Samsung's usual external connections box that hooks up to the set via a single, ultra-thin, almost transparent cable.
The box has the expected quota of physical connections (four HDMIs, three USBs, optical audio output and Ethernet), while also delivering Wi-Fi and Bluetooth support. Note that the latter provides your only headphone option.
The Q7F series differs from Samsung's Q9F flagship models by being 500-600 nits less bright, and using a vertically-firing edge LED system rather than a horizontal one. Furthermore, it differs from the Q8C range by not having a curved screen, and by deploying a less refined local dimming system for the LEDs along its bottom edge. Its measured peak brightness of around 1,170 nits on a 10 per cent white window is slightly down on that of the equivalent Q8C model, but is still comfortably above the 1,000 nits generally considered best for a premium HDR screen.
As well as the HDR10 industry standard format, the QE55Q7F handles the HDR10+ system recently made available on Amazon streams, and now claiming support from the Fox and Warner Bros studios. This adds a layer of dynamic metadata to the HDR stream, essentially providing the TV with more accurate instructions on how to handle incoming images.
Also supported is the broadcast-focused HLG format. This works over HDMI and streaming, so you can watch Blue Planet II in HDR via the BBC iPlayer app.
The QE55Q7F uses the same Tizen-based smart TV system sported by most other Samsung TVs. This delivers a tidy, mostly logical interface and apps galore – including 4K HDR versions of Netflix, Amazon and YouTube.
SAMSUNG QE55Q7F review: Light of my life
Considering the reasonable asking price, the QE55Q7F's pictures are mostly outstanding. In particular, I am stunned by how watchable they are in a brightly-lit living room.
A combination of the way Samsung QLED's metal-clad Quantum Dots can be driven harder than normal QDs, and an ambient light-eating screen filter, means bright 4K HDR sequences, such as when Spider-Man is locked inside a bright warehouse in Spider-Man: Homecoming (Ultra HD Blu-ray) appear as dramatically punchy as if you were viewing them in a blacked-out cinema room.
Darker sequences impress too. When Spidey is rescued from a lake at night by Iron Man, black levels still look excellent; you can make out scads of detail in the darkest corners; and there are remarkably few reflections from windows, lights or your sun-drenched furniture standing between you and the onscreen action.
That the QE55Q7F's screen is flat rather than curved also has benefits here. What subtle reflections there are aren't distorted across the panel. The outcome is that Samsung has engineered a halfway-affordable TV that can deliver supremely enjoyable (and impactful) images in bright conditions.
The TV excels with its colour handling. The red of Spidey's suit looks saturated and punchy, yet there's also plenty of tonal subtlety in the way sections of the suit catch the light as Spidey swings and leaps around Manhattan. He always looks like a natural, three-dimensional being rather than a vivid but vague red blob.
More naturalistic footage inside Peter Parker's favourite sandwich shop additionally showcases the huge range and accuracy of the QE55Q7F's palette. Skin tones look constantly spot-on, and the variations of tones in all the walls and clothing unlocks the sense of detail and depth in this intimate setting.
The inherent clarity and detailing of Samsung's native 4K panel remains intact during Spider-Man: Homecoming's action sequences, even without using available motion processing. If you use feel the urge to use it, perhaps with sports broadcasts, stick to a custom setting with the judder and blur components set to around 4, as this can reduce judder without instigating many unwanted side effects.
If you're a gamer with a 4K HDR console, the QE55Q7F's knack with detail, colour and motion gets the maximum value from your hardware's capabilities, while a sub-25ms input lag measurement when using the TV's Game mode ensures you can't realistically blame your TV for an embarrassing cliff-edge tumble while playing Dirt Rally.
So, there's much to love about the QE55Q7F's pictures, and audio, too, is respectable. The sinking ferry sequence in Spider-Man: Homecoming reveals a fairly severe shortage of deep bass, but the midrange is clean, detailed and reasonably open, trebles are handled without harshness or over-emphasis, and voices are consistently clear and prominent. It's fine for everyday use, although –
SAMSUNG QE55Q7F review: SPECIFICATIONS
3D: No 4K:Yes.3,840×2,160 HDR:Yes. HDR10; HDR10+; HLG TUNER:Yes. Freeview HD; satellite HD CONNECTIONS: 4 x HDMI inputs; 3 x USB inputs; optical digital audio output; Ethernet SOUND (CLAIMED): N/A BRIGHTNESS (CLAIMED): 1,500 nits CONTRAST RATIO (CLAIMED): N/A DIMENSIONS (OFF STAND): 1,225.2(w) x 703.6(h) x 44.9(d) mm WEIGHT (OFF STAND): 18kg
FEATURES: Integrated Wi-Fi; Bluetooth (device pairing and headphone support); USB and DLNA multimedia playback; USB recording; Eden 2.0 smart engine with 4K HDR apps (Amazon, Netflix, YouTube); metal-clad Quantum Dots; external connections box; low-lag Game mode
SAMSUNG QE55Q7F review: PARTNER WITH
SAMSUNG HW-MS750: There's an optional subwoofer for this soundbar, but it sounds bass-rich and wonderfully involving without it – and worthy of the price. Expandable to 5.1 via extra wireless rears, it will also hook up wirelessly to the Q7F.
as always – my advice for movie thrills is to partner it with a soundbar/soundbase at the very least.
SAMSUNG QE55Q7F review: Dark destroyer
Imagery does have a couple of weak points. The most obvious drawback of Samsung's light-first approach and edge-lit LED illumination is the presence of noticeable light bars when a bright object is framed against a dark backdrop. Iron Man's twinkling eyes in the lake rescue scene are joined by blocks of light running up the image. Yet this is mainly an issue when viewing in a dark room. Retain a little ambient light – which you can do thanks to the screen's filter and QLED properties – and these black level blemishes are largely hidden.
What can't be hidden, however, is the set's contrast and black level uniformity dropping off if you watch from an angle of more than around 30 degrees. This is common amongst VA-type LCD screens, of course.
So the QE55Q7F's allure will depend on your viewing environment.
If you're a home cinema fan looking for a screen to watch in a blacked-out room, you'll be better served by one of LG or Philips' well-priced OLED TVs, or, if you want something cheaper, Sony's 55XE9005 (which is far less bright, but has more even deep black levels).
But for a fantastically sharp, dynamic picture that holds up to bright-room conditions better than anything else on the market, this has to be seen
The TV supports HDR10, HLG and HDR10+ formats
Via its QD panel and edge LED engine, peak brightness exceeds 1,000 nits
SAMSUNG QE55Q7F review: VERDICT
4/5
Samsung QE55Q7F
When it comes to a TV to go into a room that's typically fairly bright, Samsung's QE55Q7F is pretty much in a class of its own.