Acer sets the pace with a compact, competitive UHD HDR projector. Steve May counts the pixels
WITH HDR SUPPORT and a brightness of 2,100 Lumens, could this be a 4K projector for the AV everyman?
Acer's single-chip DLP PJ offers HDR10 playback, tied to a REC.709-grade colour wheel.
So while the projector is compatible with wide colour, as found on most UHD Blu-rays, it down converts hues to REC.709.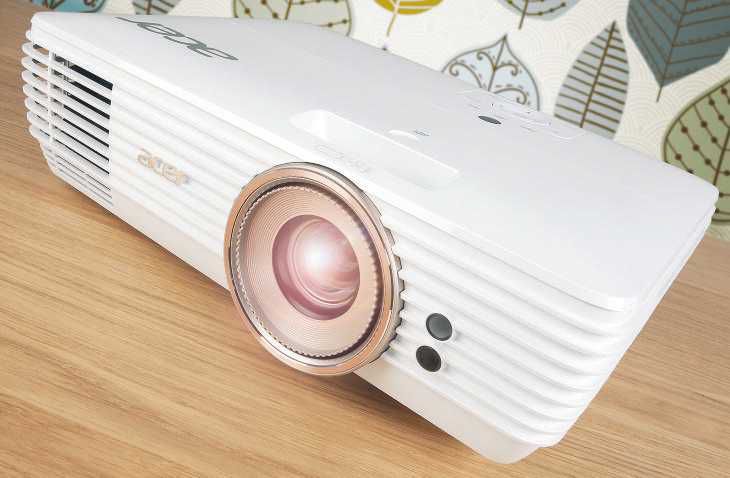 The V7850 is accommodating, but unfancy, when it comes to installation.
Focus, zoom and vertical lens-shifting are all done manually.
Height can be adjusted between 0 and 15 percent of the image, enough to overcome most hurdles, while the zoom ratio is a healthy 1.6x.
While the V7850 warrants a proper projection screen, it features a colour compensation mode for those firing directly onto a painted wall.
Like many compact multimedia projectors, this Acer has in-built speakers, which are thin-sounding but functional.
Rated at 2 x 5W, it's probably good enough for casual sessions of uncritical viewing, but uncomfortable for anything more.
Dripping in detail
Powered up, the V7850 makes a good first impression, with copious picture detail pinging off the screen.
A 4K demo clip from Japan's Q-Tec production house looks gorgeous; a shiny kimono has lustre and realistic texture.
However, I did note loss of 4K detail (via a test pattern) with Acer's Super Resolution processing activated, artefacts taking the place of high-frequency information.
Some tweaking is therefore worthwhile – I ended up putting Super Resolution back in its box by adjusting it to 0, and setting Sharpness to 3.
This gave a cleaner, sharper image, although didn't entirely pass my test pattern criteria.
To be honest, it's unlikely this will translate to everyday viewing; 4K content still appears better delineated than Full HD.
And you may find that you prefer the impact that Super Resolution can deliver when it comes to teasing out fine details. It's a feature worth experimenting with.
The simple rule is; tweak the image to best suit your source.
The V7850 isn't the brightest compact PJ out there.
It isn't even as bright as a more affordable 4K stablemate, the H7850, which pumps at 3,000 Lumens, but this isn't an issue when viewed in a fully dark room.
Colours are vibrant, and the colour mapping from REC.2020 sources maintains depth and richness.
The level of colour detail evident as Immortan Joe gets dressed early on in Mad Max: Fury Road (UHD Blu-ray) is delicious.
As expected, the V7850 isn't able to deliver the kind of luminance highlights you'll routinely see on an HDR flatscreen.
When tone mapping
SPECIFICATIONS
3D: No. HDR: Yes. HDR10 4K: Yes. 3,840 x 2,160 CONNECTIONS: 2 x HDMI (1 v2.0; 1 x v1.4); RS232; 12 V trigger; Ethernet; PC VGA in/out; mini jack audio; USB (device charging) BRIGHTNESS (CLAIMED): 2,100 Lumens CONTRAST (CLAIMED): 1,000,000:1 ZOOM: 1.6x DIMENSIONS: 398(w) x 127(h) x 297(d) mm WEIGHT: 5.3kg
FEATURES:
Single-chip UHD DLP projector; built-in 2 x 5W audio; +/-15 per cent vertical lens shift; REC.2020 colour mapping; ISF calibration; AcuMotion frame interpolation; Dynamic Black; HDR adjustment; throw ratio of 1.39-2.22:1; MHL compatible
white detail mastered at 1,000 nits, clipping becomes apparent.
The projector's black level performance doesn't exactly inspire in the way that, say, Sony's VPL-HW45ES (Full HD) can.
Images can sometimes get lost in a sea of featureless grey murk, robbing the picture of its sense of contrast and image depth.
A Dynamic Black function can be used for a contrast boost, but increases operating noise.
This is a shame, as generally the V7850 is something of a star in this regard.
I found quiet movie moments unbothered by the usual whine of a DLP colour wheel, and switch to Acer's Silent mode and it's so quiet you can hear popcorn drop.
I'd only use the Dynamic Black feature for when it's necessary to combat the effects of ambient light.
Acer offers a sliding HDR tool with parameters of 1-4.
Slide it to 4 and peak highlights glow a little brighter than, for example, if it's set to 2.
It's quite subtle, and rather highlights the big difference between HDR implementation on PJs and flat screens.
It's not a brightness booster, though, because it doesn't lift black areas.
Away from Ultra HD content, this projector is a solid effort, albeit with the same black level shortcomings.
Single-chip DLPs always look super-sharp (no LCD panel trio to align), and this model upscales regular fare with cinematic aplomb.
Worries about rainbow effect distractions are mostly unfounded.
Affordable alternative
The V7850 provides an affordable alternative to the big UHD beasts, but makes its 4K resolution count with a crisp and colour-rich presentation.
HDR is less of a draw, but otherwise this is well-specified and can run absolutely silently.
Verdict
Editor choice
Acer V7850 Review
Limited contrast (and HDR impact) but strong colours, quiet operation and UHD detail make this Acer an appealing option.
Add your review
Best Acer V7850 prices ?
$

2,079.99
1 new from $2,079.99
in stock

MORE DEALS

Affordable DLP 4K HDR projector
Below the bulkier and 4K-capable V9800, above the H7850, also 4K
Epson EH-TW9300; Optoma UHD60