Samsung's 860 SSDs, in 'black slab' 2.5in SATA housings, have become a popular choice for PC builds. The 970 replaces a different animal, the 960 family of NVMe drives, made for the M.2 slots on recent motherboards. As such, it comes as a small printed circuit board (PCB) and promises much faster operation. We've seen NVMe SSDs hit data-transfer speeds of 3GB per second – about 20 times faster than a typical hard drive.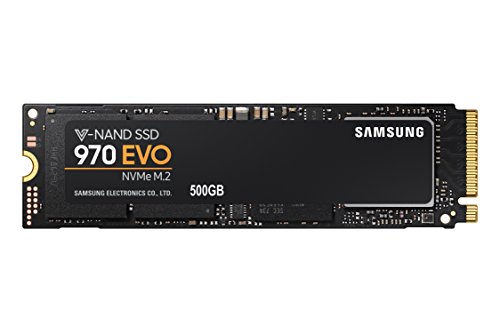 These are seriously high speeds.
When you buy a 4K movie, it's probably encoded using no more than 50 megabits per second. To play that back smoothly, you'd need a read speed of at least 6.25 megabytes per second (MB/s). 'That's well within the ability of any internal hard drive. But what if you're the one making the film? You might shoot 4K raw footage at two gigabits per second. To play that back, you need to read 250MB/S. That's still under a tenth of what an NVMe SSD might achieve. To look at it another way, you could copy a terabyte of tiles in under six minutes in theory.
Samsung indeed promises 'up to' 3500 MB/S, but of course 'up to' invariably means 'not'. In our admittedly tough tests, the 970 Evo averaged only just over 1GB per second reading or writing files, falling to 370MB/S with tricky batches of small files. Standard benchmarks confirmed everything was working properly, crediting the 1TB unit on test with maximum speeds of 3568MB/s reading and 2515 MB/S writing. It just turns out that performance drops off more than we'd have expected when faced with real life tasks.
So the 970 Evo is actually slower in practice than the 960 was, but roughly on a par with rivals like the WD Black
SPECIFICATIONS
M.2 NVMe SSD (various capacities, 1TB tested) • Samsung V-NAND 3-bit MLC • 2.38×22.15×80.15mm (HxWxD) • 1.5 million hours MTBF
NVMe. So it comes down to price, and you really need to shop around.
VERDICT
Best price
Samsung 970 Evo Review
We'd have liked it to be faster, but this is stilt a speedy drive, and the good news is it has very fast rivals to compete with
Add your review
|
Read reviews and comments
Best Samsung 970 Evo prices ?
$

141.85
1 used from $94.39
5 new from $141.85
in stock


£

199.00
2 new from £199.00
in stock


£

212.07

£229.00
7 new from £205.00
in stock

MORE DEALS

ALTERNATIVE
Samsung 960 Evo 250GB
The 970 Evo launched at a lower official price, but if you can get the 960 for less, do
The tiny 970 Evo fits the M.2 socket (centre) on current motherboards like this Asus Prime Z370-P